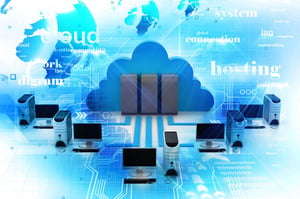 While many technology experts tout the varied benefits of cloud-hosted solutions, the cloud is not a one-size-fits all option for every business.
Whether you're looking at new cloud applications or are considering a move to hosted servers, it's important to evaluate each solution's capabilities to determine if it fits with your business needs.
Types of Cloud-Hosted Solutions
Before making a move to the cloud, take a deep dive into each cloud-hosted solution you are considering to find out what it has to offer your business.
An experienced IT service provider can help you evaluate a variety of cloud-based solutions, including:
Cloud applications
These can be various types of software, such as a new accounting solution. When considering an online application, you should apply the same criteria you would for any software: Is the application a good fit for your business processes? Does it fit within your budget requirements?
You also need to understand the software provider's service level agreement (SLA). What support do they offer? Do they perform regular backups? What is their ability to recover all or some of your data, even if it's not due to a vendor problem? How long can you roll your system back? Does this rollback include everything?
If you work in an industry that has specific regulations for protecting data, such as healthcare or finance, make sure the application has protocols in place for compliance.
Hosted servers
With cloud-based servers, you often will have the option to purchase a system that is as robust or as secure as you want. When working with large national service providers like Amazon Web Services or Microsoft Azure, you can purchase a single hosted server with minimal resources and no backup. Or, at the opposite extreme, you can buy a fully redundant cluster that has replication between two different data centers and two different US-based locations, and build it out similar to an on-premise system.
Other Considerations
You'll want to carefully evaluate the cloud-based systems you're interested in. Particularly, you'll want to focus on how they can help achieve your business goals.
Here are some specifics to consider:
Uptime and reliability
It's important to review the provider's track record of uptime and make sure their history shows they can give you access to your services when you need them. You don't want to learn after you have a data or server failure that your IT service provider can't deliver your data as promised.
Platform as a service
Generally speaking, most small businesses seek to work with a platform as a service, such as Microsoft 365, and don't need the capabilities and services of a true hosted server.
An IT service provider can help you determine which cloud-hosted solutions are the best fit for your needs. Often, providers have preferred vendors they work with because they know the quality of service and capabilities available.
Location
You also should consider if you want to work with a small local provider or a large national corporation. Each comes with different capabilities that may or may not fit with your network operations and business processes. For instance, the capabilities to provide security compliance may rule out some of the smaller, locally hosted server companies because they are not equipped to meet those regulations.
Cost
An experienced MSP also should be transparent about the total cost of ownership to help you determine if you need hosted servers. For most small to midsize businesses, it's not a cost savings advantage to move to the cloud. Instead, the focus should be on such capabilities as accessibility, support and business continuity.
Moving to the cloud can be a great option for many businesses, but it takes careful consideration to figure out if it's right for yours.
Contact CoreTech today; we can help you evaluate possible cloud-hosted solutions to make the most of your business operations.