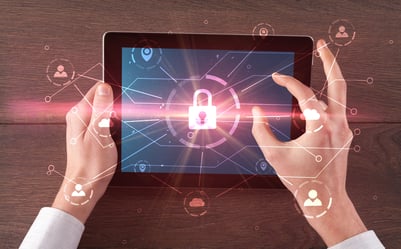 As an IT Manager, is it a struggle to implement preventative measures to detect, respond to, and mitigate insider threats? If they materialize, the insider threats can result in financial loss, reputational damage, legal and regulatory non-compliance, operational disruption, and negative impact on stakeholder, customer, and employee morale. Helping others in your organization realize the importance of preventing and managing insider threats and getting behind your process can be challenging. Consider this fact and distribute it to your team: according to the 2022 Cost of Insider Threats: Global Report from Ponemon Institute, there has been a 44% increase in insider threat incidents over the past two years. Additionally, the cost per incident has increased by over a third, amounting to $15.38 million.
Understanding Insider Threats and Suspicious Behavior
An insider threat originates from threat actors within an organization authorized to access the company's information assets and systems. The threat actor can accidentally or intentionally cause harm and expose sensitive data. Examples of unintentional insider threats include:
Negligence or accidents: Employee negligence, accidents, and human error, such as unknowingly clicking on a phishing link or accidentally deleting a data backup.
Intentional: In contrast, intentional threats come from disgruntled employees and their acts, such as stealing intellectual property or confidential data.
Third-party contractors/vendors: Another type of insider threat occurs when third-party vendors, partners, or contractors potentially misuse an organization's information assets.
How to Detect Insider Threats
Oftentimes, the timely detection of insider threats and suspicious activity is challenging for organizations. However, here are a few measures to implement to protect your company against internal threat actors with privileged access:
Educate and train key staff to identify threat actors and their behaviors. Watch for early signs of malicious activity, potential compromise, sabotage, data theft, etc.

Implement Segregation of Duties (SoD) which involves breaking down one task into multiple independent tasks so that it is easier to identify fraud and no one person is solely in control.

Leverage technology such as artificial intelligence and machine learning (AI-ML), data analytics, and User Behavior Analytics (UBA) to identify signs or patterns of unusual activities on the organization's network.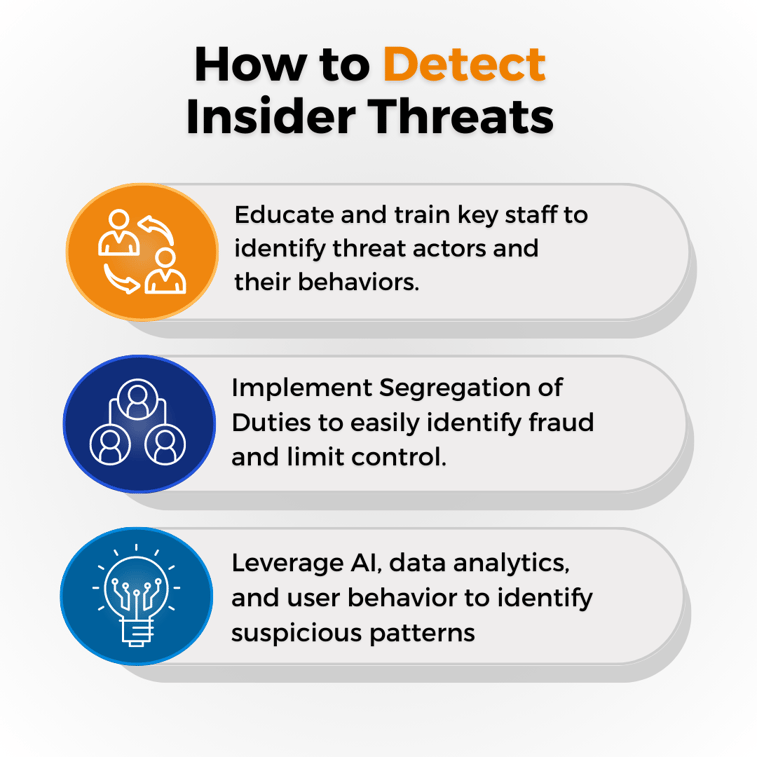 How to Manage Insider Threats
A comprehensive approach is crucial to managing insider threats effectively. These include:
Senior or executive level buy-in: Gaining senior leadership commitment and endorsement is paramount in developing a security-aware culture open to feedback, reporting unusual or unethical behavior, and addressing any issues in real time before they become security risks.
Adequate security governance: This includes developing clear policies and procedures around data access controls and sharing, limiting access to employees based on their role, setting up a chain of command for security, and establishing accountability and responsibility.
A holistic approach to security: Organizations can strengthen their IT security by developing comprehensive strategies and establishing repeatable processes to ensure consistency in managing and preventing insider threats.
Proactive monitoring: Monitoring and analyzing employee behavior can also help identify anomalies or signs of potential insider threats.
Hiring an expert advisor: An outsourced IT service provider's services can be valuable in handling insider threats as they possess specialized expertise in recognizing and reducing insider risks and tools and applications that can assist.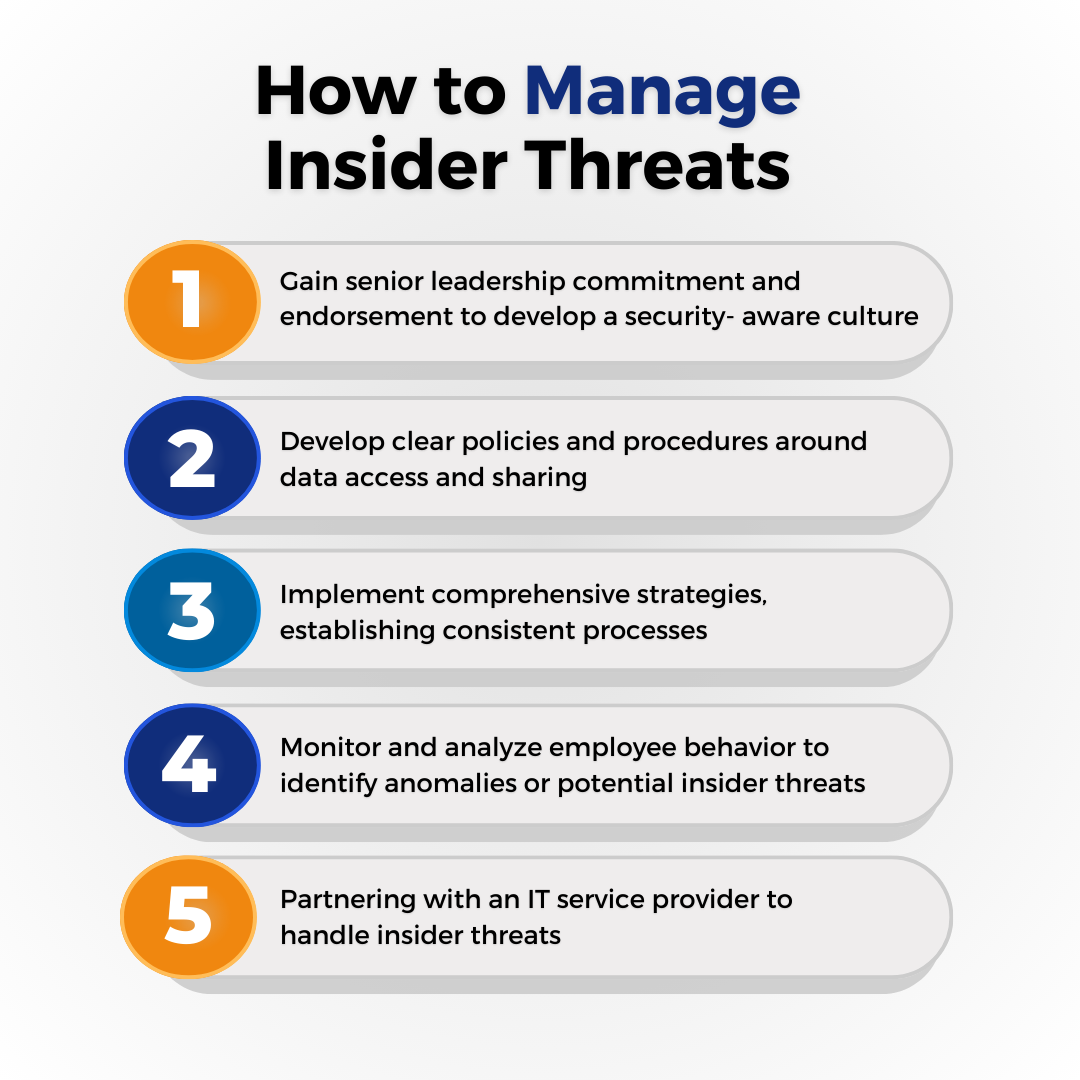 How an IT Service Provider Can Help in Efficiently Detecting and Managing Insider Threats
Your internal IT team may be too busy with other initiatives and training to address the security tools and resources needed to reduce the risk of insider threats. Let someone help your team accomplish all that you need to. An IT service provider plays a crucial role in efficiently detecting and managing insider threats:
By implementing user activity monitoring, data loss prevention (DLP) solutions, and other advanced monitoring tools, IT service providers in partnership with your company staff can detect potential threats and take corrective actions on time, if needed.
An IT service provider brings expertise in subject matter, technology, and resources that target detecting and managing threats and can contribute to strengthening an organization's IT security.
An IT service provider can offer solutions customized for enterprise business and IT requirements, such as access management, asset and network monitoring, targeted employee training, incident response planning, business continuity planning and disaster recovery (BCP-DR), security audits, and more.
Insider threats are difficult to detect because malicious insiders know the company's processes and might exploit your internal security measures, controls, and vulnerabilities set up by your IT staff. Their activities resemble normal employee work routines and can go unnoticed or undetected for months.
Download our FREE guide on 16 Ways to Protect Your Business from a Cyber Attack to safeguard your business from cyber threats and strengthen your company's IT security. We understand that many IT Managers fight to stay ahead relative to helpdesk responsibilities, cybersecurity management, and regular updates and upgrades. Partnering with the best local IT support services in the Omaha and Lincoln metro areas will help you leap ahead to protect your company.
Additional Resources