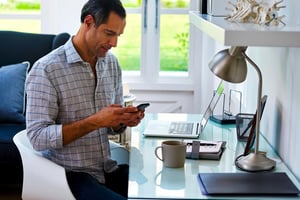 The workforce is changing, and so is the way we do business. While some organizations still run traditionally, with employees in the office from 9 a.m. to 5 p.m., other businesses are providing more flexible work environments that allow them to accommodate both their customers and their employees. With these changes comes a need to update legacy technology systems that were only built to support the conventional way of doing business.
Cloud services are changing the way SMBs work by helping them modernize and improve upon their more antiquated systems. With cloud services, businesses can get more value out of their investment while allowing employees to work on any device from any location with access to an internet connection. In a previous post, we touched on the most effective ways SMBs are using cloud computing, but in this post, we focus on four unique cloud services that your business can use to transform operations:
1. Microsoft Office 365
Many small to midsize businesses are leveraging one or more components of the cloud-driven Microsoft Office 365. Their business bundle includes cloud-based services like email hosting with Outlook and Microsoft Office applications such as Word and Excel. While most businesses can justify the cost of this cloud service based just on email and Office applications alone, the truth is that this only scratches the surface of the value that Office 365 can offer.
One important component of Office 365 that's a game-changer for small and midsize businesses is its file storage capabilities. Historically, companies had to manage an in-house server to store all their files and data. Then, staff either had to be in the office to gain access to this data or use a cumbersome process to gain remote access. In addition to maintenance, companies would have to also secure the system, all while keeping up with equipment life cycles.
With Office 365, your office data can reside in the cloud. Each of your users has large amounts of storage available to them, where they can save all their files. Everyone from your office is also able to securely access your organization's shared files from any location on any device through the cloud.
Office 365 also offers tools for collaboration and communication. In several Office applications, your users can co-author documents. This enables two or more individuals to work on the same document at the same time, with each user's changes showing up on the other's screen, in real time. All this data is saved and backed up instantly while they're working. Office 365 provides Microsoft Teams at no additional cost. This communication hub provides a workspace where individuals can communicate, share documents, and collaborate with others, both inside and outside the organization. This provides users with a more streamlined, efficient, and intuitive way to work on projects together.
2. Cloud Voice
Cloud voice is another important cloud-based service that enables individuals to work more efficiently, no matter where they are. With a traditional phone system, employees are bound to their desk if they don't want to miss an important call from a customer or vendor. But with cloud voice, users can make sure that they are always able to take important calls by having them ring on their mobile phone simultaneously.
The portable nature of cloud voice gives employees more flexibility, allowing them to work from home or while traveling with no hassle. Employees who have more flexibility and control over their work-day tend to be happier and more productive, which benefits your company's bottom line.
Cloud voice services also help support business continuity efforts. With cloud voice, both your employees and your customers are getting the same experience when it comes to voice services. Customers can call one number to reach an individual instead of having to call both an office and mobile phone number. Meanwhile, employees are able to access all the same phone services from their home or mobile office that they would be able to access in the office. And your employees never have to give out their personal cell number.
3. Password Management
Password management apps are cloud-based tools that are used to improve business operations and security. Passwords continue to be a pain point for end users, given that secure passwords need to be unique, long, and complex. Most employees have a difficult time remembering different, complicated passwords for each of their accounts. With a password manager, passwords are encrypted and stored in a secure cloud vault for the end-user to access online.
Password managers like LastPass are available from a browser, app, or browser extension, allowing users to autofill their passwords on sites they visit frequently. The password manager can also help generate secure passwords according to the system's length and character requirements. This cloud-based tool also allows you to save form-fills for address and credit card information as well as store other data, like identification or notes.
With an enterprise account, you can also securely share logins/passwords between users. For example, if you have a system where there is just one login for all users, you can use the password manager to share the username and password information with all employees. The person sharing the credentials can also select whether or not they would like to allow the recipients to see the password, or simply have the password manager auto-fill the password for them. This also makes it easy to restrict access and change passwords to accounts when employees leave or change positions. And when one person updates a shared password, everyone will still be able to access the system with this new login information.
4. Video Conferencing
Video conferencing is yet another cloud service that helps small and midsize business staff communicate and collaborate no matter where their coworkers or clients are located. Often, video conferencing comes as part of a cloud service that you may already be using, such as cloud voice or Office 365. However, there are also separate cloud-based communication applications like Slack or Zoom that offer video conferencing options as well.
Video conferencing enables your employees to be more flexible and mobile, whether that means working from home on occasion or working remotely in another city or state. Video chat gives all employees the opportunity to have face-to-face communication, which can be an important part of collaborating and maintaining a team-oriented company culture. This service is easy for employees to take advantage of and becomes a communication fundamental when people are working outside of the office.
Which of the Different Cloud Services Are Right for You?
Having trouble deciding which of the different cloud services might be right for your business? A managed service provider like CoreTech can help you better understand which cloud-based services are right for you. At CoreTech, we specialize in helping small to midsize businesses adopt the right technologies to help them improve efficiency and benefit their bottom line. Our team can help you understand how different cloud services may benefit your business and work to implement and manage them within your organization.
Contact us today to learn more.