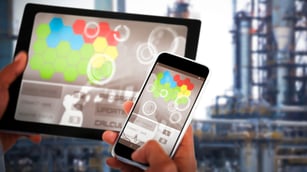 Are you operating your small to midsize business using cloud applications or solutions? According to a recent survey from Capterra, almost 48 percent of small businesses allocate part of their budget to cloud computing each year. Business owners and managers who want their companies to remain competitive in the marketplace should consider what the cloud can offer their business.
The Benefits of Cloud Computing Explained
When you store data in the cloud, you're able to access it anywhere, anytime, from any device that's connected to the internet. It's that simple. More and more small to midsize businesses are embracing cloud computing because it offers unique benefits that help them work smarter and within their budget.
Here are the benefits of cloud computing explained:
Reduce Up-Front Costs. When you invest in physical technology infrastructure like servers, this equipment depreciates, leaving your company behind on the technology curve. Cloud computing is more cost effective because it doesn't require you to invest in or manage servers or software. Cloud applications are automatically updated by the vendor, so they're always running on the most up-to-date software.
Increase Mobility. With cloud data and applications, users can work from anywhere, accessing all the applications and data they need from any device that connects to the internet. This enables businesses to offer some flexibility in how employees work, allowing them to work from home or while on the go.
Improve Efficiency. Cloud computing also helps SMBs improve the efficiency of their business processes. Cloud applications that allow for conferencing, messaging, file-sharing, and collaboration helps teams work smarter and faster, as they can connect and work on files and projects together at their convenience.
Experience Scalability. Scalability makes it easy for businesses to add resources as they grow. With the cloud, you pay on a per-user basis, making it easy to add users for a fee or delete users to save.
Maintain Business Continuity. When you're using on-premise equipment, natural disasters or other emergencies can bring your business to a halt, until you have time to replace the equipment. With cloud computing, you're back in business once you can access devices with an internet connection. The cloud helps you maintain business continuity as you access your data and applications from anywhere.
5 Effective Ways SMBs Use Cloud Computing
At CoreTech, we've seen firsthand how cloud computing can be a game-changer for small and midsize businesses. Here are just a few of the ways that our SMB clients are using cloud computing to improve operations and their bottom line:
1. Communication
With so many communication applications in the cloud, you may be using cloud computing and not even know it! Chat applications like Slack and Teams, conferencing apps like Zoom and GoToMeeting, and email web clients like Gmail and Outlook are made possible by utilizing the cloud. The benefit of using a cloud application for communication is that you can use these apps on any device from anywhere as long as you have a reliable internet connection.
2. File Storage
Many small and midsize businesses use images, audio, and video in their marketing, which requires them to store large files on their local system. With the cloud, you can shift the storage of these files off your local system so that you aren't using as much hard drive space, which can be costly. Utilizing cloud storage allows SMBs to prioritize local storage for smaller files that need to be accessed every day.
3. Collaboration
The cloud makes it easy for small business teams to collaborate on documents and projects. Sharing information with others is as simple as sending the link to a document, eliminating the need to send large files through email. And the best part is that with cloud applications, users can work on the same document at the same time, making collaboration and editing a simple and effective process.
4. Mobile Working
One of the greatest benefits that cloud computing can offer SMBs is the ability for employees to work outside the office. All users need to access a company's applications and data on the cloud is a device that connects to the internet. Cloud computing makes it possible for employees to work from home or while they are traveling. Users can access web applications and email from their smartphone or laptop anywhere they have an internet connection. With unified communications, employees can even take phone calls from their work number on their smartphone, no matter where they are located.
5. Data Backup
All it takes is one natural disaster or serious cyber security incident to lose all your data. That's why effective data backup is essential for SMBs to ensure that they can access their information in the event of a systems failure. With cloud data backup, you can access it at any time and from any place that you have an internet connection. Additionally, the cloud makes it easy to automatically update as you work so that you don't have to worry about performing several backups over time.
Curious about how your business can utilize cloud computing to improve your business operations? Contact us today to learn more.