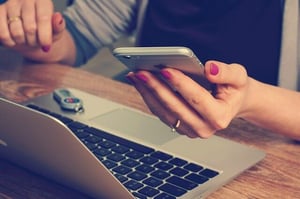 With ever-changing technology and data, storing and maintaining information continues to present challenges for every business owner. This is especially true for businesses that operate on a mobile or remote basis, with employees in the field who are frequently needing to access and update data to collaborate with other team members. Cloud computing provides several advantages to a business environment, but it's imperative to evaluate both the benefits and the risks involved to determine if the solutions are right for your organization.
Advantages of Cloud Computing
Remote work is one of the most popular cloud computing benefits. Having access to data, plus having the ability to update that data while working remotely, is key to keeping any business running. In addition, this access leads to increased efficiency and productivity in day-to-day operations because employees are not restricted in what they need to do when working out of the office.
Cloud computing also means fewer updates to your operating systems, because those functions are routinely handled by an IT managed service provider (MSP). This allows your employees to stay focused on the business at hand. Furthermore, no onsite servers means reduced equipment upgrade and maintenance costs.
Cloud-based systems often have more redundancy, and backup capabilities in place. Additional backup can be added if your business goals require it. As a result of redundancy and backup, your business stays up and running with very little downtime.
Risks of Cloud Computing
One potential risk of cloud computing depends on your level of connectivity. If your connection isn't stable, it will hamper your ability to conduct business and serve customers. If your office has a poor internet connection that goes down fairly often, you won't be able to access tools like Microsoft 365 and other cloud applications or carry out other online processes.
Another risk that requires attention is backup protection. Although popular cloud providers state they have redundancy in place, you'll want to be certain you have easy access to restore information quickly, as their redundancy may not be comprehensive or accessible in a timely manner. You will still want to discuss your backup needs with your IT support provider. This includes finding out what type of infrastructure and business continuity processes your provider has access to in order to overcome these obstacles.
Is your organization in finance, healthcare or another industry and needing to meet specific requirements? Businesses that operate under requirements for securing or storing data will want to review contractual terms with any cloud services provider. Your IT support provider can help you assess the cloud offerings and tools to determine what will meet the requirements and meet your business goals.
Of course, with regard to data, do not take security for granted. If you work in an office with a computer connected, via wire, to a server, you don't need to worry about anyone eavesdropping on that connection. However, when you're sending information over the internet, you need to feel confident that your communication is secure. A good IT provider will offer strong security protections to give you peace of mind about transferring data to the cloud.
Managing Risks with an Experienced IT support provider
Some perceived risks of cloud computing that may concern business owners can be mitigated by choosing the right IT managed service provider. While there are many MSPs available, it's important to find one that will serve as an advocate and look out for your best interests.
Your IT provider should serve as a good partner to help navigate the complexity of cloud computing. This means finding an MSP that will tell you upfront what resources you need, how much storage space and bandwidth is required, and what type of licenses you may need to operate your business smoothly and at full capacity without any hiccups or unexpected expense.
Ultimately, cloud computing benefits often outweigh the risks, and now is a great time to evaluate these solutions for your business. CoreTech understands the challenges of managing data while keeping your business running and knows how to deliver cloud computing that will benefit your business processes. Contact us today to find out how cloud computing could serve your organization.