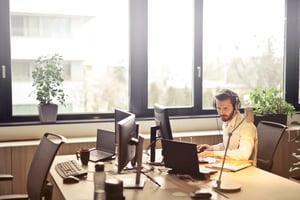 Vendors provide a lot of vital services to small businesses, such as internet access, financial operations, copier services, telephone systems, software solutions and much more. However, coordinating your infrastructure, software, equipment and other components can be time consuming and confusing, especially if you don't have technical experience in those categories.
That's why contracting with an IT service provider who provides IT vendor management can be a good move for your business.
Read on to learn the pros and cons of outsourcing your business's IT vendor management.
Pros of Outsourcing Your IT Vendor Management
Hiring an IT service provider to handle IT vendor management on your behalf comes with a lot of benefits. These include:
1. You don't have to be an IT expert.
Having a technology company on your team who is aware of the other vendors and IT services out there can help you coordinate all of those without you being an IT expert or having to telephone all of them. Instead, it allows you to make one call and say, "I have a question or an opportunity we want to explore. Can you help me out?"
2. You won't have gaps in your systems
.
With an IT service provider handling IT vendor management, they can talk with the other vendors to make sure you aren't missing out on something that will tie your project together. This could be a necessary piece of equipment, specific software or security implementations to ensure that each component operates efficiently and without hiccups. In addition to making sure there are no gaps, it also ensures there are no unnecessary overlaps that could bog down the system or lead to unnecessary costs.
3. Outsourcing vendor management can help prevent problems with interaction down the road.
When your IT service provider handles your IT vendor management, they will participate in all of the technology conversations so they can spot potential problem areas with your other vendors. Because the IT company is managing all aspects of vendors' network access — firewalls, switches, security, access components, etc. — it's important for them to be aware of any changes coming down the pike.
That way, they can make you aware of any potential vulnerabilities or complications that could come with the implementation of new technology, whether it's hardware or software. If they're not involved in the conversation early on, they may be surprised by new applications, equipment or infrastructure that could interfere with the network running properly.
4. You'll get help evaluating costs for future technological improvements.
If you're homing in on a specific vendor, your IT service provider can review the prospective contract before you sign it to make sure the vendor has accounted for backup, security and infrastructure requirements you would need, so you understand the associated costs. If you haven't chosen a specific vendor but have a short list, your IT service provider can review each proposal to determine its requirements for full implementation, providing you with a total cost of ownership calculation for comparison.
5. You can skip the finger pointing.
With an IT company handling your IT vendor management, there's no need for blame games or finger pointing should issues arise. Instead, your IT service provider will collaborate with each vendor to resolve any problems, so you can stay focused on your business.
6. Your IT service provider becomes the expert on your team.
With their deep knowledge of systems and technical expertise, your IT service provider can help head off problems without disturbing you in the middle of the night or on a weekend. They can work with your vendors to keep your business operations running smoothly without interruption.
7. Your IT service provider can provide valuable referrals and feedback on other vendors.
All IT service providers work with a lot of other vendors, and they have a good idea of which ones would be more compatible with you, as well as those who will be more responsive to your needs. They also know the ones that could be troublesome. That insight could save you a lot of money and problems in the future.
Cons of Outsourcing Your IT Vendor Management
Although there are no true drawbacks to having an IT company take on your vendor management, there are two misconceptions, and we've detailed those below.
1. You may feel out of the loop.
If you're a client who wants to understand what's going on with your technology at all times, you may feel a bit disconnected from the process. However, the goal is to be as efficient as possible with your company's IT vendor management without disrupting your day-to-day business, while bringing you in when you would like to be involved.
2. You may feel like you don't have control of your vendor relationships.
Actually, you still control all agreements and enjoy direct relationships with your vendors. Your IT service provider is not signing contracts or buying equipment on your behalf. You won't be handing over control; rather, you're adding a layer of expertise to help you minimize frustration and extra work. By collaborating with someone with a deeper knowledge base, you'll be better armed to make sure gaps are filled and problems are resolved.
Save time, resources and headaches by outsourcing your IT vendor management to CoreTech.
Our team's extensive technical knowledge and expertise means we can help address difficulties you may not even know exist, as well as alleviate concerns before they turn into major problems.
Contact us today to find out how CoreTech can help your business manage your technology vendors.