Mobility as a business strategy continues to trend upward. Studies project 9 billion users will make mobile connections by 2018, with 50% of the population utilizing a tablet or smart phone as th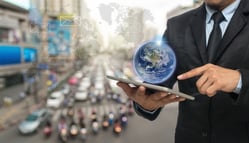 eir first method of contact. With numbers like these, it is critical that businesses review how they are taking advantage of mobility and if they are capitalizing on the benefits. If used correctly, mobility will allow employees to work more effectively and efficiently. In, addition your business may benefit from using mobile devices to communicate with clients and vendors at anytime and place. Here are some benefits to consider.
Improved flexibility
In today's business environment flexibility is a key to success. Mobile devices allow people to transform any space or place into their office. This will help businesses steer away from the typical 9-5 shift and will allow people to get work done at their own pace. The increased amount of flexibility will lead to a more actively engaged workforce.
Increased job satisfaction
Have you heard the saying, 'happier employees get more done?' Well, that applies to here as well. Mobility in the workplace will actually increase job satisfaction, which will lead to work getting done more effectively. Mobile devices encourage creative innovation without having to sit at a desk, and this ability is something that many individuals want to have in their job.
Expanded collaboration
Mobility allows people to attend meetings with others across the globe--from wherever they are at. All of the new conferencing capabilities are bringing employers, customers, and suppliers together to create a more engaged and collaborative work environment. Mobility is broadening many horizons that some never dreamed possible.
Productivity
More and more workplaces are now designing mobile apps that transform the way their employees' work. According to Centre Technologies, with the rise of mobile apps, employees can integrate context with their data and applications. In fact, a survey found that mobility increases workplace productivity by 55%. When employees are working with the tools that are right for them, they will be more motivated.
Mobility technologies are allowing employees to take their work wherever they go. It is one of the great revolutions impacting businesses of all sizes. Increase the flexibility, employee happiness, collaboration, and productivity in your office today by implementing or expanding mobility in your business.
Sources:
https://centretechnologies.com/5-good-reasons-promote-workplace-mobility/
http://digitalworkplacegroup.com/2014/04/08/10-advantages-enterprise-mobility-frontline-workers/
https://www.iofficecorp.com/blog/6-ways-mobility-can-transform-the-workplace