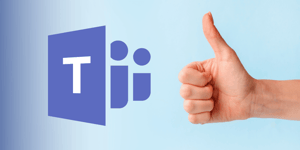 Last Thursday, Microsoft unveiled another new, generally available, feature for Teams, known as Approvals.
A convenient update to be used by the frontline all the way up to corporate executives, Approvals allows everyone to have their list of to-dos handily grouped together in a convenient place—and sending approval requests is possible with just a few clicks.
What are Microsoft Teams Approvals, and how can they help your business? We'll discuss this feature, how to use it and three specific ways you can add it to your business processes.
What are Approvals in Microsoft Teams?
Most projects are made of several moving parts, and often, you have to wait to get feedback before proceeding or get someone to sign off on one or all of those pieces or steps.
The feedback loop in business projects can hinder productivity if it isn't a well thought-out process. Approval requests can get lost in the shuffle of the daily workflow. Or, you may need several individuals to sign off before you can move on to the next step. What can you do to simplify these steps?
That's where Microsoft's Approvals update comes into play.
Right now, task review in Teams pretty much goes like this. You're a part of several projects, and you have disparate review requests in multiple channels. You can do a couple of things to organize those, including a manual to-do list, or mark notifications as unread. But this can get cumbersome, and some items may fall through the cracks.
Rather than dredge up old notifications, with Approvals, your requests for review can now all be found in the same place.
Where do I find the Approvals
App
on Microsoft Teams?
To access the new Approvals App, click on the three dots on your left-side menu. I already had Approvals installed and pinned onto my menu, but if you don't, you can click the three dots and then right click the Approvals tile. Select "pin," and it will now stay on the left-side menu.
From this app, you can see any pending approval requests that you need to complete or that you have sent to others in your organization.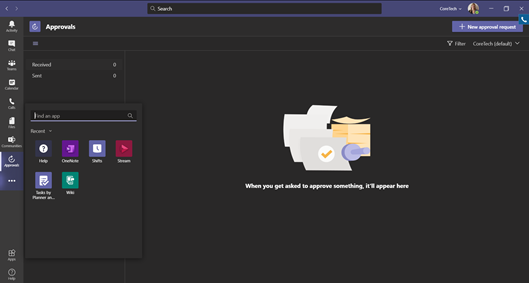 Creating New Approval Requests in Microsoft Teams
You can create a new approval request from the Approval App. Click the button in the top right corner, and you'll see a window like this.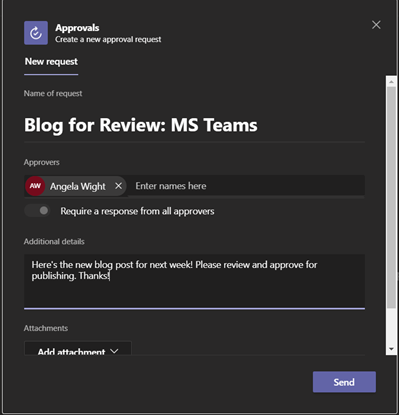 In this window, you can detail the specifics of your review. You can:
Add a title

Enter the names of reviewers

Decide whether or not everyone needs to approve the request

Type up your details about what you would like individuals to do for the request

Provide necessary attachments

Toggle custom responses
Send an Approval Request from a Chat or Channel
You can also create an Approval request from a Chat or Channel. The same window shown above will appear, but if you are sending requests to a Chat or Channel, you can only get responses from individuals who are a part of that group. Otherwise, they will not receive the request notification.
After you have submitted the request to a chat or channel, a card will appear in that channel with all the necessary information, including what needs to be approved and what actions you can take.
Specifics Ways You Can Use Approvals in Your Business
Numerous projects often need approval from management teams or other team members. You could use Microsoft Teams Approvals for nearly anything, such as:
Project proposals

Client agreements

Content creation
Project Proposals
Whether you're building a new product or improving internal processes, proposing a new project and getting the necessary signoffs to get started on it can be a complex process. It can be difficult enough just getting one manager to provide feedback on an idea—it's another thing entirely to get numerous people to provide timely feedback.
With approvals, you can create and share your proposal with everyone who needs to see it, and they'll even receive a reminder. Plus, until they approve or deny your request, it will be in their "Received" Approvals list, too.
Client Agreements
Onboarding clients involves several moving parts from numerous individuals, as well. Maybe you are still going through the drafting process of the new client agreement, and you need others on your sales team to approve or deny the version you just wrote up. With Microsoft Approvals, you'll streamline the process and get that agreement finalized in no time.
Content
C
reation
As a marketer who works on numerous content creation projects at a time, I see a lot of potential in Microsoft Approvals for my daily workflow.
If I'm working on a new user guide and need approval on the technical side, I can send a request to specific members of our IT team. If I'm working on a blog post and just need content reviewed for spelling and grammar, I can submit to my manager and get that feedback in no time using the smooth process Approvals offer. The app keeps all of my received and sent requests in one convenient place, and I can easily see progress on every pending project.
Do you have questions about Microsoft Teams Approvals—or any other Microsoft Teams feature?
CoreTech uses Microsoft Teams internally, so we know the ins and outs of the platform, and we're happy to help you use it, too.
We can provide pro tips and tricks to make using the platform smoother and easier. Plus, we're always committed to staying up to date on Microsoft's frequent update rollouts for their collaboration platform.
Contact us today to learn more or to see how Microsoft Teams could benefit your organization.