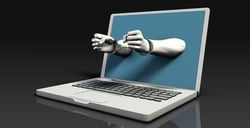 Every year, there are 80-90 million cyber security incidents. Information is snatched, computers are hacked, money is taken, and identities are stolen. Cyber criminals use phishing, malware, and all other sorts of methods and techniques to obtain data and take money. All of these cyber criminals can't possibly get away with all their crimes, can they? Read more to find out how cyber criminals are put behind bars.
Where to start?
As you might imagine, catching a cyber criminal is not an easy task. The first step is to identify the crimes and the backbone of the issue. The Internet Crime Complaint Center (IC3), which is a partnership between the Federal Bureau of Investigation (FBI) and the National White Collar Crime Center (NW3C), collects complaints of internet crime and forward the data to the appropriate law enforcement agencies. The NW3C also trains thousands of officers yearly in cyber crime, computer forensics, and intelligence analysis.
Research
So what happens after the data of cyber crime activity is sent to local law enforcement agencies? Lots of research. Law enforcement officials will use cyber forensic analysis tactics to find data and present it as evidence. In order for this evidence to be used in court, the police have to get a warrant to obtain the machines used in the cyber crime. Once the machines are obtained, special cyber crime units are assembled, which have special technical skills. The cyber crime unit decrypts files, reveals passwords, seizes information, and recovers missing files.
Punishment
Now, what happens to the cyber criminal? The punishment for cyber crime has drastically increased over the years, due to the increase in technology and cyber crime activity. The penalties greatly vary, depending on the type of cyber crime committed. Hacking is considered a federal offense as it is deemed as a form of fraud. The punishment for this ranges from a small fine to 20 years in prison, depending on the offense. Identity theft can earn a sentence up to five years, and that time will increase if it the theft was related to terrorism. Intercepting communications carries possible jail sentences of one to five years. Hacking a secure government information system carries penalties of up to 10 years in prison, along with fines.
How do you stay safe?
No target is too small, nor too big, so it is important you take the necessary precautions today to protect yourself. First, be sure to always keep your firewall on and the software updated, this will help protect your computer from hackers. Check your antivirus software and be certain it is updated and installed correctly. Last but not least, pay attention to what you are downloading and to the websites you are on. Carelessly downloading email attachments can almost instantly allow a cyber criminal to hack into your computer. Finally, when you are not using your computer be sure to log off. If it is left on, the attacker could have a connection to hack into your information.
Do you need assistance protecting your business network systems? Please contact us today at info@coretech.us.