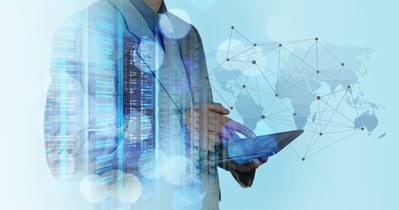 As the Microsoft 365 landscape continues to evolve and develop, we wanted to showcase more apps you have access to with your subscription!
1. Microsoft Outlook Calendar
Now this might seem pretty straightforward. Like any other online calendar, you set your appointments, meetings, and reminders so you can prioritize clients and projects. But don't discount this feature just because of its simplicity. Microsoft takes productivity to the next level by connecting it to your To-Do list, Bookings, and Yammer accounts. You can learn more about Bookings and Yammer accounts in the link below. By combining all of these features into your daily calendar, you can coordinate your day to stay on track and work more efficiently!
Learn more about your Microsoft office: 7 Microsoft 365 Apps You May Not Know Existed [+2 Bonus Apps]
2. Microsoft Forms
Surveys are a great way to gauge customer satisfaction and poll your audience on any topic you would like to receive feedback on. You can provide a fresh, new way to connect with them through Microsoft Forms! Their easy-to-use themes and customizations allow you to add a variety of questions to your survey, from multiple choice to short answer.
You can also use Microsoft Forms internally to give your employees a voice and receive feedback on any topic you choose. They can give suggestions on SMB improvements, from product updates to company culture, that would help the business run in a smoother fashion. Forms is a clean, professional way to receive feedback from people in and outside of the company!
3. Microsoft OneNote
Tired of creating a Word document that you won't find because it's in some odd file on your computer? Or writing a bunch of notes you have a hard time interpreting later? Microsoft OneNote takes your note-taking skills and organizes them for clearer communication and brainstorming. You can create different "notebooks" for work, finances, and personal purposes. From there, you can separate different sessions and topics into colored tabs, with titled notes that you can easily find whenever you need it.
Whether your notes are formatted chaotically or in a neat outline, OneNote gives you different tools, such as multicolored markers, highlighters, fine or thick-tipped pens, and pencils. If there's a point you don't think you will understand your notes when you return, you can record your thought process through their "audio" feature. Because of its versatility, OneNote can travel with you anywhere, and you will remember exactly what you were thinking whenever you come back.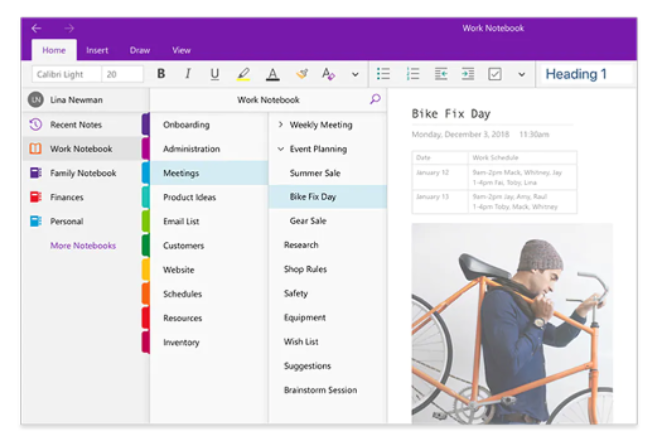 [Screenshot from Microsoft]
4. Microsoft Planner
This just sounds like another feature similar to Microsoft Calendar. How is this any different?
Yes, Microsoft Planner is a tool which tracks plans and task assignments for you and your team. And it brings another layer of efficiency. Planner pushes projects forward by delegating assignments to the employee responsible. Now, everyone involved knows what the plan is and how execution will play out. Instead of referring to a photo from a whiteboard or an outline, Microsoft Planner goes further into detail about what each person needs to do without getting lost in the weeds. Everyone will know what tasks they're responsible for to reach business goals.
5. Microsoft Whiteboard
Need a quick and effortless way to draw out and document a brainstorming session? Microsoft Whiteboard creates a space where you and your employees can pound out innovative thoughts that drive your SMB forward. This feature includes templates ready for problem solving, research, and project planning, which save you time organizing your information. As always, you'll have access to multi-colored markers, highlighters, and erasers that will help mold your idea into a masterpiece! If someone likes a specific note, Whiteboard incorporates "Reactions" that include thumbs up, question mark, or an "X" to give an opinion about different project pieces. The whiteboard automatically saves, and you can export a screenshot of it to share with employees who weren't able to make the meeting.
6. Microsoft SharePoint
Acting as the central hub for all your files, documents, photos, and data, Microsoft SharePoint holds everything you're creating and storing in one secure location for easy access. SharePoint allows each department to customize their site so they can streamline work to the proper employee. Your company will stay up to date by sharing common resources and applications on home sites and portals, enhancing communication through one click of a button. You can accelerate productivity by notifying and approving workflows to move projects towards completion.
Bonus: Microsoft To Do
Microsoft products give you many ways to increase productivity. But if you're the type of person who enjoys minimalism, then try their To-Do app. You can create different lists that can be labeled as "Important," "Planned," "Assigned to Me," or you can customize your own list. Microsoft has even enabled a "suggestions" feature that helps you prioritize which task you should do first. While the other applications are ways for you to manage productivity with the entire office, this one is meant specifically for you. Now you know what you need to complete before your workday has begun!
Learn more about Microsoft Teams with our consulting services
Efficiency and productivity do not work without communication, and Microsoft Teams is the best program to use when collaborating with your team as it unifies chat, voice, video, and file sharing. Customize it for your business processes and Teams will save you time and keep more people in the loop. Contact us today to learn more about CoreTech Consulting and Training, and how we can help maximize your business communication and productivity.