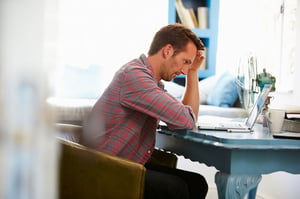 According to Slack HQ, as of March 27th, the number of people working remotely in the United States was somewhere around 16 million. That number has no doubt increased since then, and no one is certain how long the current ways of working will continue.
And, while working from home has its many perks, like a significantly shorter commute from living room to dining room; the ultimate snack drawer, AKA the pantry or fridge, or even a relaxed dress code, there are still a few downsides to working remotely.
The "dark side" of remote work—feeling anxious and stressed out—usually surfaces once the novelty of the setup has worn off. For some, that's around the two-week mark.
There are several ways stress can rear its ugly head, especially during a global pandemic, but here are a few of the symptoms you might be experiencing if working from home is stressing you out:
Low energy levels

Frequent head and body aches

Frequent colds or infections

Insomnia

and irritability

General sense of

malaise

, feeling "out of it"



The important thing to note is that if you have never worked remotely before, you must go easy on yourself and remember that there is a learning curve involved. You'll need to find what works best for you.
To help you get started with improving your work-from-home lifestyle, I've pinpointed five ways that working from home could be causing you some extra stress, along with some tried-and-true methods that may help lower your stress levels during this especially stressful time.
1. Little to No Structure
Humans require routines and structure to get them through life. Without it, many of us flounder, unable to figure out how to fill our time, and working from home is no different.
When you were working in the office, you had a set routine every day. You had morning rituals like getting out of bed, showering, getting dressed, eating breakfast and enjoying a cup of coffee. Then, you had the drive to the office that signaled your brain to start launching "work mode," and then when you arrived at the office, it was easy to just dive into your list of to-dos. And at the end of the day, you saw your coworkers wrapping up and heading out, so you knew it was time for you to do the same.
Working from home makes it a little more difficult. You don't necessarily have those signals or transitions like a morning and evening commute. And you are now held accountable for organizing your work, completing tasks and hitting deadlines, which means that if planning isn't your forte, you may benefit from a scheduling or project management tool. Outlook's calendar is great for this, but there are a number of organization tools out there, like ToDoist and Trello, just to name two.
To alleviate the lack of structure, I would recommend:
Establishing a routine similar to your normal

pre-pandemic

day-to-day, and stick to it.

Use a calendar or to-do list to plan out your day

s

. And

at the end of the workday

, plan out the next one, so you're staying on top of what needs to get done and ensuring things are getting crossed off.

Tip

: When you are making those lists or schedules, plan your tasks around when you know you will work best. For example, I tend to do all my

content

writing in the afternoon, when I am wide awake and can slip into the writing "flow" more easily.

Planning your work around your most productive times

is an especially important tip for parents who may be homeschooling their kids while trying to work now, too. Try to block out times when you know your kids will be engaged with schoolwork or other activities

so you can

get your own goals accomplished.
2. Increased Number of Possible Distractions
Working from home means that you are now surrounded by hundreds of distractions that normally weren't there when you worked in the office, especially if you are at home with family members. But remember, you still should be working from home, so try to limit your distractions as much as possible.
If you are finding your remote-work situation stressful due to the varied distractions like Netflix, housework or caring for your family, try these solutions:
Set up a dedicated workspace. If you don't have room for an entire

at-home office

, adapt an already existing space like your dining room or kitchen counter. Depending on how often you work from home

and the amount of space you have

, it may not be a bad idea to invest in a small writing desk and office chair.

Train yourself to work in bursts.

Use a timer on your phone

and do your best to focus solely on work for that amount of time. I tend to work in

somewhat

longer bursts—usually 60 minutes. After each burst, I take a short break to stretch my legs and then come back for another

60-minute block

. After 2 of those blocks, I take a longer break

, around 10 minutes or so

to grab a small snack and refuel

. If an hour seems too long for you at first, try the

Pomodoro technique

.

Do remember to take some short breaks though, so you can step away and come back recharged

, ready

to tackle

your next burst.

Otherwise, if you try to push through the whole day without breaks, you'll find your productivity waning

over time

.
You'll need to remind yourself to stand up occasionally because you won't have the same interruptions of someone popping by your desk to ask you questions or to ask how your weekend was. So your calendar and a timer

will become very useful in breaking up your day's work into smaller, more manageable tasks.
3.

Loss of boundaries between work and home
Your home is now your office—how do you keep it all separate? During work time, do your best to focus only on work, and when you are off-the-clock, so to speak, don't think about your to-do list or approaching deadlines.
The important thing here is balance.
Also, don't feel like you have to work so many extra hours because you are working from home. Many work-from-home employees feel like they need to be "on" all the time and always working to prove they are being productive, but that can actually be detrimental to your performance. And it could be contributing to your stress levels.
Remember:
It's okay to take breaks now and then

, and it's absolutely essential that you

properly step away for the night

and on the weekends.

Having a dedicated workspace will help with

establishing boundaries, too

.

If you have a home office

, even better! You can just close the door at the end of the day. Out of sight, out of mind, right? Even if you don't have

a complete home office, having a space that is only for work will help your mindset

—just log off at the end of the day

and don't come back to your space until morning

.

Use that routine mentioned above

to create those boundaries. Repurpose your commute time

with something that signals your brain it's time to stop working. Maybe it's doing yoga or going for a

r

un.

Or maybe you're going to get a jump on those chores

.

Whatever it is, use your commute time to your advantage, however you see fit.

The same thing applies in the morning

;

find something to help you "switch on

,

"

like reading articles or going for a walk.
4.

Loneliness and Isolation
This is one of the hardest we've all had to face. As humans, we're all social beings. We all still need to stay connected and communicate regularly with our teammates. Without that connection, you may start to feel lonely, isolated and out of place, more disengaged, and less satisfied with your job. In fact, nearly 20 percent of the remote workforce names loneliness as one of the biggest struggles with working from home, according to Gallup.
Without regular contact like you would find in the office, you miss out on team culture and camaraderie, too. There are no off-the-wall conversations about the latest Netflix special or the big game, and the office banter is one of the things CoreTech's team reports missing the most.
You need to know how to connect with your team personally in order to work with them professionally, so you should:
Make use of technology like Zoom, Slack and Microsoft Teams to

stay in touch

. Be sure to have a water-cooler-type cha

nnel so your coworkers can chat, share photos and memes

and tell the occasional joke.

Just because you're working from home doesn't mean you can't still have fun!

Use video conferencing whenever possible. This is the best replacement you can get for in-person interaction, because you can at

least

see

the expression on everyone's face.

It doesn't act as a perfect substitute, since you can't really notice body language, but it's a

considerable

step above instant messaging or phone calls.

Participate in team-building activities

to maintain the connection.

You may not be together physically, but that doesn't mean you

're completely alone.
5.

Increased use of screens and mobile devices
While the technology we all use is a boon to our society and allows us to stay connected even while social distancing, it's not always positive, and it can impact the quality of our sleep. And when working at home, many of us spend all of our working hours—or more—in front of computers, smartphones and other devices. Doing so may allow us to get work done and stay connected with one another, but the blue light emitted from these devices will trigger and alert our brains, causing us to be more awake.
This is especially detrimental when trying to get our necessary hours of sleep. Using devices late at night can keep us from relaxing and properly winding down. It causes us to lie awake longer than normal and results in a less fulfilling sleep, which can have a serious impact on our health, as well as our productivity the following day, so:
Don't use blue-light emitting devices late at night. Turn them off at least one hour before bed and find another way to wind down

for the day.

Also be sure to take regular breaks from your screens throughout the day. Give your eyes a break and prevent straining them.



When working remotely it's more important than ever to monitor our health for signs of stress. A lack of structure, increased distractions, loss of boundaries between work and home, loneliness and the increased use of blue-light emitting screens can all add to our stress levels. However, it's important to watch for those signs of stress.
If you sense them, you can be more proactive about dealing with them, so you aren't facing burnout or other serious health issues. For more information and tips about working from home, check out the latest remote-work articles from our team!