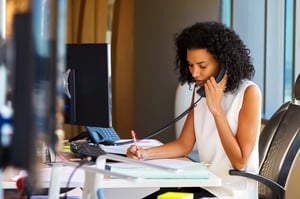 One MSP for voice and data is almost necessary in today's world. Now that everything is connected through integrations, if one application stops working, it can hold up your entire process. You need to be able to have issues identified and resolved as quickly as possible, to maintain the flow of business. Not only does downtime cut down on productivity, it also puts people in a grumpy mood. According to a survey from the National Small Business Association, 41% of companies said that their biggest technology challenge is "the time it takes to fix issues". Everything seems to rely on technology so keeping it running as smoothly as possible is one of the most important aspects of business.
Part of keeping technology running optimally is ensuring software remains up-to-date. Hiring the same MSP for voice and data allows system administrators to keep all devices up-to-date and working cohesively. This will keep your technology in compliance with the newest policies and protocols so everything talks nicely with each other.
Here are some additional benefits of having one technology partner to take care of all your tech services.
More knowledgeable support – One team will know more about the overall scheme of things and can suggest the proper implementation of equipment and procedures.
Reduce downtime - They will have access to all the game pieces which will allow them to troubleshoot and resolve issues more quickly and effectively.
Vendor management - An IT partner will be willing to coordinate vendors and act as an intermediary between service providers to make sure your business receives the service and features it needs.
Quicker completion time – Being in control of every phase of the project (planning – putting cable in place – configuring equipment – setting up equipment – training) can greatly increase the completion time of projects.
If you would like to speak with us about putting all your technology services under one roof, send us a message today, and our expert team will be in touch..
Source: https://www.nsba.biz/wp-content/uploads/2013/09/Technology-Survey-2013.pdf