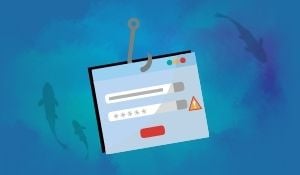 Since the start of the global pandemic, we have written numerous articles about phishing and phishing scams. By now, you know that they are prevalent, and attacks are becoming more difficult to spot, but have you ever wondered about the specifics behind why people fall for phishing scams?
We've detailed a few reasons below, as hackers use numerous, evolving tactics in an attempt to swindle your employees for information, or worse, access to your systems.
The reasons that people fall for phishing
scams
are numerous.
Hackers have several tactics for attempting to fool your end users, and they commonly ramp up their efforts during times of uncertainty and unrest, such as a global pandemic, civil rights protests and natural disasters, just to name a few. Cyber criminals implement social engineering techniques to deceive and manipulate individuals into taking a desired action—usually to click on a link or download an attachment.
Often, their emails will prompt an urgent, emotional reaction, as they may use an authoritarian tone or terminology, along with an official-looking logo and a time sensitive statement. Or, they may spoof the email address of a CEO or other official within that user's company to prompt additional actions—the possibilities are endless.
The result? These messages will cause readers to forego logic, as they will forget to review the correspondence for any red flags. Rather, end users will receive a sinking feeling in their gut—or a sense of panic—when they realize that something has "happened" to their account.
To put it another way, humans are practically hardwired to fall for phishing scams due to intrinsic, emotional reactions when things aren't as they should be. That's what makes phishing emails such a powerful weapon in the hands of cyber criminals, in addition to the speed in which humans generally read emails and the fact that some individuals just aren't aware of the red flags they should be looking for.
---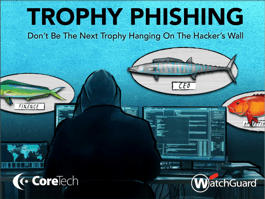 Do you know who the trophy phish are in your organization?
Our latest eBook details the 5 most commonly targeted individuals—find out today to avoid getting hooked!

---
Some believe they aren't vulnerable
to IT security threats.
One study in social psychology, conducted by the psychology department at New York University, noticed that individuals tend to "self-enhance" when assessing types of risk, such as a phishing attack. This means that some people automatically believe they are less likely to participate in risky behavior—instead believing that those around them are more susceptible than they are.
This can cause a false sense of security and create an increased vulnerability to online scams for your organization.
Security isn't top of mind
for some
.
As we mentioned previously, hackers prey on periods filled with fear, uncertainty and doubt, and a lot of the events that have transpired in 2020 fit into those categories. Plus, scores of workers are now conducting business from home, and that presents an array of new challenges, both on a personal and professional front.
With worlds colliding at home, the number of distractions has increased. So, even if employees are focusing on getting their work done remotely on top of juggling childcare and other personal obligations, they may not be as careful as they should due to the distractions.
And that could be putting the entire organization at risk of attacks. Whether due to poor BYOD management, sharing credentials over non-secure channels, oversharing on social media or just not taking the time to evaluate suspicious emails, end users could be jeopardizing your business by not giving IT security the conscious thought it deserves.
Lack of awareness
Sometimes, end users just aren't aware of the threats that phishing presents, so they aren't actually looking for the signs that an email could be a phish. Or, they aren't sure what those signs are.
That's why your organization needs to conduct mandatory cyber security awareness training on a continuous basis. That way, your staff can be on the lookout for suspicious activity, and they will know how to react, should they note any red flags.
It's important to note that this training isn't just a one-time seminar, however. Your employees need to regularly be engaged with phishing simulations as well as video and other training sessions.
CoreTech understands the importance of cyber security.
In today's cyber threat landscape, you can't afford to have a less than optimal cyber security configuration, and there are numerous pieces that fit into that puzzle. To have a truly secure system, you'll need to implement both technological solutions like firewalls and antivirus software as well as employee-centered responsibilities, like strong password management, multifactor authentication and, of course, cyber security awareness training.
That last tenet of your IT security strategy is crucial, but if you're not sure where to start, CoreTech is here to help. We will even manage and send out the training modules and phishing email simulations for you, so you don't have to worry about a thing—contact us today to get started.