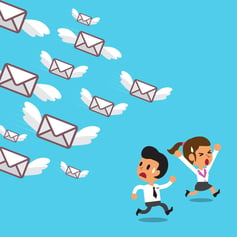 How many times are you interrupted during the work day? Are those interruptions impeding you from getting work accomplished? Many workers who feel overloaded by their workloads feel this way because they spend so much time dealing with interruptions, they don't have time to actually focus on their work.
Did you know that it takes an average of 25 minutes to get back on point after an interruption? If you consider how many times you're interrupted every day by coworkers, phone calls, emails, texts and the like, that can certainly add up to a great deal of inefficient work time. We all deal with interruptions every day, and for a lot of us, it's hard to say "no".
Don't get me wrong, there are necessary and needed interruptions, but have you ever stopped to consider that there are ways to manage them and help get your productivity back? Managing interruptions in the workplace, seems impossible, right? But, there are steps you can take to minimize the damage interruptions have on your productivity.
Click here to check out the full article How to Manage (and Minimize) Workplace Interruptions. You will find some effective ideas to apply to your workday and get a handle on these interruptions!