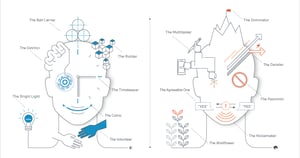 Whether your meetings take place in person or on a video conferencing platform, there are a few personality types that make themselves known in every meeting.
Do you know which ones are the best – or the worst – for successful meetings in your organization?
The 7 Best Meeting Participants
Everyone has certain strengths, but these seven influence the agenda of your organization's meetings—whether in person or via video conferencing—in a positive way.
These are the individuals that put their best foot forward in business meetings and strive to meet or exceed goals.
The Builder
Builders love to examine, think and share. The word "but" is not part of their vocabulary, and they instead focus on how to add to ideas, not detract from or diminish the value.
The Bright Light
The most interesting idea generators of the bunch, they always come up with the most innovative and creative ideas. They come to your meetings prepared (sometimes overly prepared) and are always ready with some practical, although sometimes unorthodox, solutions and contributions.
Plus, through their inspirational motivation, Bright Lights encourage others to share their ideas in meetings, too, resulting in a more fruitful conversation for everyone.
The Comic
We've all sat through the occasional flat meeting that could have benefited from some lighthearted humor. Maybe no one's talking, or there are no ideas coming out of the conversation.
When there's a Comic sitting at your conference table, you have an individual who knows how to inject a short joke or a bit of fun into the proceedings at the right time.
However, they never overwhelm the conversation or knock it astray. Instead, they know how to read the room, and if things need a jolt of energy, they know how to lighten the mood and get everyone's focus back on the tasks at hand.
The Timekeeper
Everyone is given the same amount of time every single day, and sometimes, those hours get blocked in for meetings or brainstorming sessions. However, some meetings don't go as planned. Fortunately, there are Timekeepers to monitor the clock and the agenda.
Timekeepers track the allotted amount of time set aside for the meeting. They always have an agenda in place, and they make sure that meeting participants adhere closely to it to make sure that meeting's goals are accomplished in a prompt fashion that works for everyone.
They don't dominate the discussion or stomp out personal conversations, but they will steer things back on topic if things stray too far away from the purpose of the meeting.
The Volunteer
Having a list of tasks to get done and no one volunteering to do them can be frustrating, but when you have a Volunteer occupying a seat at your table, you always have someone who is willing to step up and take the reins.
The DaVinci
Your employees learn and absorb information in different ways. Some are fine with just hearing something spoken once in a meeting. Others prefer having notes sent out afterward to make sure they can soak up everything that was discussed. Others still are visual learners, and learn the best by seeing pictures of visualizations of ideas.
DaVincis can help focus a discussion and clarify topical discussions in a visual manner. They can come up with quick whiteboard sketches that are sure to get everyone on the same page.
The important thing for a DaVinci is to translate the information into a medium that everyone can understand through their own learning processes, so everyone gets as much as they can out of the meeting.
The Ball Carrier
Having someone on your team who can take an idea and run with it is a surefire way to stoke inspiration in your meetings. These individuals pay close attention to what's going on in a meeting, contribute at appropriate times and provide excellent feedback on how to get a meeting moving toward satisfying its purpose.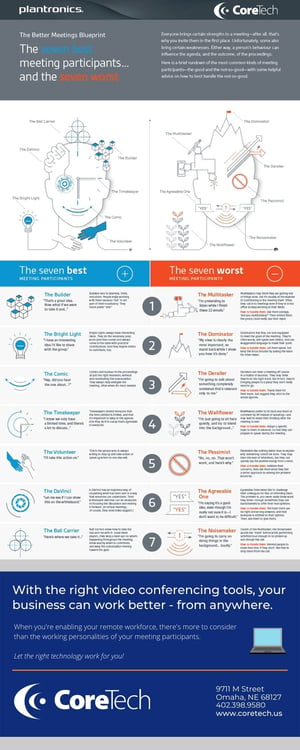 The 7 Worst Meeting Participants
Having those first seven personality types at your conference table or on your virtual conference call is likely to result in a successful meeting that accomplishes what's set out on your agenda. However, if your conference room is instead filled with the following seven personalities, you might find it more difficult to get things done.
So, in addition to detailing the 7 types, we've also offered up some key ways you can get your meetings focused and back on track.
Click the graphic to the right for a free downloadable infographic about the 7 best and worst meeting personalities!
The Multitasker
Multitaskers might believe they can handle it all and focus on every task just as sufficiently. However, if you have someone multitasking during a meeting, they usually contribute less than they could. Instead of letting the Multitasker answer emails or IMs while in a meeting, remind them that the group is interested in their input.
The Dominator
Dominators are those that assume control of a meeting, even when they aren't the most well-equipped to do so. They will speak in long, complicated sentences, often using a louder tone or register than others, and use more difficult terminology. Not only does this personality type distract from others who have something more useful to contribute, it also takes up valuable time that could be used to hit goals. Let them speak, but also give others a chance to speak by asking for everyone's input.
The

Derailer
Nothing throws a meeting off course more than someone who intentionally discusses irrelevant, unrelated material. It doesn't take longer than a few seconds for others to grab onto this trend and bring the meeting where it wasn't intended to go.
To get back on track, thank the Derailer for their input but otherwise insist that everyone do their best to keep the conversation on the initial agenda for the meeting.
The Wallflower
Wallflowers don't always have the worst intent for a meeting, but their lack of contribution can make for a difficult conversation. They will typically sit back and let others discuss instead, and they will only chime in via an instant message or even after the meeting is over.
If you have a Wallflower on your team, encourage them to participate with some pre-meeting preparation. That is, give them one topic to discuss during the meeting so they can prepare their notes or discussion points well in advance. That way, they don't feel as rushed or uncomfortable during the conversation itself.
The Pessimist
Being around someone who views the glass as half empty all the time can be draining to team energy and morale—even more so when it comes to meetings. They insist on going through the reasons that something won't work, emphasizing all negative aspects and ignoring the positive.
Even if they have the best of intentions in trying to sway the group away from an idea, Pessimists can cause the positive energy in the room to dissipate instantly. Don't let your innovation get deterred by "can't." Let the Pessimists speak, and if they don't believe an idea will work, ask them how they might approach the idea in a better way.
The Agreeable One
At risk of offending others, The Agreeable One in the group will side with anyone to avoid offense. This can stifle creativity and innovation during your meetings, which can result in less work getting done and fewer goals being met because individuals may agree on a less than optimal solution.
When someone agrees just for the sake of agreeing in a meeting, you risk not knowing what they actually think. Encourage everyone to give their honest opinions during meetings—that everyone is entitled to say what they are thinking, no matter what others may say.
The Noisemaker
Closely related to the Multitasker, the Noisemaker completes activities while they are on the call, without regard for how loud they are being or using the "Mute" button if the meeting is a video conference.
They carry on without consideration for the rest of the meeting, so if you have trouble with a noisy colleague, remind participants to mute their mics when they aren't speaking or for those who insist on working on other tasks while on the call.
Everyone works differently, and with the right technology, you can work better.
CoreTech can help you figure out the best technology to align with your business goals and improve performance during meetings.
Your technology should never be to blame for not accomplishing goals during a meeting. Ensure your video conferencing solutions are up to the challenge.
Contact us to learn more about Poly's offerings or to schedule a meeting for discussing your conference room needs today!