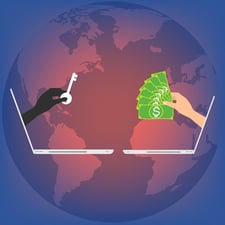 The data thieves are preying on us and ransomware is a predominant threat. Following the simple guidelines below, at work and at home, will go a long way to protect your data.

Before we start in though, what is ransomware? It is a type of malicious software designed to block access to a computer system until a sum of money is paid.

Be suspicious
The best way to avoid viruses is to be aware that most infections occur through social engineering. This means an attacker relies on a person, and involves tricking that person into breaking normal security procedures. This could be impersonating a support person and asking for a password, asking to install software (actual virus or malware), or even remoting into their computer. The other side of the social engineering coin is sending fake email (phishing email). The email asks for information (passwords) or directs you to open an attachment or click on a link, which appears legitimate, but actually installs a virus or malware. Always look at the email twice and if it isn't normal be wary. If it's an actual person ask for some sort of identification or tell a support person you will call them back at your normal support phone number. Never wire funds or give someone your credit card number. Last but not least, be familiar with your day-to-day activities within email, internet browsing, and interaction with tech support so you recognize when something is out of the ordinary.

Common sense browsing
Good browsing practices are important and will protect you as well. Don't browse shady sites, download files from suspicious sources, or click links from people you don't know. By following these guidelines, you will greatly reduce your risk for ransomware, malware, and virus exposure.

Use security software
Unfortunately, your computer can be infected simply by visiting a trusted website. So even if you only visit websites you trust, the website itself could be compromised – something that happens with alarming frequency these days. The two most common types of security software used for personal computer security are antivirus software (virus protection software), and antispyware (spyware removal software). There are a lot of great apps out there. If you don't have antivirus or antispyware installed on your business computer, contact CoreTech today.

Keep your software and operating system up-to-date
Vulnerabilities are distributed publically by vendors. Then, the malicious attackers develop attack vectors to utilize the new vulnerabilities. Then vendors work to distribute patch updates to their software. It's important not to neglect software updates. Update regularly, either plan and schedule the update manually, or when prompted, update at that time.

Don't pay to get your data back
If you choose to pay you may get your data back or you may not. In a typical "blackmailing" scheme they could give you your data back by providing you with a decryption key or take your money and disappear without you getting your data back. Or, worse yet, you could be asked to pay again and again. If you do end up paying and getting your data back the culprit is likely to continue the cycle. Follow the recommendations in this article to protect yourself and stop the cycle.

Backup your data
Everyone knows they should back up their files, however many are not. Retrieving your backup is the most common protection after a ransomware attack occurs. Hopefully this is not your last resort, but if it is, at least you have a backup available. No one seems to think anything bad will happen to them… until it does. If you've backed up your data you can tell the data thieves to get lost. If your backup is recent, then all you'll need to do is restore your data and you're back in action. There are plenty of great options available for backing up your data. These range from a one-time purchase to subscriptions, all with their own set of benefits. Do a bit of research and choose one to get setup today.

Do you need assistance in securely protecting your business against ransomware and other security threats? Contact us today!