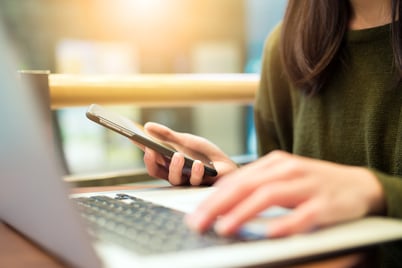 Ladies and gentlemen, it is time for the head-to-head match. In the red corner, the underdog is gaining ground with over 6 million business users and owning over 10 percent of the market productivity suite through Google Workspace, Gmail. Over in the blue corner, our champion contender with over 87% of market productivity and is connected to one of the largest online business portals, Outlook. Which email service is coming out on top as the best email service for your business?
Why do small businesses need email?
With over 333 billion emails sent and received daily, it is one of the easiest ways businesses can communicate internally and externally. For marketing purposes, email offers the highest and most measurable ROI (return on investment), as 81% of small businesses rely on email to connect and build relationships with customers. So, any small business needs to utilize an email provider that best fits their business communication needs.
Get to know our fighters before we start the match!
What is Gmail?
Gmail is a free webmail service that allows you to send and receive emails. It is a Google product and can be integrated into other features of the Google Workspace, such as Google Drive, Google Calendar, and Google Documents.
What is Outlook?
Outlook is both webmail and desktop mail by Microsoft. As another free email service, it integrates tools such as tracking calendar events, collecting contact information, and managing tasks. If the user pays for a 365 subscription, Outlook becomes a multi-functional tool that works with Microsoft Word, Tasks, Forms, and SharePoint.
Now, the moment you have all been waiting for: Gmail vs. Outlook. Fight!
Round one: features
Outlook lands the first punch as the two email portals collide. Their main desktop has numerous features to help organize and manage the user's email. Rules are automated actions performed on sent or received emails based on specified conditions. You can also initiate the Follow Up tool to prioritize emails in case one gets lost in the shuffle. Gmail fights back by integrating features such as Google Calendar and Contacts, which can be found on the left-hand side of the interface. Unfortunately, Gmail does not match Outlook's customization features to organize incoming and outgoing emails.
Round one winner: Outlook
Round two: user friendly
As the email services step back into the ring, Gmail gives Outlook the ol' one-two relative to user experience. Gmail makes navigation and email creation easy with a simple, organized interface. Outlook tries to fight back, but users struggle to utilize each part of Outlook to its fullest potential. Users can become Gmail experts on their own within a matter of days, whereas it might take a couple of dedicated training sessions for someone to understand Outlook.
Round two winner: Gmail
Round three: security
Security is a top priority for small businesses, and both Gmail and Outlook are bringing their a-game. Gmail and Outlook interlock by offering two-step verification to protect users' accounts and adding alternate email addresses and phone numbers for further proof of secure login. Gmail breaks free and clocks Outlook by encrypting emails in transit with Transport Layer Security (TLS), which protects metadata, headers, the body of the message, and login details. Outlook, on the other hand, encrypts email messages with S/MIME, which will only protect the body of the message. Still, Outlook makes a comeback by flagging down emails with red and yellow safety bars, which notify the user if an email is identified as spam or a phishing scam.
Round three winner: Tie
Round four: customer support
Gmail and Outlook come in for the next round, each offering direct support from their respective owners, Google and Microsoft. Google Help Center packs a powerful punch by extending a search engine so users can enter their questions and present FAQs to find answers faster. Microsoft Support fights back with a search engine, trending topics separated into specific categories, and articles to help train users. While both Gmail and Outlook offer a community to discuss the ins and outs of each email provider, Outlook wins the round with its online chat support.
Round four winner: Outlook
Round five: pricing
Time is money. Even though they can be free, Gmail and Outlook do not provide enough help on their own, which is where Google Workspace and Microsoft 365 come in. Let us break it down:
Google Workspace services and pricing
Business Starter ($6.00 per user/month)- 30GB of file storage per user, 24/7 support, Workspace products (Gmail, Drive, Docs, Sheets, etc.), and 100 video participants
Business Standard ($12.00 per user/month)- same features as the Business Starter, but increases file storage to 2 TB per user, an app maker, 150 video participants, can record and save video, cloud search, and alerts for changes to Drive documents.
Business Plus ($18.00 per user/month)- Business Standard inclusive, increases cloud storage to 5 TB per user, 250 video participants, and Google Vault security.
Google Workspace Enterprise (Contact Sales)- includes Business Plus features, as well as unlimited storage, live-streaming services, advanced enterprise controls, and admin set rules for device management
Microsoft 365 services and pricing
Business Basic ($6.00 per user/month)- Engage with up to 300 attendees, web/mobile versions of Office apps, 1 TB cloud storage, business-class email, standard security, 24/7 phone, and web support, specific services included
365 Apps for business ($8.25 per user/month)- Basic plan plus, added desktop versions of Office apps
Business Standard (12.50 per user/month)- Basic plan plus, hosting webinars, reporting tools, managing customer appointments, teamwork, and communication
Business Premium- ($22 per user/month)- Business standard plus, collaboration with Microsoft Teams, remote access to critical work apps, heightened cybersecurity, simplifying IT, administration, and billing.
Although both services fight, Gmail wins the round with a wider variety of storage space and options.
Round five winner: Gmail
Round six: app integrations
It is the final countdown; the winner takes all. Both Gmail and Outlook provide many options to add to your email, including a search engine to find what you need faster. Gmail shows star ratings and the app's number of downloads. Outlook tells you which apps are free and which will require some payment. They also include star ratings to find the most popular apps. While Gmail offers more popular apps, Outlook's add-ons can also be integrated into Access web apps, Word, Excel, and other apps. Because they provide wider accessibility and more information, Outlook wins the final round.
Round six winner: Outlook
Which one is better?
Outlook and Gmail gave the match everything they had to come out on top in today's fight. Both gave top-notch security to prevent phishing scams from reaching end users' inboxes. Gmail packed a punch with its user and budget-friendly program. But Outlook provided more with their customer support, features, and add-on integration. While both contenders put up a good fight, Outlook has shown they understand what small businesses need to communicate and grow successfully.
Thank you for joining us! We all witnessed a great fight today. Here at CoreTech, we like to keep up with all the latest tech trends and upgrades. We recently recorded an online seminar covering the new features and added functionality in Windows 11! Click below to watch it on our Resources page!