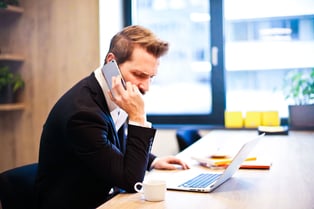 In just the past few years, the way employees use mobile devices in the workplace has significantly shifted. The popularity of remote work options and the adoption of bring your own device (BYOD) programs have increased.
Whether employees are using their own mobile device or a company-owned device, they can enjoy the flexibility and ease of working remotely, while employers benefit from increased productivity and efficiency. However, as more companies embrace employee mobility, they also need to consider the IT security, connectivity, and management concerns that come along with mobile cloud computing.
That's where mobile device management (MDM) comes in.
MDM allows companies to monitor, manage, and secure the mobile devices that employees are using to complete their work. This helps businesses mitigate some of the risks involved with using different mobile devices to access private company data.
What Is Mobile Device Management?
Mobile device management is a type of security software that organizations can use to secure and monitor their employees' mobile devices, including laptops, smartphones, and tablets. This software is essential for any business that has a mobile workforce or has employees that may sometimes use their mobile devices to access company data or open files.
MDM software can separate work and personal applications and data, ensuring that any corporate information stays secure. It doesn't disrupt the personal applications that employees have on their own devices, but it does help protect business data and files from being accessed by unauthorized users.
Benefits of Mobile Device Management
Using mobile device management to monitor, manage, and secure employee's laptops, smartphones, tablets, and other mobile devices provides a range of benefits for business owners:
1. Enhance IT security and mitigate risks.
Companies that allow their employees to use smartphones and other mobile devices for work could be putting their sensitive information at risk. When employees are connecting their personal, unprotected devices to the secure corporate network, they could be potentially exposing security vulnerabilities.
By adopting a mobile device management solution, your company is able to enhance IT security and protect your important data from these vulnerabilities. An MDM envelops company-owned or company-approved apps and data in an encrypted environment so that it is protected even if the device is compromised.
2. Revoke access quickly.
When you use mobile device management software, blocking the downloading of unauthorized apps is easy. If employees are using these devices for personal use as well, they will still be able to access the personal apps, but not while they are accessing protected business information or apps.
Revoking all access when an employee leaves the company is also simple. If it's an employee-owned device, you can erase all company-owned data and apps from the device remotely, without touching anything on the personal side of the device. For company-owned phones, you will be able to reset the phone before retiring it or giving it to another person. Alternatively, if an employee's job role changes and their permissions need to be updated, you can do this remotely without disrupting their work.
3. Track devices with ease.
With MDM, you can also utilize GPS tracking to monitor devices and employees. If a device is lost or stolen, you can lock it remotely so the data is inaccessible. Then, you can locate the device and recover it.
Companies can also use the GPS tracking system to see where employees are located. Tracking employees allows you to increase efficiency by dispatching the closest technician to a desired location in an emergency.
Improve IT Security with Mobile Device Management
At CoreTech, we want to keep our customers protected from security threats by providing the best products and services on the market. That's why we recommend IBM MaaS 360, an industry-leading mobile device management solution.
When you hire CoreTech for MDM services, we take care of everything from implementation to management. Our team sets up the mobile device management software, handling everything from the back end. We set all the permissions and access information that you provide, such as what sites and apps devices are allowed to use. Then, we push a small application out to the mobile devices during the implementation phase.
Our team is also able to provide real-time device and user statistics to show you how employees are using their devices for work. This is a great way to find new opportunities to improve productivity across your team.
Are you ready to start improving your IT security with MDM? Contact us today.