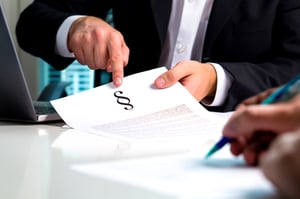 In the legal industry, time is money.
And there's nothing more frustrating than sitting down to a full day of billable work when your technology starts to fail you.
If you don't have an in-house IT team, this often results in spending hours trying to fix the problem yourself before you finally call in an expert who might be able to fit you in at some point, after they figure out how your system is structured.
Not only do you and your attorneys need technology that helps you operate efficiently, but you also need to make sure that your systems are secure. Legal organizations are working with sensitive, personal data on a routine basis, so it's imperative that they take the right steps to ensure this data is protected and meets compliance requirements.
That's where a managed service provider (MSP) comes in.
An MSP helps your law firm meet changing regulatory compliance requirements while making sure that your technology isn't holding you back from being productive and billing your time.
You might be wondering, "What is a managed service provider? And how can it help my firm stay safe and profitable?" Below, we'll discuss what an MSP is and the benefits one can provide your legal organization.


What Is a Managed Service Provider?
Managed service providers are professional IT companies that focus on helping clients manage their IT infrastructure and user systems.
Most MSPs work closely with their clients to help them find the right systems to boost productivity and profit while recommending security measures that help protect their data and their business as a whole.
Instead of taking a reactive approach to security and other tech issues, managed service providers work to suggest proactive solutions that prevent problems from starting in the first place.
For instance, your MSP might implement security measures that proactively protect your system from being hacked, saving you the time, money, and hassle of dealing with a data breach.
Managed service providers also help organizations address issues in real-time and solve smaller problems before they get bigger and start to impact operations and profit.
One reason many law firms hire an MSP instead of an internal IT team is because it tends to be more cost effective. The majority of U.S. law firms employ less than 10 individuals, and they may not have a budget for in-house IT staff.
Hiring an MSP allows law offices to benefit from the expertise of an entire team of IT professionals for less than it would cost to hire such a team in-house, making it a budget-friendly solution for small to midsize legal organizations that need IT expertise and support without staffing more employees.


How a Managed Service Provider Can Protect Your Law Firm
Managed IT services provide a wealth of benefits for legal organizations that need hands-on and proactive IT support.
An MSP can protect your law firm and provide IT service for attorneys in four important ways:
Enhancing security
Maintaining compliance
Improving mobility
Maximizing productivity and invoiceable hours
1. Enhancing Security
Legal professionals understand, better than most, the ramifications of a cyber security incident. That's why it is especially important for law offices and other legal organizations to take proactive measures to secure operations and data.
Preventing security threats requires the implementation of an end-to-end, layered security strategy. This includes a firewall, advanced endpoint protection, and security measures around email and data storage.
An MSP will recommend quality security protection and IT management processes to keep all operating systems and applications up-to-date.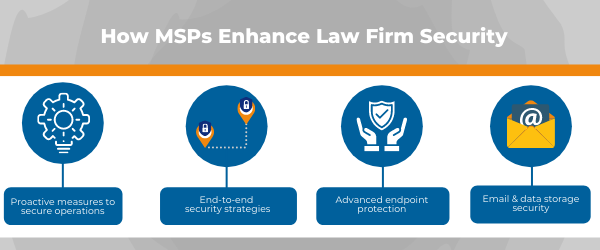 2. Maintaining Compliance
Law firms know all too well the implications of not meeting compliance measures for data security.
Since attorneys and their teams are often dealing with large amounts of sensitive client information, it is vital they are compliant when it comes to safely storing and backing up their data.
An MSP can help your law firm remain secure from external and internal threats, an essential task in achieving regulatory compliance. Cyber security education is another important piece of keeping your business safe from phishing, CEO fraud, malware, and attempts to steal data.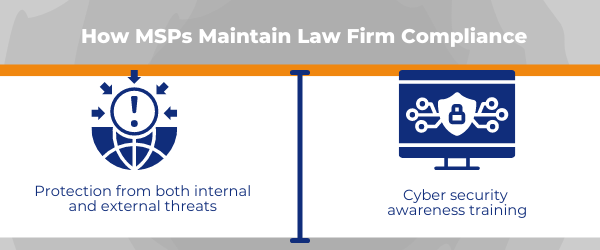 3. Improving Mobility
Attorneys often need access to information and documents outside of the office. Not only that, but the information also needs to be secured.
An MSP will help improve the mobility of your team's data by putting systems into place that allow your team to securely access data anywhere they have an internet connection.
Additional mobility and IT support helps your team work when and where they need to, giving your staff the ability to make the most of their day.
4. Maximizing Productivity & Invoiceable Hours
Maintaining productivity means protecting profit.
Whether your office is experiencing a temporary internet connection issue or you've lost access to data due to a ransomware attack, IT issues can impact your team's ability to work and fulfill those billable hours.
An MSP will help minimize downtime by establishing redundancies, security measures, and disaster plans that protect your organization from issues or threats that impact productivity.


Connect with an IT Partner Who Understands
CoreTech is a managed service provider with a history of helping law firms and providing IT services for attorneys. We have become a trusted partner for legal organizations by understanding their systems, providing layered security solutions and proactively maintaining their applications and network.
When you partner with CoreTech, you work with a team of technology professionals who understand the unique needs of your firm or organization. Our entire team is here to support your organization, making sure effective security measures are in place and your technology is working for you.
Experience the difference with CoreTech. Contact us today to learn more about our managed IT services for law firms.