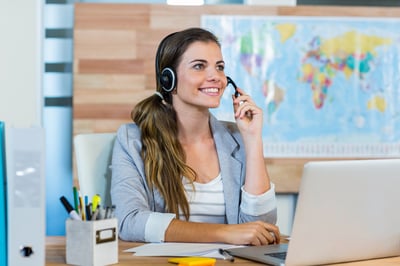 Companies with a customer service mindset drive revenue 4-8% higher than their competitors, according to Forbes. Great customer experiences lead to more referrals and consequently more business. Technology advancements can either add to or subtract from your CX. We will cover practical ways that your business can have an impact on positive customer service. If you are a small business, take a look at these areas to improve communication, streamline, and tackle the challenges that you may be faced with when implementing technology.
Unified communications
Technology enables you to communicate with your clients by their preferred method of connection. You can use video chat, email, phone, or text to connect with clients and prospects to build strong relationships with them. All forms of communication can flow simultaneously, making it fluid and transparent for your clients. As a result, they interact with you in a variety of ways, and you can easily transition between the different communication channels. New technologies are available for small businesses to unify all forms of contact on one platform, including your customer service team, your sales team, as well as your tech support team.
All these networks can, and should, tie into the main platform you are using to track customer interactions. Whether it is your CRM software package or ticket management system, all communications should be connected to your customer database. This streamlines your data, making it efficient for you and your staff to see all communications with your clients at once.
Integrating different systems
Many businesses utilize multiple systems to track customers, finances, products, and services. There is value in maintaining different systems because it keeps your data secure and you can customize them to your specific needs. However, those systems might cause you to make multiple entries with the same information. If a product or service is purchased, it is automatically entered into your POS system. Then, you have to take the time to manually add it to your CRM and accounting applications, making sure the information is the same.
Companies, such as Zapier, provide the glue to pull and exchange data between your applications. In this way, automation makes your staff more efficient, improves the customer experience, and results in more accurate records.
Chatbots and AI
Artificial intelligence (AI) provides beneficial elements for communicating and tracking data.
Chatbots are effective for repetitive requests that do not take long to answer. Customers can pull information from their accounts or ask simple questions that are answered through automation. Chatbots allow your customers to have 24/7 access to data they might need at any given time. You can also customize the chatbot's method of interaction, such as an online webchat or interactive voice system, depending on the customer's preference.
Another beneficial element is an AI engine. When a new ticket is created online, in advance, or when someone calls in, the AI bot goes through the entire service history you have with that client. At the same time, AI will go through your knowledge-based cluster by scanning your online data to try and pull-out solutions, suggestions, or links to similar tickets and issues. AI will then present the ticket to the tech assigned to the client, allowing them to troubleshoot and address the client's questions easily and efficiently.
As a result, AI makes your team more effective because they are not spending time researching. Efficiency and customer experience will improve.
Challenges your business may face
IT budget
Your technology budget needs to make room for updates, security, and new applications. Consider the potential offset that allows technology to make your staff more productive. Investing in technology is an investment in your company. At a time when unemployment is low, making your existing team more efficient and productive can have a huge impact on your business.
You have resources, such as your IT provider, to help you navigate this process. Your IT provider can calculate your total costs so you have a full understanding of the project, extra charges, and ongoing maintenance required. This provides a structured plan for your application administration, and management support to ensure successful execution.
Implementation
Implementing new technology can come with difficulties for everyone involved. You are focusing on issues that are directly related to the client, processing transactions, and conducting business. All while becoming an expert with your new technology.
But, implementing technology takes time. When you give your staff time to learn the system, you provide the space needed for successful implementation. Learning new technology and software has to be done at a manager, owner, or stakeholder kind of level, so they are completed effectively for the rest of the staff.
To make the process easier, carve out extra time for the staff to practice with the new technology and become comfortable with it. This will keep them from falling back into old habits and ensure they maximize your return on investment.
Best practices to optimize your technology
Make decisions and investments based on data that supports your decision. Be certain you are solving a problem that is going to benefit your customers.



Evaluate the technology you already have and see what options are available to leverage your technology further. Research add-ons or third-party modules are available to tack onto your systems for higher efficiency and productivity.




Train and retrain your staff, as well as your clients, to drive them towards the new channels of communication you are providing.


Communicate to your staff and clients why you are making these changes and how the changes benefit them. You can communicate the information multiple ways through a chatbot, phone call, or email.
Take your tech to the next level
As Omaha's leading IT support provider, CoreTech stays updated with the newest technology upgrades and trends. Whether you need to integrate new technology or create a strategic IT plan, we can provide solutions complementary to your business needs. Visit our IT Consulting page to find out how to make your technology goals a reality.