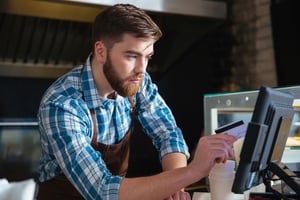 Credit unions, banks and other financial institutions rely on technology to efficiently and effectively serve their customers.
Over the past decade, the shifting needs and growing expectations of the modern consumer have driven the development of a number of new technologies, software and applications that are changing the delivery of banking services.
With these new technologies comes a need for increased security and a focus on meeting compliance requirements.
Most banks and credit unions partner with a managed services provider (MSP) to help them meet changing regulatory compliance requirements. What some financial institutions may not consider, however, is that an MSP can also help improve efficiencies and allow them to provide more competitive products and services to their customers or members.
What Are Managed IT Services?
Before we dive into why financial institutions need an MSP and what they should look for, let's first answer the question, "What are managed IT services?"
Managed IT services are services provided by a professional technology company focusing on managing the client's IT infrastructure or end-user systems. Most MSPs will work with their clients to recommend systems that help the organization run more efficiently and security measures to protect their end-users.
Rather than providing reactive fixes to security threats or other issues that cause downtime, MSPs work to offer proactive solutions to prevent these problems from occurring in the first place.
If a company has an IT issue, whether security or otherwise, they can turn to their managed IT services provider to help them remedy the problem before it begins to significantly impact operations.
How a Managed IT Service Provider Supports Financial Institutions
When you hire a managed IT services provider, you are getting a partner in technology and security. An MSP can support your financial institution in four important ways:
1. Helping Maintain Compliance
When you think of a managed IT services provider for financial institutions, the first thing that probably comes to mind is compliance.
Financial institutions are subject to a number of different compliance standards from the federal government. Credit unions and community banks need to comply with additional state regulations regarding backups, disaster plans, cybersecurity and overall data procedures.
MSPs can help your financial institution ensure that it is maintaining regulatory compliance with state and federal regulations to avoid penalties.
2. Improving Security
Banks and credit unions need to take measures to secure operations and data if they want to continue to offer customers effective banking experiences. Because the customer data held by financial organizations is so valuable, they are one of the top targets of cybersecurity breaches.
Preventing these threats means implementing certain security measures around email, firewall, data storage and more.
MSPs help put these protections in place and design an end-to-end security strategy to govern all your assets. They can also make sure that your financial institution is applying all the necessary updates to keep your systems secure.
A managed services provider also provides continuous training for end-users, making them aware of the types of phishing emails, ransomware and other scams that could lead to vulnerabilities.
3. Reducing or Eliminating Downtime
Whether an organization has lost its internet connection briefly or experienced an entire system shutdown due to malicious behavior, this downtime can negatively impact it and its customers' experience.
This is especially true in the financial industry, where consumers rely on online portals and applications to access data, make payments, etc.
An MSP ensures that there are redundancies, security measures and a disaster plan in place to prevent or minimize downtime from threats big and small.
4. Supporting Competitive Advantage
One of the greatest business challenges facing financial institutions is competition. There are a lot of competitors in the banking industry and a variety of financial services that appeal to different client bases.
A managed IT service provider can assist your financial institution in setting up the right systems and security measures to maintain efficiency and provide better, more secure services to your customers.
What Financial Institutions Should Look for in an MSP
Financial institutions need to find a managed services provider with experience in the finance and banking industries.
Partnering with an MSP that understands the requirements of relevant government regulations and that stays up to date with compliance changes will ensure that your organization is meeting federal and state compliance measures. This helps your financial institution avoid penalties while protecting your customers and data.
Another thing financial institutions should look for in an MSP is someone who understands their competitive advantage.
If your financial institution wants to remain competitive, you will need to look ahead to the future when considering different systems or security measures. An effective MSP doesn't just provide solutions for the present problems but also plans ahead to recommend systems and measures that can be implemented in the future. Your MSP should go beyond protecting your organization to helping you become competitive.
Financial institutions should also look for a provider that aims to be a true partner.
Rather than simply implementing solutions, your MSP should educate you on the nuts and bolts of implementation while discussing the advantages and disadvantages of new technologies and services.
In the end, your MSP should have your organization's best interests in mind as they vet outside security services and make agreements with vendors, ensuring that your services are working for your business.
Finally, your MSP should always have the security of your organization in mind.
Whether it's a hurricane or a security breach, a disaster recovery plan plays a significant role in how your financial institution responds to and recovers from disasters.
Your managed IT services provider should have experience with developing effective disaster recovery plans for financial institutions to help minimize the impact of unforeseen events.
Where CoreTech Comes In
As a managed services provider, CoreTech has comprehensive experience working with clients in the financial industry.
We have become a trusted partner for many financial institutions, providing them with the information they need to protect themselves and grow their organization.
Our team stays up to date with the latest technologies and cyber security compliance requirements for banks and credit unions so that each organization can focus on what it does best — providing secure, quality financial services for its customers and members.
When you hire CoreTech, you're not working with just one individual. Instead, you have a team of professionals, each with different experience and expertise. Our whole team is behind you when it comes to helping you secure your systems while protecting and growing your organization.
Want to see what we can do for you? Contact us today to learn more about our managed services.