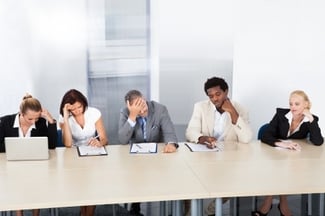 As you race to meet a deadline, your calendar notification goes off. You have a meeting in five minutes!
This is the absolute lowest priority on your totem pole, but attendance at all meetings is required. You then spend the next 30 minutes listening to someone ineffectively probe for anything to discuss, to make this meeting seem like it has a purpose. After a vast amount of time wasted in awkward silence, you are dismissed.
Finally free to be constructive, your motivation has been completely diminished. You're left frustrated after spending that half hour contemplating all the things you could have been accomplishing.
As you can imagine, this is not the best environment to inspire productivity. But all too often, this seems to be the outcome of our daily routines.
Our professional lives certainly don't have to follow this pattern. There is such a thing as an effective meeting. We just need to find what we're doing that's not working and transform it into something advantageous. Below, I have listed some essential factors in giving your meetings, meaning.
1. Purpose.
The leader of the meeting needs to decide on a clear purpose. Let your meeting attendees know the purpose ahead of time, so they may prepare. This purpose should have an outcome that can either be achieved by the end of the meeting or through tasks assigned at the meeting, to later be carried out. Whether it is to learn a new process or come up with a solution to a problem, make sure to have a tangible goal that needs to be accomplished. It may also be helpful to outline key points of the meeting to make sure things are moving along at an appropriate pace.
2. Time Management.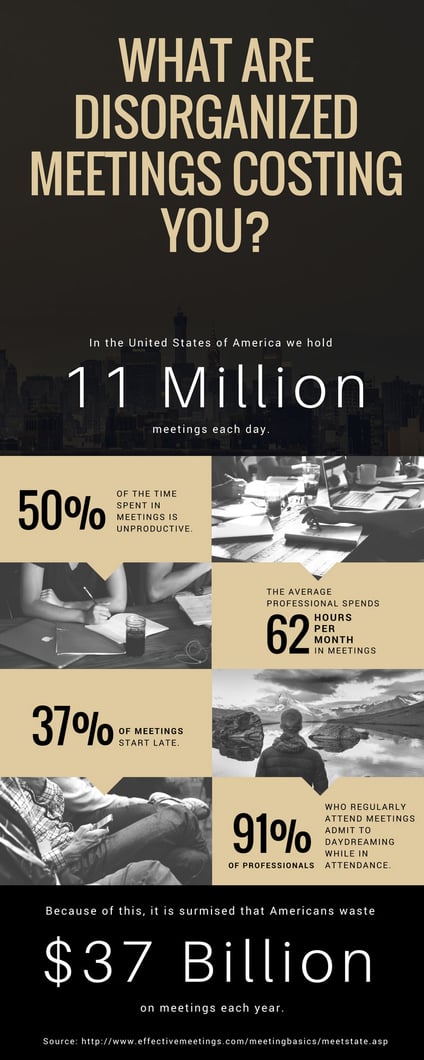 Because our attention spans tend to last from 10 to 18 minutes, 15 minute meetings have been shown to be very effective in the workplace. It is just enough time to get through important points, without rambling on to excess information. The more material you pile on, the more likely people are to forget the important points. It is also vital to start on time and end on time. Set a timer if you need to. Not only do you want to be respectful of everyone's time, but it can also be helpful to know that there is a deadline by which everything needs to be resolved. This will help keep people on task and their cognitive juices flowing.
3. Respect.
This should go without saying, but it is important to show your colleagues respect and courtesy. If they are in the middle of a thought, but you have something to add, wait until they're done speaking. That person may be about to answer the question you're getting ready to ask, or your outburst may discourage them from coming forth with their ideas in the future. Remember that you and your workmates are all on a team, trying to achieve the same ends.
4. Participants.
It is best to hold meetings with 10 or fewer attendees. With more than that, it becomes difficult to keep everyone attentive and on the same page. Also, the smaller the group, the more likely people are to actively participate. This will allow for decisions to be made quicker, while barring groupthink from taking over. Each person needs to know their individual role in the process.
5. Responsibility.
When participants are given specific tasks to complete, it is important that everyone does their part. Assigning tasks to individuals in front of their peers holds them accountable for their actions. Additionally, make sure that each person knows the significance of their role. This is key in motivating your employees to follow through.
If you decide to implement one or more of these steps into your meeting routine, we would love to hear how it worked out for you! Please let us know in the comment section below.
Sources:
https://www.fastcompany.com/3033232/9-science-backed-methods-for-more-productive-meetings
http://www.effectivemeetings.com/meetingbasics/meetstate.asp
http://www.effectivemeetings.com/meetingbasics/meetstate.asp
http://www.businessinsider.com/37-billion-is-lost-every-year-on-these-meeting-mistakes-2014-4