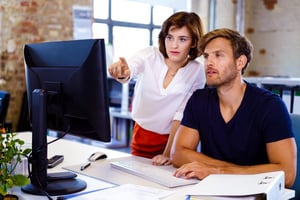 Are you paying too much for IT support? The answer may surprise you. The average cost of IT support for small businesses depends on the size and unique technology needs of the company. Though there is no magic number that each business should pay for tech support, average IT support costs and opportunity costs of not hiring professional help can give you a rough idea of how much you should be paying for support.
Average Cost of IT Support for Small Business
The average amount that small businesses pay for IT support is hard to determine because it depends on each company's unique technology needs, such as the number of devices and types of systems the business uses. If you only have a few employees on your team and aren't using complex systems, you will be paying less for support than a larger company that has more users and is integrating different systems.
The average cost of IT support for small business will also depend on what type of IT support the company needs. For example, hiring an IT technician in-house will cost you more than outsourcing. According to PayScale, the average salary for a Systems Administrator is anywhere from $30,000 to $115,000 annually. For most small businesses, it may be more affordable and manageable to hire a managed service provider to handle their IT support than to bring in additional staff. An MSP who offers access to an entire team also brings knowledge and expertise to the table, you can't get from a single employee.
Costs of Not Hiring Professional IT Support
In addition to considering the average cost of IT support for small business, you also need to be thinking about the costs involved with not receiving adequate IT support for your small business. What do you risk when you don't hire professionals to handle your IT support?
If you don't have an IT professional on staff, then there's a good chance that you don't have the expertise needed to keep your data safe from security threats, or even to keep your systems running smoothly on a day-to-day basis. Even if someone on your team knows how to troubleshoot, you are taking them away from their core business tasks to fix a problem with your technology. That lost productivity can significantly impact profitability over time — especially with recurring issues that require continual fixes.
Also, if you are faced with a serious security breach or cyber security attack, the cost could be enormous to contain and manage the fallout. The less prepared a business is, the more it will cost to recover after these types of events. It's important to have a business continuity and disaster recovery plan in place ahead of time, so you know what will be required to get back up and running.
Additionally, when your systems are down or having issues that impact efficiency, your staff can't work effectively. Not only do tech issues often keep team members from completing routine tasks, but they also become a source of frustration that lowers staff morale — an indirect cost, but a cost nonetheless.
How a Managed Service Provider Can Save You Money on IT Support
When it's time to call in the IT professionals, you have a few options. You can hire an in-house IT specialist, but they are becoming increasingly expensive and in some cases even outmoded in today's world of scalable, agile technology. You can also hire a "break-fix" IT service when something isn't working, or to perform a system health check. But again, this can get expensive and doesn't provide continuous monitoring, regular maintenance, proactive upgrades, or security solutions that evolve to keep your business safe into the future. This can lead to costly downtime.
Or, you could form a partnership with a managed service provider (MSP). An MSP manages IT infrastructure and end-user systems so your team can focus on working to advance the main goals of your business. Essentially, they act as your company's IT experts, handling everything from support services — like helpdesk assistance — to vendor management and IT budgeting. Although hiring an MSP does require an investment, it can actually help you save money on IT support over time.
Here are just a few ways that hiring a managed service provider can help save you money:
1. An MSP helps you focus on key business functions, like acquiring new clients.
With an MSP, you don't have to worry about troubleshooting computer issues or trying to find workarounds while technology is down. Instead, you can focus on core business tasks that impact your company's bottom line, like acquiring new clients or retaining your current ones.
2. A smooth-running system helps improve productivity for employees.
By taking a proactive approach to system operations through timely system updates and adequate security precautions, your managed service provider helps ensure that your employees experience minimum downtime. This allows your team to be more productive while focusing on efficiently doing their job instead of being slowed down by tech issues.
3. Employees are happier and more engaged when their tech works.
Think of your last computer issue.... You know how frustrating it is to try to get your work done when your tech isn't working the way it's supposed to. With an MSP taking a proactive approach to maintaining your technology and providing prompt support when issues do arise, you can ensure as little downtime as possible. The better the technology is working, the happier your employees will be.
4. When all your technology works, customers get a better experience.
Happier employees result in happier customers. When employees are frustrated by malfunctioning technology, there's a good chance that customers can sense this frustration, and are sometimes held up by the malfunctioning tech as well. However, when technology works smoothly and employees are empowered to do their jobs, this satisfaction helps employees do their jobs better. An MSP helps keep all your systems up and running, enabling your staff to provide better customer service to your clients.
5. There's less risk of losing data or experiencing costly security events.
A managed service provider takes a proactive approach to security, rather than simply reacting to threats. This helps your business minimize security threats and lessen the chances that you'll experience data loss or other serious security issues that compromise private information and cause downtime.
Looking for an MSP?
Isn't it about time you entrusted your IT support to professionals? CoreTech offers a variety of managed IT services for small businesses, from proactive system monitoring and 24/7 emergency support to vendor management and strategic business consulting. We help your business stay competitive by making sure that all of your systems are up and running so that your staff can provide an unparalleled experience to your customers.
When you work with us, you're working with a whole team of professionals. We know the ins and outs of technical hands-on IT, IT coordination, project management, and more. We'd love to chat more about how our services can help you save money over time. Contact us today.