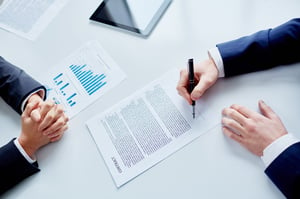 Managed service providers (MSPs) can provide a lot of value for companies that need outsourced IT support. A managed IT services contract details the ongoing services the MSP will provide to the company. And, while these service contracts offer a range of benefits for organizations, not every business is getting the full value from their contract.
Below, we'll detail how you can get the most value from your MSP contract, as well as discuss signs that your MSP is helping you get your money's worth.
Here are seven things you can do to be certain that your business is getting the most value from its managed IT services provider contract.
1. Let your MSP do what they do best.
Some businesses are used to an arrangement where they have an internal contact filtering all the IT issues and problems before they are passed to their outsourced IT provider. This has developed as the business has a time and materials contract in place, and it costs the company each time they call their IT partner. A side benefit is that the internal person filtering issues maintains visibility.
Organizations get comfortable with this arrangement, so they may be tempted to keep someone internally in the process when they bring on a partner for managed IT services. However, routing issues through someone on the internal team instead of directly engaging the MSP adds latency to MSPs response, not allowing the business to maximize the value of their contract.
Your MSP should be responsible for identifying problematic pieces of equipment and areas where your team may need more training, not your organization. Eliminating this extra step for employees to get the IT help they need gets you more value from your contract. And, you can still maintain visibility into your IT operations, you can get a near real-time perspective on what tickets are opened and what services are being performed through your MSP's online portal.
2. Involve your MSP in the planning stages of adding technology.
When a business is considering the addition of a new technology (online app, software, hardware, etc.), they often don't think to contact their MSP until they've already signed a contract with the new vendor or made the purchase. And if the new technology doesn't seamlessly integrate into their current infrastructure, there may be a lot of unexpected work for the MSP to do to get the technology working in the company's environment.
Involving your MSP early on in the planning, software selection or product evaluation processes will provide additional value because your MSP can quickly determine what may be required for that new system to work in your environment. In some cases, your MSP's input may be the deciding factor between two investment options.
Part of the evaluation process when looking at the new system should include what other costs or risks may be involved when connecting it to your network or other systems. You may need additional networking, another server, additional security or a different backup method. Your MSP can help you meet these requirements if they are part of the planning process.
For your MSP, that initial planning piece is just part of the contract. Your MSP wants to help you understand the total cost of ownership for the equipment/software before you invest, so why not use them for this important process?
3. Get help with budgeting for your current and future IT needs.
Another aspect of IT planning that many companies don't utilize their MSPs for is budgeting. Your technology provider should have an established process to help clients determine what they will need to spend on IT for the coming year based on their current and future needs.
A budget is put together based on your current IT spending for things like ISP contracts and carrier services. They will also include all of your technology lifecycle management expenses, subscription renewals and other vendor contracts. That way, your business knows what expenses you have coming in the next year for the technology you already have in place.
Knowing what you need to invest in ongoing systems and products helps you understand how much budget you have remaining for new investments. Since your MSP knows your environment and systems, they can also recommend which strategic IT investments you may want to plan for in the coming years.
Your budget helps you allocate your money and will also help you plan. Your MSP will alert you to any equipment that is coming up on the end of its life cycle and help you make an informed decision about what to do next so that you are taking a proactive approach to your company's technology.
4. Utilize the educational content your MSP offers across your team.
Many MSPs will put out monthly or weekly communications with a wealth of information on important IT trends, updates and alerts. Many will also regularly post educational information on their website, blog and social media pages for their clients to access. However, if this information is only going to the primary team members that the MSP engages with on a regular basis, then your company is not getting the full value of this education.
Your company should distribute the educational information that is important to end users across your team. This is a simple and free way to keep your staff informed about important trends and updates that may impact them as an end user, and thus impact your entire organization. Pass this information along to your team or ask them to subscribe to your MSP's blog to ensure that they stay informed.
5. Leverage the expertise of your managed IT services provider.
Your MSP can provide a lot of value with their knowledge and experience with different technologies. If you hear about a new technology that you think might be valuable for your business, all you have to do is reach out to your MSP to learn more, rather than spend hours of your own time researching. Your MSP has not only researched these technologies before, but also used and tested different products.
Your MSP knows your systems well and can tell you quickly if something is a good fit or worth exploring for your business. This saves you time by allowing you to focus on your strengths while leveraging your MSP's knowledge and expertise in different areas of technology.
6. Allow your MSP to manage software licensing.
Another way you can get more value from your managed IT services contract is by allowing your MSP to manage your software licensing. When you purchase software through your MSP, they should manage your licensing as part of your contract at no additional cost. This helps you avoid the time and hassle of tracking and managing licenses yourself.
At CoreTech, we sometimes find that our clients are actually still paying for subscriptions that they don't use anymore. With automated payments, software subscriptions that need to be cancelled can easily be overlooked. This is a waste of your company's IT budget. But when you manage your software licensing through your MSP, you are always consulted before software licensing renewals are purchased.
7. Utilize other services your managed IT services provider offers.
MSPs are constantly broadening their service packages and the types of services they offer to clients. For instance, CoreTech has a competency in voice services that many MSPs don't. This enables us to go beyond the typical managed IT services to provide more value for our clients by allowing them to include managed voice services as part of their contract.
It is in your best interest as a small business owner to consolidate support and the number of vendors you have to deal with. It streamlines operations and saves you the time and hassle of reaching out to a handful of different contacts. If your MSP is competent in other service areas like security, voice, or conference systems, you should consider using them for these services to keep your support streamlined and your overall costs down.
Top Signs That Your MSP Is Helping You Get Your Money's Worth
Now that you know how to get the most out of your managed IT services provider contract, let's talk about how you can evaluate your current service agreement:
Your MSP provides you with budgeting and reports to show you how your money is spent and what you are getting in return.
They sit down with you on a regular basis to go through critical areas of your technology (security, backups, etc.) to show they're actively doing what they say they're doing.
The MSP has asked questions about how you do business so they can determine what level of security you require.
Your MSP isn't shy about the dollars and cents of the agreement, because the reality is that IT is a cost that continues to go up, especially for companies that are more security conscious.
Their success as an MSP is dependent upon your success as a business.
They are investing in product research, staying up to date with the latest information through continuing education and industry events and working on a budget that allows them to continue improving their services.
Make Sure You Work with the Right MSP
The most effective managed service providers regularly evaluate the security platforms and systems they use as well as their internal policies, procedures and standards. This helps ensure that the MSP is acting in the best interest of their clients.
At CoreTech, we consistently evaluate the security platforms and systems we use to create a better quality experience for our customers. For instance, we've identified a better endpoint protection platform that we feel is a necessity to mitigate risks for our CoreCare | Critical clients, so we are rolling that out.
Internally, CoreTech regularly evaluates and updates internal policies, procedures and standards to ensure our clients are getting the full value of their service contracts. For example, we may change our recommended password policies and standards in light of new information and then roll these out to our client base. We have also made changes to infrastructure elements like our online payment and ticketing portals to improve the experience for our clients.
These are the kinds of changes you want to see on a regular basis from your MSP to know they are managing their systems and technology in a way that's good for them and for you as their client.
If you'd like to learn more about what CoreTech's managed IT services contract covers or how you can get the most value for your investment, contact us today.