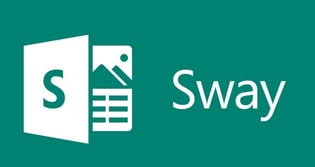 Since 1987, people have used PowerPoint to create pristine presentations for a variety of purposes, including strategic overviews, year-end wrap ups, project proposals and photo slideshows, welcome screens and so much more. But did you know that Microsoft has another presentation tool?
In fact, in 2015, the company introduced a fresh, modern contender, Sway. Microsoft Sway is a cloud-based presentation app that is free with an Office 365 account, and it offers many features for creating unique projects without the sometimes-overwhelming number of choices and add-ons that you find within PowerPoint.
What can you do with Microsoft Sway?
With Sway, you can build a number of projects. Whether you would like to build a contemporary style guide for your organization, create a streamlined webpage without the hassle of coding or build a customized report, Sway has you covered.
The ways to use this software are truly endless, and Sway offers a modern take on the notion of slideshow presentations—even taking the "slideshow" out of the equation entirely, in some cases.
Here are 5 ways Sway hits the refresh button and simplifies the experience of creating a presentation.
1. Easily add content, group it together and rearrange the order of your info.
Within Sway's interface, known as the "Storyline," you can add content, which is placed on "cards," of various types. You can select what type of card you would like from several traditional content options, such as text, images, headings or videos. You can also choose from newer options to add a stack or a group to your Storyline.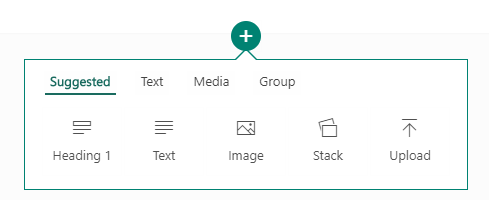 Stacks are actually a type of group, but they allow audience members to interact with content. Selecting this option will put your group of content, for instance 5 text cards, into a virtual "stack" of 5 cards that you can then click through the way someone might flip through a set of flash cards.
Stacks offer an interesting way to classify information together with just a simple click. Other types of groups include grids, side-by-side comparison sliders and image slideshows.
To quickly rearrange your information, simply click and drag the card you would like to move to the appropriate spot.
2. Focus on the content, not the design.
When using PowerPoint, it's easy to get swept up in perfecting the style and layout of your PowerPoint, eating up time with choosing animations, transitions and even photo edits. This can cause your content to fall by the wayside, making your presentation pack less of a punch.
However, with Sway, the program takes care of the design for you, offering limited style layouts that you can easily change. You can customize some aspects of your Sway, such as the color scheme, typography and animation emphasis, but beyond that, Sway will use your customization choices and create a fully formatted project. This will save you time and effort that could otherwise be spent on perfecting content.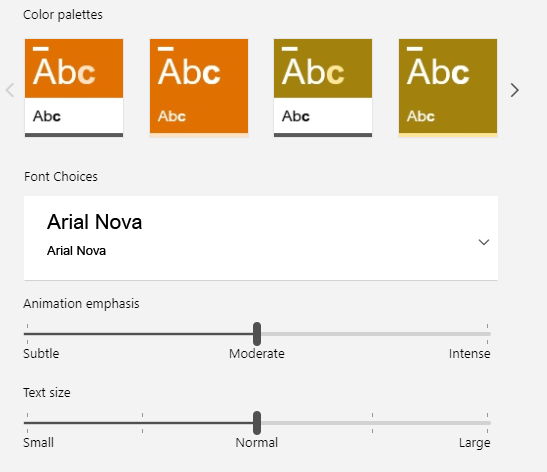 Even if you're not sure about the design Sway puts together for you, you can try a brand new one with a single click via the "Remix" option. This will choose a new style at random based on your selected colors, making it easy to try several new options before deciding on one that fits your project's needs. And, there is no coding involved, meaning that you can create professional-looking designs without hiring a web designer.
3. Highlight your best images and create unique effects with the "Emphasis" feature.
Sway will automatically take care of sizing images and text based on one setting: "Emphasis." Seen by clicking on a content card, the icon looks like a "full screen" option on a video player, and you can choose a level of emphasis—Subtle, Moderate, or Intense. Each setting will create a unique effect depending on your chosen style and the order of content cards.

For instance, let's say you have a large block of text and you follow that with a photo set to the "Intense" emphasis level. You will get an interesting effect in which the photo fades and the text scrolls over the image. By experimenting with the emphasis for various elements of your Sway, you can create new effects that can have a lasting impression on your audience.
4. Ditch the traditional slideshow format for scrolling options.
With Sway, you no longer have to go through the hassle of clicking to move through a slideshow, as you can choose, and change as you see fit, from vertical or horizontal scrolling.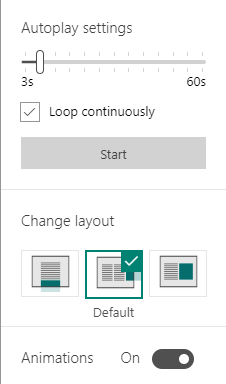 For example, if you are creating a basic webpage, you might just want to choose the vertical scrolling effect. Not only is this the simplest option, it is also the one that internet users will be the most familiar with.
However, if you would like to try something new, the horizontal presentation option gives a different feel to the presentation. As you scroll down with your mouse, the content on your screen shuffles sideways, making this a unique choice for your project.
If you aren't quite ready to use the horizontal effect and a vertical scroll isn't right for you either, you can still choose the original slideshow format. Sway will format the presentation option with animations, but it just doesn't feel as modern.
5. Easily share your creation with anyone.
As a cloud-based Office application, Sway makes it easy to share your project. There are no files to download, your entire project exists at a specific URL and you can choose the way you want to share. This means that if you are collaborating with someone, you can give them editing access. Or maybe you just want someone to look it over; you would then want to select the "view" option.
You can also share the Sway in different ways, as a basic URL, an embed code, or as a visual link—this will give a photo preview that you can share in an email.
Are you ready to try Microsoft Sway?
While PowerPoint is a tried and true method of creating professional slideshows—and won't be going away anytime soon—Sway offers a lighter, simpler interface that gives you the ability to quickly create visually stunning projects. Both applications have their place depending on your project needs, but this lesser-known application is certainly a useful tool.
If you have any questions about Microsoft Sway or any of the Office 365 cloud-based applications, contact us today. CoreTech has a team of over 2 dozen professionals with considerable expertise, and we can confidently answer the questions you may have about Microsoft's lesser-known products.