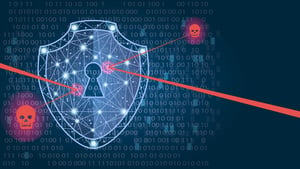 Cyber security remains a top priority, and an ongoing battle, for all businesses, and a key component in that fight is implementing and maintaining a strong firewall.
The initial concept behind a firewall was to keep the "bad guys" from getting into your network and data systems. And while that goal is still paramount, most firewalls have evolved into server-like platforms that can run different software that serve different purposes.
Through these expanded capabilities, a managed firewall can help thwart not only known security threats but also potential ones. Read on to learn four benefits of firewall protection.
1. Stop Malware
Setting up filters on a managed firewall service can help block the installation of malware through software downloads or clicking on links in phishing emails. This type of blocking has become very sophisticated because malicious sites are constantly changing to avoid detection. Firewall filters dig deep into a site's content to evaluate its reputation as well as the type of content — executable data versus an actual web page.
A firewall can also block ad content that contains malicious content. It can even supplement email filters to further stop phishing and spam emails from landing in your inbox.
2. Reduce Threats to Productivity
A managed firewall can block content or applications your team may not need in order to complete their day-to-day tasks. For instance, if your company uses Facebook for advertising, you can implement settings that allow your employees to access the application for those tasks, but that prevent them from playing games or running other applications through Facebook.
3. Prevent Unauthorized Remote Access
A managed firewall service can recognize the geographic zone that a request to log in is coming from in order to permit or deny access. Hackers routinely track the internet, looking for login pages of online computers trying to connect remotely, and they will try various passwords to gain access. With a firewall, you can limit remote access to a specific region, so any requests outside that region are automatically denied.
For instance, if you don't have any employees who need to connect from outside of the United States, your firewall settings can automatically deny any request to log in from an international IP address.
4. Avoid Potential Threats in Encrypted Information
With many websites today, most traffic is encrypted, making sure that no one can listen in on their traffic — i.e. what you are consuming from that site. However, as a result, many business security mechanisms may not be able to scan that traffic for security threats. A managed firewall can proxy the traffic so it can scan unencrypted information, make sure it meets all the security criteria, re-encrypt it and send it along.
Keep in mind that a managed firewall is only one part of a strong cyber security strategy.
The way you configure your firewall and the different layers within the firewall itself should be coordinated with the other security solutions you have in place. It's important to have enough overlap to fill in any security gaps, but at the same time these security components should interact without limiting productivity.

This coordinated approach is a key reason why companies need to partner with an IT service provider who's experienced in putting all the right pieces together to create a comprehensive and successful cyber security program. Partnering with an IT provider also means keeping your systems updated and running smoothly to continually ward off any potential threats and closing possible gaps that could lead to security breaches.
Why CoreTech?
At CoreTech, our expert team can help you customize cyber security solutions, including a managed firewall, that will provide the ultimate protection for your business. In addition, partnering with us provides you with predictable budgeting, so you won't be surprised by unexpected security costs in the event of necessary updates or possible security breaches.
Contact us today to find out how we can help you put together a managed firewall solution as part of your overall cyber security approach. Or, if you have questions about this blog post, drop a comment below.