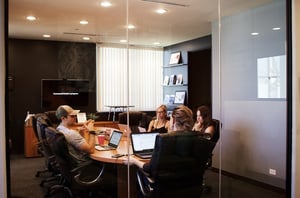 Enlisting the services of a small business IT consultant can provide many benefits to your company. Securing your data, helping you understand how your network systems function and providing affordable services are just some of the benefits you should expect from a small business IT consulting firm.
When searching for an IT consultant to serve your company, it's important to be thorough and get as much information as possible about the consultant to ensure that you find one that best fits your organization. The following questions can help you get the information you need.
1. How can you secure my network?
An experienced IT consulting firm needs to outline how they will protect your data and your networks from both a network perspective and a user perspective. Security ends with the user. If your employees are clicking on the wrong things, the IT consultant should address these problems with you.
As more employees move to working remotely, there should be processes in place to encrypt and protect data to keep anyone outside the system from accessing it. This could include using two-factor authentication to help thwart data breaches.
2. How do you boost the performance of my network?
When you experience problems such as your programs lagging or your files not uploading quickly, you need an IT consultant who can diagnose and rectify these problems.
Ask the potential consultant, "How fast can you help me if something's broken? What's your time to respond to my call? Do you have a successful closing rate for the first call I make regarding this problem?" The answers to these questions speak to the IT consultant's experience and service quality.
3. Do you speak my language?
Many IT consultants can use confusing technical language. When looking for a potential IT consultant, ask, "How do you relate to the end users?" IT consultants should have team members who can talk and relate to you and your employees on the appropriate level of technical detail to help you understand your network systems, any problems you may have and the resolutions for those problems.
Similarly, an IT consultant team should spend some time teaching users about best practices and how to navigate new systems, interfaces or other applications.
4. How much do your services cost?
Find out what you are receiving in return for the expense when it comes to IT. Are the services worth the investment? Can they customize those services based on your needs? Cheaper may not be better, because you may pay more for low-quality work in the long run. How does the IT consultant guarantee the quality of their work?
Ask for references, and ask those references about the IT consultant's quality and reliability of service.
5. Do you work with third-party vendors?
Experienced IT consultants know when to turn to other small business IT consulting vendors in order to provide the best service to their clients. You'll want to work with a consultant that agrees to work with external vendors you do business with.
If you're having issues with a specific application or interface, you'll want an IT support company that provides IT vendor management. They can also help ensure that those vendors and their services are compatible with your current IT setup or if additional changes need to be made.
6. How do you roll out updates?
Having the most current updates is not necessarily a good thing. You need an IT consultant who will look at those updates, see what glitches they currently have and monitor the patches for those glitches. An experienced IT consultant will apply patches when they are most effective.
In addition, it's important to find out when the IT consultant conducts test updates. Testing should not be taking place on Monday morning, for example, when everyone is logging on for the day's business.
7. How accessible is your organization?
When you have a problem, you want to know who to contact to resolve it right away. You also want to make sure that person is available when you need him or her. Ask, Do you assign specific team members to my account? If that person is not responding, who can I reach out to at your small business IT consulting firm? In addition, a good IT consultant will have regular meetings (at least annually) with you to discuss planning and budgeting so you can plan accordingly without any surprises.
8. Do they consider you unique (not offer one-size-fits-all solutions)?
Your business may be one of many in an industry, but it does not have the same needs as every other business. Will the IT consultant consider your unique needs? Do they take the time to find out about your current setup? Does the consultant consider how effective that setup is for your organization?
In order to help you find the right technology, and to stay competitive with other businesses in your field, you want to be a name with your IT consultant, not a number.
9. What's your onboarding process?
Onboarding should not just be an IT consulting firm taking over your processes and operations. It takes a coordinated approach from your former IT consultant, your new IT consultant and you; all three need to work together to get things transferred over quickly, efficiently and accurately.
10. How do you communicate with us?
If your company has internal IT staff, you need to know the processes the IT consultant has in place to work with them. Do they just notify you when an update or test needs to take place and let you handle it? Do they participate in the update or test as well? How do they delegate responsibilities? If your IT staff is out of the office, can they step in to help out? You need to know how they will coordinate with your organization.
...or vice versa: how does your company communicate with an IT consultant?
It's also important for you to pay attention to the questions the potential IT consultant is asking you. Are they asking about your business operations? Do they want to know how you do business? Are they asking about the pain points you need to address? Their questions can provide insight on how they see you as a potential client. Do they see you as just another number or as a potential partner?
When it comes to finding a potential IT consultant, there are a lot of questions to consider. For more information on how to find the right managed IT service provider for your small business, download our MSP Comparison workbook. Inside our free guide, we cover a series of questions you should be asking about service agreements, client-provider relationships, and more!
Or, if you're ready to talk to us about how CoreTech can serve your small business IT consulting needs, contact us today for a free consultation.