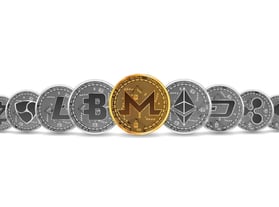 In its earliest days, ransomware wasn't much of a threat, because it couldn't actually encrypt data. But that was in the 80's and 90's, those days are long over in the field of technology. Within the past few years, not only has ransomware become a formidable threat but it has also grown exponentially. The world experienced a growth from 3.2 million ransomware attacks in 2014, to 3.8 million in 2015. Then, in 2016, ransomware attacks jumped to a staggering 638 million. Not only did the amount of attacks increase, but the ransoms themselves shot up from an average of $373 per computer in 2014, to $1,077 per computer in 2016. With 241,000 new variants of ransomware created in 2016 (about 660 new variants per day) anti-malware software was struggling to keep up.
Enter cryptomining
However, the trend of ransomware becoming every cybercriminal's weapon of choice was bad for everyone, even the criminals themselves. As with most reputable industries that experience this much growth in a year, the market became too saturated, driving the average price of a ransom down to $522 in 2017. Ransomware attacks also became more difficult to carry out, due to anti-ransomware measures catching up with the industry. And just as in any business, there is always a new fad waiting around the corner for its time to shine. In this instance, the new star emerging on the scene is cryptomining.
What is cryptomining?
Cybercriminals created a way to turn unknowing bystanders' electronic devices into cryptocurrency-mining bots. Basically, they get onto your servers, laptops, android devices, or IoT devices and use some of their computing power to search for electronic money to steal. Unlike ransomware, where hackers have to put forth effort for only the possibility of a ransom payoff, cryptomining simply requires the distribution of cryptominers (the malware strand), then the hacker can sit back as their network of bots (botnets) fill their wallets with stolen cyber currency.
Unlike with ransomware, most users won't even realize they've been infected. Unless you own cryptocurrency, all hackers want from you is some of your computing power. In most cases, cryptomining will occur in the background so they can continue to use your device without detection. This may slow down your device or increase your energy bill, but just enough to not be outright suspicious. And since they're making money in an easy, passive way, there's no need to steal your documents, passwords and personal information.
The impact of cryptomining
Cryptomining may seem like the lesser of two evils when compared to the severity of ransomware, but there are aggressive cybercriminals who would use your device to the point of causing overheating batteries or hijack every bit of the CPU, causing the machine to become inoperable to you. Not to mention when the market of cryptomining inevitably becomes over-saturated and multiple hackers attempting to use the same device, end up overwhelming and crashing the system. Both of these scenarios can cause costly downtime for your business.
Thus, it's still of the utmost importance to be vigilant, employ end-user training and maintain sufficient backups. Proactive and preventative stances are undoubtedly important when it comes to malware. If your business isn't prepared for cryptomining or ransomware, it's time to be. Call us at 402.398.9580 or email us at info@coretech.us. Your business is important to us.
Sources:
https://securityintelligence.com/news/crypto-mining-iot-attacks-among-top-internet-security-threats-in-2018/
http://images.mktgassets.symantec.com/Web/Symantec/%7B3a70beb8-c55d-4516-98ed-1d0818a42661%7D_ISTR23_Main-FINAL-APR10.pdf
https://www.symantec.com/content/dam/symantec/docs/security-center/white-papers/istr-ransomware-2017-en.pdf
https://www.forbes.com/sites/jasonbloomberg/2018/03/04/top-cyberthreat-of-2018-illicit-cryptomining/#30fa7c655ae8
http://www.symantec.com/content/en/us/enterprise/media/security_response/whitepapers/the-evolution-of-ransomware.pdf