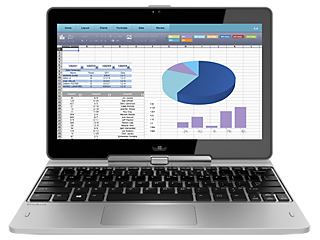 Every now and then we have a client that for one reason or another ends up with a consumer class computer. They may be wanting to save money, or needed a computer for a new hire ASAP. So what's wrong with that? If it's an HP computer that should be good enough right?
HP, as well as most computer vendors, have two lines: consumer and business class computers. These can be desktops or laptops, so what is the difference?
Consumer class computers will typically have:
a shorter warranty period, with more limitations. Most consumer PC warranties are carry-in or ship-back vs onsite. Notebooks in particular usually need to be shipped back for consumers which may leave you without a computer for many days or even weeks.
a "home" operating system that cannot be joined to corporate network domains. You're stuck with what comes loaded unless you spend the money for an upgraded version of the operating system such as Windows.
limited expansion capabilities for additional multiple video outputs, etc.
more "bloatware" (software packaged with the computer meant for home users). Licensing agreements with the vendor are another reason the computer cost is low, more bloatware the cheaper the computer.
Business class computers will typically have:
longer warranty periods with better options such as next business day parts (if they are going to offer a longer warranty period, they have engineered the hardware to last longer meaning you are less likely to need the warranty in the first place).
warranty parts available, thus not having to return the machine to the vendor for repair.
the Pro version of the operating system which can be joined to your business domain for centralized management.
product lines which are generally available for longer periods of time to provide some consistency for configuration or support. A business class product line will be in production for a year or two while consumer models change monthly if not more frequently. The longer production period allows you to limit the potential hardware sets and drivers you have to support. There is also opportunity for automation. For instance, here at CoreTech we use an imaging and deployment tool to streamline the configuration process and save our clients' money.
downgrade rights for the operating system. If your line of business application does not support Windows 8.1, you may be able to install Windows 7 and still be legally licensed.
a higher standard for performance and reliability. Business class computers are engineered for to meet the resource requirements of business applications which is very different from the way a consumer PC is assembled with gaming and multi-media consumption in mind.
better expansion and connectivity options. A business laptop may have multiple video outputs for connecting to projectors, Ethernet and serial ports.
less bloatware. Vendors are getting better about this, however a PC configured by CoreTech will have a clean install once the deployment process is complete.
Another item to check on is the contract you have with your service provider. Some providers may have technology management agreements which have exclusions for computers that are either not purchased from the provider and/or do not meet their specs and/or are not under warranty from the manufacturer.
When taking into account all of the above, in the long run, the consumer class computer will easily end up costing you more money by needing to upgrade the OS, downtime waiting on parts, a shorter replacement lifecycle, and additional upgrade.