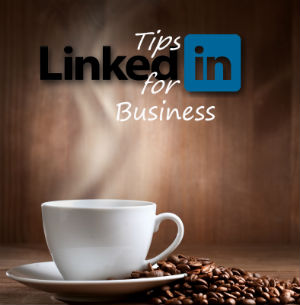 Social media can be tough to keep up, and with so many different types how do you know what one is right for your business? LinkedIn is an essential personal branding tool used for small business' to showcase their abilities in a professional way. Enclosed are tips for building a solid individual profile and how you can attract people to your business profile. By following these tips you ensure your profile is ready to build the connections.

THE BASICS OF PROFILE BUILDING
There are a few things that need to be included in every LinkedIn profile. No matter how active you will be on the site. Before you do anything on your profile you need to get a professional picture. People remember faces so it's well worth the money to have a professional picture taken to help bring your story to life. However, don't forget the whole reason for a LinkedIn profile - building your personal and company brand. Make sure to include your experience, who you are, and what you enjoy. Use the summary and experience sections to highlight your experience and what you offer potential clients. Do include your best skills, abilities and expertise so the reader has a strong idea of who you are.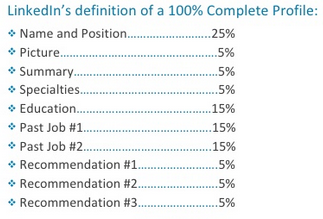 YOUR RECOMMENDATIONS
Something easily forgotten, however important to a solid LinkedIn profile is obtaining recommendations. It's one of the most valuable tools that help you build your credibility in the job marketplace. Well written recommendations, which are genuine help enhance who you are and what you can do for others. The best recommendations come from people who value your work, services or products. The easiest way to obtain recommendations for your profile is to ask for them and provide them to others.

YOUR NETWORK
In order to start building your pipeline, you must do one thing first – Network! Network! Network!


Start by joining as many relevant groups as you are able to track and contribute to the conversation. You will be surprised what kind of groups you could belong in, alumni groups, industry association groups, or community groups. Be certain you ask your employees to connect with your company page so they are connected. Visitors may then learn about your company as well as the people on your team.
BUSINESS PROFILES
Business profiles are great because it allows your business to promote products and services, gain prospects, and recruit all in one page! Not only is it free, but it's easy and the perfect complement to your personal page. Be certain to spend some time on it to make it so great you motivate people to "follow your company." If you can build a profile with the basics, it will be 40 times more likely to show up in search results, according to Business Insider. And who doesn't want that?
Here's an example of a great business profile in the Omaha community: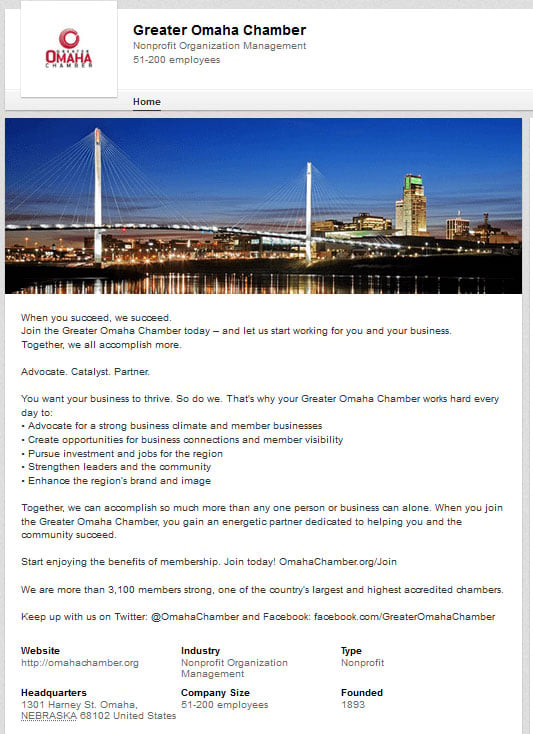 Now, how do you draw people to look at your business profile?

YOUR RECENT UPDATES
If you want to promote an event, hype a sale, or draw attention to a specific promotion or piece of content, make it a featured update so more people see it. By using the Recent Updates section you ensure your company's visitors see this exciting news! Not only will you be able to promote, but by adding something interesting about your specific industry you are attracting new followers to your page. The example below is how eLearning Mind is using the featured updates by adding an interesting fact to draw the reader in.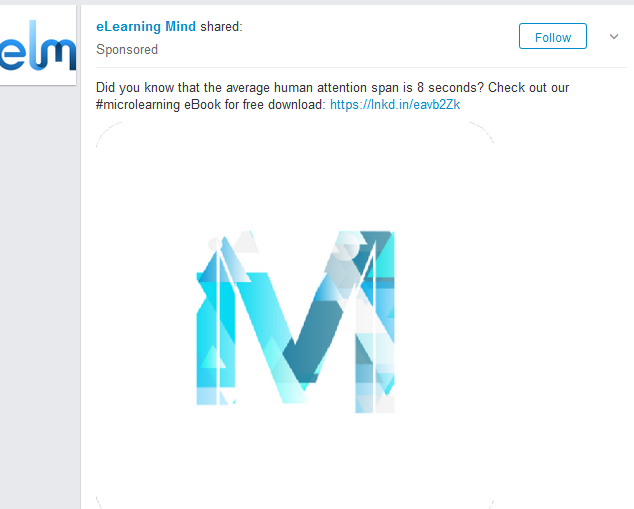 INMAIL
Whether it be recruiting or prospecting, InMail is what small businesses utilize to reach the best audiences "InMail messages are sent directly to another LinkedIn member you're not connected to. It helps you make the right impression, in front of the right people, at the right time. Even helping you find members who haven't applied to your job but would be strong candidates."

Here's an example of a memorable InMail recruiting message:




Another good example of a message to connect with someone: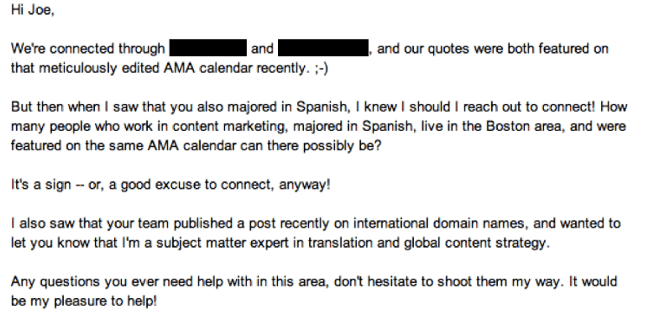 When using InMail remember to always keep the messages short and to the point, these examples are only a few short paragraphs. You need to keep the reader interested, so don't create a long message at the start. Another tip is to be sure you get to the purpose right away, but make it personal. By keeping the attention focused on their interests and abilities you have a better chance of keeping your reader interested. These are InMail messages that will be remembered, because they are unique and interesting.

As you can see there are many different ways to utilize LinkedIn for your small business. Almost half of small businesses feel like LinkedIn gives them the greatest opportunity for new business. It's a smart way to network with your contacts and connect to new customers you want to work with. LinkedIn profiles are the new business cards—display yourself and your business in a way that draws people in!


Additional Resources:

How to Craft an InMail That Gets Results
http://blog.hubspot.com/sales/how-to-craft-an-inmail-that-gets-results

LinkedIn Basics 101
http://www.slideshare.net/grummanaa1c/linkedin-basics-101-9363434

LinkedIn Is No Longer Optional For Small Businesses
http://blog.hootsuite.com/linkedin-for-small-business/

10 Steps To Use LinkedIn For Small Business
http://marketingthink.com/10-steps-to-use-linkedin-for-small-business/

10 Steps to Create a LinkedIn Company Page
http://www.forbes.com/sites/work-in-progress/2013/01/20/10-steps-to-create-a-linkedin-company-page/

8 Steps To Creating A Powerful LinkedIn Profile
http://www.businessinsider.com/8-steps-to-creating-a-powerful-linkedin-profile-2013-12