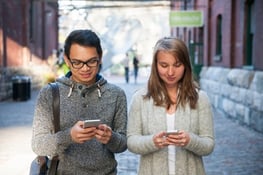 They text faster than they can type, they Snapchat every adventure they take, and they are constantly checking Instagram, Twitter and Facebook. Who would do that? Millennials (Generation Y), of course! Other generations say millennials are missing out on what is going on around them due to their technology obsessions. However, they have traits and habits the rest of us may learn from.
It's well documented that millennials are a tech-savvy generation. They were born into the generation of technology and grew up in the midst of it, while Generation X and Baby Boomers have adjusted and adapted. By 2025, Gen Y (those born in the 80s and 90s), will make up the majority of the workforce. Many small business owners agree--keeping up with technology is critical to staying competitive. So let's take a step back and learn a little from the millennial's.
First and foremost, millennial's use technology to maintain an almost constant state of contact with their circle of friends and loved ones through text, social media, and video calls. They've developed a large network by taking time out of their day to check their social media sites, which directly correlates to their speed at finding jobs. Most importantly, millennial's understand how to keep their work and personal lives separate when it comes to technology, something that older generations struggle with. Millennial's are four times more likely than Boomers to keep their work and personal lives separate when technology comes into play.
Millennials also use technology to manage their finances. They engage in online trading, use online banking services, and buy mutual funds online. They integrate these services into apps as well. "Mint" is one app which keeps them updated with their funds.
In addition, technology is the best way to save them money. They know how to seek out deals to get the lowest prices possible online. They visit sights like RetailMeNot and Groupon to find the best deals in town and compare prices.
In the eyes of millennials, technology expands life, it doesn't narrow it. They don't just use technology; they live in it. There is no challenge in the world of technology too big for them.
Resources:
http://www.forbes.com/sites/ashleystahl/2016/04/28/a-millennial-manifesto/#6470c0744e85
https://www.fastcocreate.com/3043109/sector-forecasting/25-predictions-for-what-marketing-will-look-like-in-2020
http://www.forbes.com/sites/danschawbel/2013/12/16/10-ways-millennials-are-creating-the-future-of-work/#4a61da531a59