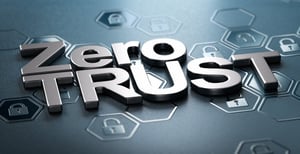 As widespread work-from-home arrangements for knowledge workers continue, traditional perimeter-based security models are no longer viable.
Organizations today need a new model that effectively adapts to the changing/complex modern environment, embraces the mobile workforce, and protects people, devices, applications, and data wherever they are located.
Cloud applications and the mobile workforce have redefined the security perimeter. Employees are bringing their own devices and working remotely. Data is being accessed outside the corporate network and shared with external collaborators such as partners and vendors.
The new perimeter isn't defined by the physical location(s) of the organization—it now extends to every access point that hosts, stores, or accesses corporate resources and services. Interactions with corporate resources and services now often bypass on-premises perimeter-based security models that rely on network firewalls and VPNs. Organizations that rely solely on local firewalls and VPNs lack the visibility, solution integration and agility to deliver timely, end-to-end security coverage.
As a result, the Zero Trust Model has emerged as a new security practice, and is becoming more regularly adopted by small and midsized businesses.
What is the Zero Trust Model?
Instead of believing everything behind the corporate firewall is safe, the Zero Trust Model assumes breach and verifies each request as though it originates from an uncontrolled network. Regardless of where the request originates or what resource it accesses, Zero Trust teaches us to "never trust, always verify."
Guiding principles of Zero Trust:
Verify explicitly.

Always authenticate and authorize based on all available data points, including user identity, location, device health, service or workload, data classification and anomalies.

Use least privileged access.

Limit user access with

Just-In-Time and Just-Enough Access (JIT/JEA)

, risk-based adaptive polices, and data protection to protect both data and productivity.
Why should small businesses and startups follow a Zero Trust Policy?
Small businesses and startups run so fast there's often a perception that achieving greater security will slow them down.
In a Zero Trust world, they don't need to spend a lot or sacrifice speed for security. Following a Zero Trust roadmap can protect their systems, valuable intellectual property and valuable time by minimizing the risk of falling victim to costly breaches.
Here's what small businesses and startups need to include on their Zero Trust roadmaps to reduce the potential for time-consuming, costly breaches that could steal not just data but market momentum, too:
Ensure dual- or multi-factor authentication (MFA) is used by every employee, contractor, partner, or admin account.
Making sure that MFA is used is one of the most important cybersecurity precautions you can take. It significantly reduces the chances that a bad agent will gain access to privileged accounts.

In fact, one recent study found that over 70% of all breaches involved access to a privileged account. The study also found that over 50% of companies had not implemented multi-factor authentication, leaving their most valuable accounts inadequately protected.
Get a shared account and password vault to reduce the risk of being breached by privileged access abuse.

A good password manager is worth its weight in gold when it comes to cybersecurity. If you have accounts that have access to valuable intellectual property or customer data, then securing them behind a solid password is essential.  A password vault is also highly recommended, making sure that access is only granted to users who are thoroughly identified before any login credentials are released.

Secure Remote Access needs to be in place to ensure employee, contractor and IT systems contractors are given least privilege access to only the resources they need.

Small businesses and startups growing fast often don't have the expertise on staff to manage their IT systems. It's cheaper for many to have an IT service provider manage server maintenance, upgrades and security. Secure Remote Access is predicated on the "never trust, always verify, enforce least privilege," Zero Trust approach to grant access to specific resources.





Implement real-time audit and monitoring to track all privileged sessions and metadata, auditing everything across all systems to deliver a comprehensive picture of intentions and outcomes.

Creating and adding to a history of login and resource attempts is invaluable for discovering how a security incident first gets started, and for meeting compliance requirements.





It's much easier to identify and thwart privileged credential abuse based on the insights gained from the single system of record created by a real-time audit and monitoring service.





As small businesses and startups grow, the data that real-time audits and monitoring generate are invaluable in proving privileged access is controlled and audited to meet the regulatory compliance requirements of SOX, HIPAA, FISMA, NIST, PCI, MAS, and other regulatory standards.





Privileged access credentials to network devices need to be part of the Zero Trust Roadmap.

Small businesses and startups face a continual time shortage and sometimes forget to change the manufacturer default passwords, which are often weak and well known in the hacker community. That's why it needs to be a priority to include the network device portfolio in A Zero Trust Privilege-based security roadmap and strategy. Security admins need to have these included in the shared account and passwords vault.


Evaluate the maturity of your organization's Zero Trust model with Microsoft's free assessment.
All businesses are at risk, especially SMBS, and a Zero Trust Policy can help shore up your defenses.
The five factors mentioned here are the start of building a scalable, secure Zero Trust roadmap that will help alleviate the leading cause of breaches today, which is privileged access credential abuse.

For small businesses who are outsourcing IT and security administration, the core elements of the Zero Trust roadmap provide them the secure login and a "never trust, always verify, enforce least privilege" strategy that can scale with their business.

With Zero Trust Privilege, small businesses and startups will be able to grant least privilege access based on verifying who is requesting access, the context of the request and the risk of the access environment.
Small businesses house both transactional data and consumer data, both of which are more exposed than ever due to risks with new digital capabilities and technologies in the workplace. Data breaches can cast small businesses as unreliable partners, forcing their consumers to do business elsewhere.
All businesses, despite their size, are at risk. Breaches occur because small businesses make the mistake of assuming it won't happen to them, they forget basic preventative measures or they manage everything on their own, failing to invest in a reliable security system.
Let the experts at CoreTech help you devise a layered, integrated IT security plan.
We'll help you determine if a Zero Trust Model is the right approach to take for your SMB, and ensure your organization is secure from the worst of today's cyber threats.
Contact our team today to get started.