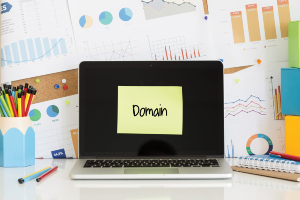 Spending ten minutes checking on this now could save hours or days of a headache in the future. If you are a business owner, IT manager or Administrative Manager it's important to know what your domain is, what it is used for, and how to renew or make changes to the domain in the future. Keep this information in your file, so that you know where to find it if you ever need it.
What is a domain?
A domain is essentially your website name. Example.com would be a domain name. It is a bit like claiming a plot of internet real-estate. Today we are going to talk about some factors to consider in managing your domain.
A domain is controlled by a registrar. You pay a small fee each year to maintain your claim. Since the fees are so small, most organizations will register multiple domain names. You could get all the popular top-level domains such as .net .com and .org, or certain variations on your name. Large enterprises will also secure common typos of their name to protect their brand.
So why is managing this important?
A domain is important because it is core to your entire online presence. Loss of the domain can result in loss of business for the duration it takes to get the domain back.
Many services use your domain, including email. Security certificates are issued by your domain name as well. Your servers use these to trust each other, so loss of the domain you are using could interrupt business applications in addition to your website. An example of this occurred in the major Facebook outage October 4, 2021. Facebook IT personnel couldn't gain access to their server rooms because the security system went down in the crash.
In the early days of the internet, domain squatters would attempt to take over your domain and hold it hostage. Like front-running on the stock market, this practice is considered illegal. Bad guys have evolved to something called domain sniping. There are services online that will track when your expiration is coming up, and someone can set it to automatically register your domain within minutes of it becoming available.
There is some good news though. And that is that there are now processes in place to help prevent abuses. Registrars typically offer a grace period for the former owner to reclaim a domain that has lapsed. There are formal channels to dispute ownership if someone else were to obtain your domain. Keep in mind that while you are quite likely to recover your domain; it will be a lengthy, expensive process that you will be conducting from a hastily setup new email address. Domain registrars are large enterprises and getting support from them is very difficult. The nature of their business means they must default to not trusting you.
The main threat to losing your domain is not through outside attack. The most common problem we see is a domain expiring without anyone realizing. Often it is setup by a former IT or marketing employee and the notice gets sent to a defunct email address. Many organizations don't think to update this information when there is staff turnover.
You may also have an IT provider managing your domain for you. If you change providers be sure they have access to the registration account.
What do I need to do?
As a manager or even a business owner, you need to be aware of your domain registrations. You will want to be able to answer the following questions:
Does someone in my organization know the login information? Does my current IT provider have it?
Whose name is the domain under?
Which email is tied to the account?
When does my domain expire?
Is auto-renewal setup?
Do I have two-factor authentication on my domain login?
Is domain privacy turned on?
The best practice is to have the domain account tied to a generic email account and the name be someone current. Register the name for years at a time, and setup auto-renewal. Finally, secure your domain by turning on privacy and two-factor authentication (if offered).
Again, spending ten minutes checking on this now could save hours or days of a headache in the future.