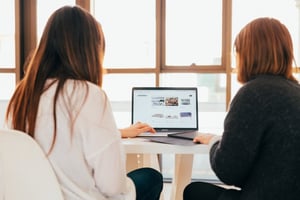 Managing information systems and security is a top priority for every business owner in order to protect both business operations and client data. But knowing if you have the right cyber security solutions in place to provide this protection may not be readily apparent, particularly if you do not have an IT expert on your team.
To help you determine the status of your IT security, CoreTech has created an IT Security Scorecard with questions on such topics as passwords and access, policies and procedures, systems and device management and data and security backup.
A key component of the IT Security Scorecard is the Systems and Device Management section that applies to cyber security solutions. These questions are especially crucial because your information systems are the most notable access point for cyber security criminals who might be looking for ways to steal your data.
This category's questions touch on the following:
Physical access to your office and devices
How do employees get in the building? Do they use a keycard? Are biometrics in use? If an employee left their PC logged in or the server logged in, anyone who accesses your building can then access your systems.
Access to your network
Have you restricted access only to trusted individuals who actually have a need to access that data?
Access by non-company-owned devices
This includes cell phones, tablets, and remote employees' home computers. Do you have mobile device management in place? What kind of access do you provide work-from-home employees? It should be restricted, as you don't want to open up the network to cyber criminals.
Company-owned networks versus personal or guest networks
Do you have a password-protected network with firewalls in place for employees, but an open network for visitors to your office?
Security operations center
Does your business maintain a manned operation center where trained IT experts watch for alerts, access by rogue software or other security events? IT experts in a security operations center can immediately start addressing these threats the minute they pop up in order to limit or totally prevent damage.
Security filters
Filters can help detect malware and other threats. These include using a firewall that restricts access based on specific parameters and blocking access to certain sites or software downloads that are known risks.
End-of-life software and systems
If you continue to use software from companies like Microsoft, Adobe or other developers, and that software isn't receiving regular updates, such as when an application reaches end of life, you risk exposing your systems to cyber criminals.
Hackers can use these gaps to exploit the software and access your data. That's why it's important to install updates as they become available, as developers try to discover these flaws before cyber criminals can take advantage of them.
Remote users
When your employees work from home, are they accessing your network through protected devices and systems? For instance, do you have a firewall in place? Are they running antivirus software?
Using non-company-owned devices
Are these devices current on the latest updates and security patches? Hardware, software and operating systems all are susceptible to security holes that can leave users vulnerable.
If you don't have an on-site IT security expert on your team, it can be difficult to stay on top of information management and cyber security solutions. Continually updating and maintaining your systems and processes requires a lot of time, knowledge and labor.
That's where CoreTech can help. We have an expert team who have honed their skill sets to deal with these systems — and possible security threats — to help protect your business operations and your clients' data.
Do you want to see how your business's cyber security measures up? Complete our FREE IT Security Scorecard today! Once you finish, you'll have an instant score, and you can submit that grade for a chance to win $50!