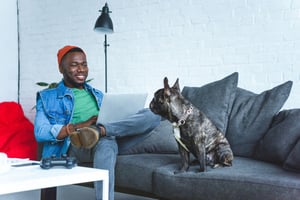 Since the start of the COVID-19 pandemic, we've written an array of articles with ways for you to thrive in your new home office space. In addition, we've compiled information for business owners and IT managers which helps them consider what technology, policies and procedures might work best.
Now, we've compiled those articles together in this post, so you can easily refer back to them anytime you need some additional tips and advice to make remote work, well, work.
Just click on a title, and you will be redirected to that article.
Work-Life Integration and Productivity
When working remotely, the lines between work and home are blurred. These articles will help you maintain balance, improve productivity, and keep lines of communication open.
The benefits of technology, especially when it comes to remote work, are vast. However, no matter how useful contemporary tools and applications may be, sometimes human beings misconstrue the intended interpretation of a piece of virtual correspondence—be it an email, a quick text, a chat message or even a short comment on a document.
Depending on your work style and your actual job responsibilities, you may love working from home or hate it, so we've detailed seven pros and seven cons of working from your home office, dining room or—let's admit it—your couch.
Although the ability to conduct business from anywhere is a great benefit to organizations, video meetings can take their toll, especially when you're participating in several calls throughout the workday.
If you notice that you're exhausted after a day of video calls, you're not alone. What you're experiencing is known as Zoom fatigue, and it afflicts everyone in a few different ways.
How have you fared in the largest work from home experiment ever? Was that a big "sigh" I heard?
Considering how quickly businesses transitioned, you may not have had the time for training on new tools or communication methods; it was sink or swim!
Communication is a huge part of staying in touch with your coworkers, staff and your manager. Hopefully you have been able to make your work from home scenario work, but if you're still limping along or just want a better experience, read on to uncover some communication tips that will improve your day.
There are several ways stress can rear its ugly head, especially during a global pandemic, but here are a few of the symptoms you might be experiencing if working from home is stressing you out:
Low energy levels

Frequent head and body aches

Frequent colds or infections

Insomnia and irritability

General sense of malaise, feeling "out of it"
The important thing to note is that if you have never worked remotely before, you must go easy on yourself and remember that there is a learning curve involved. You'll need to find what works best for you.
Have you ever really sat down and calculated how much time you spend on your smart phone, tablet or computer? Just as you need work-life balance to prevent stress, you should also consider your screen-life balance.
As the virus creeps into the metro and more of the community begins to self-quarantine, you may be wondering how to handle the current situation and how you might make changes to your current workplace operations.
To alleviate some of your concerns, we have compiled a list of five of the most commonly raised questions about enabling remote work for your staff.
Like many Omaha organizations, our team has been working from home for the past month, and for the most part, we've all reported positive experiences. So, I asked three of my coworkers specific questions about their individual experiences with working from home. I also answered the questions myself, since I too have had to adapt to the situation in quite a few different ways.
Cyber Security Threats and Solutions

Since the COVID-19 virus arrived in our country, we've had to rethink our safety, but at the same time continue our professional lives. Working from home became the "new normal", and we've had to introduce ourselves to new technology to ensure our work habits are as similar and productive as they were at the job site. Most larger organizations had remote desktop services and could provide technologies that smaller companies couldn't compete with - until now.
In this article are tips on how to remain productive, but also ensure the security and continuity you'd expect while working in the office.
Do you know if your remote workers are as secure as they can be?
As part of the learning curve in establishing work-from-home policies and procedures, businesses also had to search for adequate solutions for new cyber security threats. While cyber security is always a concern, there are solutions to minimize those threats for remote workers.
Unfortunately, there will always be someone trying to profit off of a disaster, and that's certainly true of threat actors behind cyber security attacks. Hackers are exploiting the public's stress, fear and confusion in order to steal money, financial information and other data.
Most employees and managers are occupied with the challenges directly in front of them; they're not thinking about being targeted for an attack. Meanwhile, many employees are working remotely, which means that they may not be covered by traditional security protections like firewalls.
Here are just a few fast facts:
Security Magazine reported a 667 percent increase in COVID-19-related spear phishing attacks from February to March 2020.

One cyber security company detected a total of 427, 825 phishing email attacks between March 1 and March 23.

Google reportedly blocked 18 million COVID-19-related phishing emails during the week of Apr. 13-17.
So what do these stats mean to your business? They mean that your organization needs to implement comprehensive, ongoing cyber security awareness training, including phishing email simulations.
Securing your company's data while your employees are working on the other side of the corporate firewall requires investing in the right tools, establishing clear guidelines and training your staff to take initiative in matters of cyber security.
You may feel as though you have less control over your data during this challenging time, but with the help of a managed services provider (MSP), you can protect your company from disastrous data breaches. Here are the basics of keeping your data safe while your workforce is spread out and working from home.
Applications & Tools to Simplify Your Workflow
You've likely struggled with how to keep your team connected and communicating. With Microsoft Teams, you can do all of this—and more—to make sure projects are getting completed and objectives are being met, no matter your employees' location. Maybe you've read some about Teams or even experimented with the interface. In this post, we'll cover the important areas of the interface and some helpful features that aren't commonly discussed.
To help ease the transition to remote work, we have provided valuable information about three useful communication tools. We use these regularly, and we would recommend them to help boost staff productivity in your newly remote workforce.
Because let's face it, only using email when your employees are scattered just doesn't work.
Don't underestimate what you need when you begin setting up your home office. Sometimes we don't even realize all that we need or what will give us the most efficiency as we are in a rush to get home and get working.
Many businesses use Microsoft Office 365 to simplify and improve the way their teams work both individually and together. But with so many apps and features, some teams may not be taking advantage of everything that 365 has to offer. The software provides numerous ways to increase productivity, but some of those features are well-hidden.
Even when working from home, phone calls are still a crucial component of conducting business.
Luckily, working from home gets much easier, especially with the Microsoft Teams and Nextiva Cloud VoIP Phone system integration. The setup is also known as Call2Teams, and it presents a new range of possibilities for your business communication.
Despite the benefits of reduced costs, more flexibility, and increased productivity, there's still one major element missing from working remotely that can't be overemphasized: face-to-face communication. Without it, employees can feel isolated and/or disconnected from both their teams and the company as a whole, which can negatively affect collaboration and productivity. So how can companies ensure their telecommuting employees still feel like an integral part of the team and company, even when they're not physically on-site?
One of the many benefits of hosted voice over internet protocol (VoIP) is that it makes it easy for organizations to communicate with coworkers as well as clients, no matter where their staff is working from. Here are just a few ways that cloud voice can completely transform how remote and mobile teams communicate with clients and collaborate internally.
Work-from-home setups are steadily becoming the new normal for many businesses, whether by preference or default due to current circumstances. Most organizations are understandably focused on making remote work functional for their operations in the short term. However, don't make the mistake of not looking at your long-term remote work structure and investing in technologies that will help employees stay productive and keep assets secure.
Do you have additional questions about the best ways to work from home?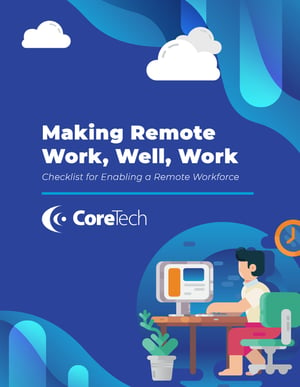 Whether you would like to learn more about maintaining company culture, maximizing productivity or keeping it all secure while your employees work from anywhere, contact us today to speak with our expert team.
We have the knowledge and the experience to recommend the best practices, and the best technologies, to keep your organization up and running.
---
In the meantime though, don't forget to download our free checklist, Making Remote Work, Well, Work, which contains topics you must consider when enabling your remote workforce. Download today!