---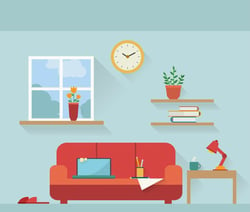 So here we are on the verge of spring (thank goodness), and I do have to say this winter gave us some perilous drives to work. In fact, one so icy that my boss declared it a "work at home" day. I was relieved as I live on a hill that is not forgiving and there were no snow plows in sight!
In years past, working from home would have not have been as productive as I had files and software that I need available to get my work done. Now, there are so many different avenues to tap to be productive away from the office that working from home was not an issue!
Remote Desktop and LogMeIn are just a couple tools which allow a user to connect to their desktop at work and let them work anywhere they have an internet connection just as if they are at their office desk.
LogMeIn is a tool which connects your PC/Laptop/ iPad at home to your PC/Laptop at work. You are actually taking control of your PC at work from your system at home and for this reason you need to leave your work PC on and logged out. You can connect to your work desktop anywhere you have an internet connection available. A small amount of setup is required before you use LogMeIn.
Remote Desktop is a bit more complicated in that there is some licensing requirements and technical setup, however this also allows you to take control of your PC at work.
As for me, I have some simple ways to access my work files and apps which include the following:
First, for email our office uses Microsoft Office 365. I have a synced copy of my email on my laptop, phone and iPad along with my PC at work.
Second, I access my files through OneDrive for Business. The secure cloud storage comes with my Office 365 subscription. Note, this is a "for business" product that provides better security. The only requirement to store or retrieve my OneDrive for Business files is an internet connection. I then am able to view & create files, and make & save changes all while at home or on the road. These files can be a variety of types such as Word, Excel, PowerPoint, OneNote and pdf's.
Third, I have a business application that stores my sales opportunity information and appointments that I could not work without. Since it is a web-based application I am able to easily connect clicking the icon on my laptop. I type in my user ID and password for security and start working!
You will notice that in order to successfully work from home the one necessary element is an internet connection. If my internet connection at home goes… well, I guess I will just go outside and make a snowman!
---