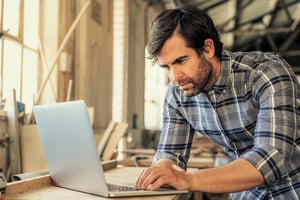 Talking about the dangers associated with a malware infection can feel abstract for those who have never experienced it firsthand.
To some, it may seem like a vague concept, not something that really requires you to take action.
Most small business owners feel that it's not going to happen to them and they have more pressing matters to attend to.
However, they don't usually realize that there's a cyber attack every 39 seconds. and the damage malware can cause to an unprepared business can shut them down for good.
If the frequency of cyber attacks--or even the recent headlines--haven't convinced you, here are 6 more stats to pay attention to:
60% of small companies go out of business within six months of a cyber attack.
47% of business leaders experienced data breaches caused by human error at their organization.
In 2018, employees of small organizations were more likely to be hit by email threats—including spam, phishing, and email malware—than those in large organizations.
48% of malicious email attachments are Office files (up from 5% in 2017).
Breaches cost companies an average of $3.6 million.
On average, there are 3,809,448 records stolen from breaches every day (158,727 per hour, 2,645 per minute, and 44 every second).


With all that in mind, there are steps your business can take to greatly lower the risk of experiencing a cyber attack.

Additionally, if your business is prepared to handle and recover from a cyber attack, you will be in much better shape than businesses sitting back and waiting for something bad to happen.
The negative impact of malware on small businesses is too great to ignore. It's time to take the steps to ensure the safety of your small business in the digital age. We're here to help. Let's discuss your current processes, procedures, and technology setup and we'll help you fill the holes in your current IT security processes. Give us a call at 402.398.9580 or send an email to us at brewupinnovation@coretech.us.
Resources:
https://www.hiscox.com/documents/2018-Hiscox-Small-Business-Cyber-Risk-Report.pdf
https://www.symantec.com/content/dam/symantec/docs/reports/istr-24-2019-en.pdf
https://cybersecurityventures.com/cybercrime-diary-whos-hacked-list-of-q3-2018-data-breaches-and-cyberattacks/