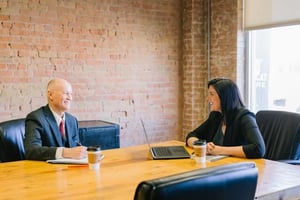 In today's tech-savvy and tech-ready world, anyone can go out and purchase tools or enlist services to outsource business IT services. However, the real value comes from customizing all the services that wrap around those tools and making them applicable to your small business needs—instead of a one-size-fits-all approach that may only address a few of your needs. That's where building a strong relationship with your business IT support company comes in.
Focus on Your Needs
It's important to find a provider that is experienced in business IT solutions and is willing to invest the time to learn about your business. That way, they can make specific recommendations as to how your organization can better utilize technology — both your existing equipment and any investments you may need to make into new technology.
This will save you time because the business IT support company that knows your business well will only present business IT solutions that make sense for your needs. These conversations will be much more productive when you are working as partners, rather than listening to a sales pitch.
Commitment to Service
Your conversations with your business IT support company help drive the solution development and products they bring to you, so it's important for them to have a full understanding of your business needs. The more they understand, the more value they bring to the table for you.
A trusted business IT services provider will not seek to just sell you products. Instead, they will recommend only products they have directly tested, so that they know they offer the exact functionality you want. Your provider can help you determine if a product or solution offers both the value and the technical security you need.
In addition, a strong relationship enables your IT support provider to push back if you ask for something that's not beneficial for your organization. For instance, if you want something implemented that would increase your vulnerabilities, downtime or data loss, you need a trusted partner watching out for you who will explain why that's not the best approach to take. As a business IT outsourcing provider, it's their responsibility to give you all the benefits and consequences of all possible scenarios so you can make a good, informed decision.
The Long Game
When you seek out business IT outsourcing with an IT service provider who wants to work with you over the long term, you can partner with an experienced team that looks beyond what you need right now. Instead, they will help you plan for your immediate security needs as well as your needs going forward.
For instance, you don't have to waste time continuously searching for a security services or product provider selling the latest technology. By building a long-term relationship with a trusted business IT support company, you can rely on them to anticipate your needs as technology evolves and know the current products and services that will best benefit you.
Working with a business IT support company over the long term means establishing a relationship not unlike the one you would have with your own internal IT department. For example, your IT support provider will hold an annual planning session with you to evaluate your technological network, devices and solutions to make sure they deliver the services you need. Furthermore, they also will conduct periodic check-ins on processes or quarterly reviews of your network to ensure that the products and services you have in place continue to deliver the efficiency, effectiveness and security you need.
Your business goals should be the focal point of the service you receive from your IT service provider. When you partner with an IT company focused on relationship building, you know they will make your business success their mission.
Evaluating a new IT service provider? For a detailed list of what to ask managed IT service providers about their client relationships, check out our MSP Comparison Workbook.