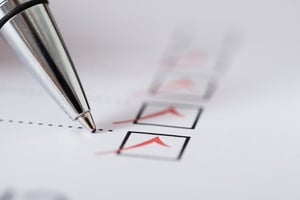 Cyber security remains a top concern for all businesses, big and small. After all, cyber criminals work 24/7 to steal your business data. As such, it's imperative to routinely evaluate your cyber security to make sure it's up to the task of warding off attacks. And while protecting your data is the ultimate goal, conducting an IT security risk assessment offers many other benefits as well.
Benefits of an IT Security Risk Assessment
Stopping cyber criminals in their tracks is the primary benefit of reducing your IT security risk, but it's not the only advantage.
Uncover gaps & vulnerabilities. When you take a hard look at your IT systems, you may be surprised at the vulnerabilities you discover in the process. These could be the result of not updating software, a hardware failure, or another incident that went undetected. With an IT security risk assessment, you can identify these potential hazards and take steps to close the door on possible security breaches.
Confirm regulatory compliance. Many businesses have to follow state and federal regulations to protect their customers' data, such as

financial insitutitions

and medical centers. It's imperative to have the necessary protections and procedures in place to meet these regulations, or your business could face hefty fines.
Boost productivity. During an IT security risk assessment, you may identify areas of your IT systems that are not performing efficiently. Now, you can update these to bring your processes up to speed.
Save money. It's important to be proactive when it comes to cyber security, not reactive, so as to avoid costly repairs. The expense of executing an IT security risk assessment now could save you more money in the long run.
What to Include on an IT Security Risk Assessment Checklist
When combating IT security threats, there are several key steps you need to take to determine your level of security risk.
Examine all elements of your business operations. This includes your hardware, software, customer data, employee information, trade secrets, website and other items that cyber criminals will target for data. Look for vulnerabilities that could leave these components open to attacks.
Spot potential threats. Consider any action that could damage your IT systems, including areas like cyber theft, server failures, natural disasters and power outages.
Identify possible consequences of cyber theft. Make a list of what could happen if you have a security breach so you can determine if you are taking steps to prevent those scenarios. Examples include data theft, system or server failure, and even possible legal action from customers.
Put together a risk management plan. Once you have examined all of the above, you need to establish a plan of action to reduce the risk of security threats.
Repeat your IT security risk assessment often. IT security risks change and evolve frequently, so an IT security risk assessment cannot be a one-and-done procedure. In fact, you should conduct one often, particularly after any upgrades or equipment changes are performed on the system, so as to ensure proper installation and configuration of those new devices.
How an IT Service Provider Can Help with an IT Security Risk Assessment Checklist
Knowing what to look for in an IT security risk assessment can be confusing and time consuming. By enlisting an IT service provider to help you develop a checklist, you will bring in a knowledgeable team of experts who are well versed in cyber security. They have the training, and the tools, to look for vulnerabilities, and they also have the knowledge to resolve them.
The experienced team at CoreTech stands ready to answer your questions and help you implement your own IT security risk assessment checklist. We are here to learn about your organization's particular needs and help pinpoint possible cyber security threats—and develop effective solutions to prevent attacks.
Contact us today to see how CoreTech can help address your IT security needs.