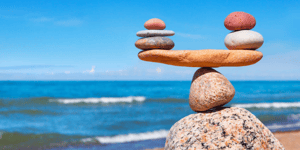 As an employer, do you ever stop to notice if your employees are happy, relaxed and seem to enjoy their job?
Not having a work-life balance can be detrimental to your company and employee performance.
If employees feel are stressed, exhausted or the hours are not flexible enough, among the pressures of their home-life, they are not going to have their full attention to the task at hand and it can affect their health.
If an employee feels their work-life is in balance, then they'll be more productive, there will be fewer conflicts in the office among co-workers and employees will even have a better relationship with their management team.
How to Encourage Work-Life Balance in Your Office
As an employer, you can offer some perks to encourage a work-life balance. Here are some ideas.
Exercise
If your building has a gym onsite, encourage your employees to use it regularly; every adult should get at least 30 minutes a day of exercise.
If you don't have this luxury, then you could offer to compensate a portion of a gym membership.
Employees that exercise and eat healthy will miss fewer days of work due to illness, which will strengthen productivity.
Company Get-togethers
Everyone enjoys participating in activities outside the office!
How about planning a happy hour at a local sports bar, a group outing to a sports game or something similar? This allows the opportunity for employees to get to know each other in a relaxed setting.
You can also plan a grill-out during the lunch hour, allowing your best employee 'grill masters' to prepare the main dish. Someone in the office can pick up a side dish or two at the local market or ask everyone to bring a dish to share with the group - and don't forget the recipe!
A pancake breakfast is also a great idea, prepared right at the office, or catered in. I am sure you can think of other ideas to bring some fun and camaraderie to the workplace.
Daycare Service
Not every employer can offer on-site day care services for their employees, but if you can, just think how that service could benefit your employees, cutting the frustration out of trying to find childcare services.
If having a daycare facility right in the workplace is not an option, how about offering a stipend to help with daycare costs.
If neither of these options are feasible, offer your employees flexible work hours or the option to telecommute. Both or either would be a great option to allow your employees to care for their child(ren) if they are ill, to attend school or sporting events or even to offer a flexible start and end time to allow employees the opportunity to get their child(ren) to and from school.
Other Ways to Encourage Work-Life Balance
Here are a few more ways to encourage work-life balance among your employees.
Keep the day-to-day consistent and as organized as possible.
During a company lunch, plan a team building exercise. This allows employees to feel more comfortable around their peers.
Participate in a community event or two, such as helping with Habitat for Humanity, or collect items for homeless shelters. Make it a competition among teams and you will be surprised at how many items are collected.
Encourage your employees to use their vacation time to get away from the office and relax, travel, or do those chores around the house that they've been putting off because of long work hours.
Designate a calming space in the office, not an employee lounge, where there are no phones, computers and other company items. Throw in some magazines, a comfy sofa/chair and maybe some soft music for some personal peace, quiet and privacy for your employees.
For their health and well-being employees should be allowed to take frequent breaks and get up and stretch their legs. This will help keep them focused and keep them from getting burned out.


I am sure you can see how maintaining a work-life balance reaps the benefits of keeping your employees healthy, happy and the impact it can have on their performance and job satisfaction.
Try putting some or all these ideas to work and see what they can do for your company morale.