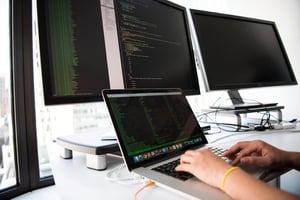 Years ago, your IT may have been managed in-house, with an internal IT support person or team of on-call technicians to handle user requests and hardware and software updates.
However, today's organizations rely on complicated systems: cloud computing, servers, voice and conferencing, mobile tools, and more. This complexity makes in-house IT management difficult, especially for organizations that rely on a single IT person. Tasking one employee to oversee user support, network maintenance, equipment updates, and implementations is a very tall order.
Managed service providers (MSPs) — or outsourced IT vendors — can add a great deal of value to an organization struggling to manage IT internally. A wide range of IT services can be outsourced: everything from daily maintenance and support to strategic planning and IT budgeting. Tasking an MSP with these responsibilities can help you improve your organization's efficiency, productivity, and even bottom line. Here's how:
1. You Have Time to Focus on Your Core Business
One of the main benefits of outsourcing IT is it frees up time to focus on growing and running a business. Engaging an MSP for routine IT tasks allows you to concentrate on tasks that add value to your business, rather than devoting time and resources to technical details that fall outside of business objectives.
2. You'll Have a Complete Team of IT Experts Working for You
Today's technology is so complex, fast-moving, and specialized that it's virtually impossible for one individual to master every single aspect of a business's technical systems. IT budgeting and strategic planning, meanwhile, require another, entirely different skill set. That's a lot to ask of one person. By trusting your IT management to an MSP, you gain the shared knowledge of a team of expert IT specialists without the cost of staffing a full in-house IT department.
3. You'll Receive Help with Strategic Planning
For modern businesses, it's absolutely essential to stay current with technology in order to maintain a competitive edge. Additionally, an organization's technology needs are subject to change as it grows and its goals and objectives change. An IT consultant at an MSP can provide strategic consulting and technology road mapping to ensure that your technology supports your business plan and that you're ready to implement new systems as needed.
4. You'll Be Able to Plan for IT Spending
Hiring an external provider to manage your IT also allows you to gain better control over your IT budget. When CoreTech offers recommendations to managed service clients, we also provide a detailed estimate of the costs. We break out expenses, showing exactly what you'll spend on support and ongoing maintenance, as well as the anticipated costs for new projects and implementations. This offers deeper insight into IT spending and allows our clients to better plan for technology expenses — something that might be difficult to accomplish with an in-house IT technician.
5. You'll Always Know That Your IT Is Covered
When you trust a single point person to manage your organization's IT, you have no redundancy. There's no backup to assume these duties when your IT support person is unavailable. All the knowledge of your technology systems rests with a single individual, posing a huge risk to business continuity. MSPs have multiple team members on staff, as well as systems documentation so your IT won't suffer from personnel issues.
6. You Can Scale Resources Up and Down as Needed
A big initiative or technology refresh places a high demand on available IT resources. Your internal IT person may be able to handle the day-to-day support requests and maintenance needed for normal business operations. But when there's a new project on the horizon, it might be difficult or even impossible for them to find time to work on it while managing daily tasks. Engaging an MSP provides scalability: you'll be able to bring in more resources when you need them, and then easily scale back down when you don't. The end result is a business that's more agile and adaptive to new technology challenges and opportunities.
7. You'll Benefit from Years of Experience and Technology Investments
A mature MSP like CoreTech has spent time refining its processes and building its knowledge base. When you contract our services, you benefit from this depth of experience and the tools we've created to ensure the security and efficiency of the IT systems we manage. As a managed service provider, we can invest time and capital into building and purchasing sophisticated automated tools and streamlined processes that might be too costly or labor-intensive for a single organization.
8. Your IT Environment Will Be Monitored 24/7, 365 Days a Year
An IT emergency can strike anytime, even when your in-house technical support person is off the clock. However, because we are staffed with multiple team members, we have IT support that can respond to urgent issues regardless of when they occur. In fact, using our automated monitoring tools, we often spot and correct critical problems before they cause an interruption.
9. You'll Have Peace of Mind that Your IT is in the Right Hands
Technology is so involved that it's difficult for non-technical staff to understand which tools they need and how they should be configured. In other words, it can be hard to tell whether or not an IT person is doing a good job and making smart recommendations. Trusting a reputable MSP like CoreTech with your technology provides peace of mind. You know you're getting high-quality tools because our reputation is built on our products and services.
Meet with an Expert
The bottom line is that deciding to partner with an MSP will improve your organization's efficiency, security, and productivity. But it's important to choose the right provider. At CoreTech, we put our client's needs first, designing systems to meet their organization's specific IT requirements and business goals. We offer a vast range of managed services — everything from consulting to daily monitoring — to ensure that your business has the tools you need to grow. Contact us today to learn more.
Additional Resources: