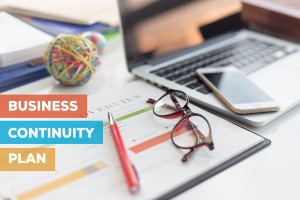 For most companies, building a business continuity plan is a project that will take some effort and time. So why should your business take the time to create one? Is it worth the cost of building the plan? We'll start with some statistics for your review:
According to Statista 88% of enterprise companies experiencing server downtime in 2020 spent, on average, greater than $301,000 per hour. 17% of enterprise companies spent greater than $5 million per hour.
Just one hour of downtime can cost $10,000 per hour for small businesses. (Source: Datto)

Data from FEMA shows that 90% of businesses fail within a year if they are unable to get back up and running within 5 days after a disaster.

In a survey by DataCore, 54% of businesses said they had experienced a downtime incident in the past five years that lasted at least eight hours.
Although you may have business insurance which covers incidents that cause downtime, some are not covered, and others won't be fully covered. In order to determine your ROI of spending time and money creating a business continuity plan let's talk about what it is and why the plan is important to your business.
What is a business continuity plan?
It is a document which reflects how you will prevent and recover from potential threats to the company. Threats include everything from natural disasters, like floods and fires, to server outages, security breaches and more. Your plan is specific to your operations and company, and is not simply a disaster recovery plan.
Where does an IT support provider fit in?
Templates are available to get you started, and your IT support provider will consult with you to be certain you come up with a comprehensive plan as well. Your business plan will need to include an IT service continuity plan as the IT team deals with complex systems, as well as data that support your entire company. In addition to the normal business processes and recovery team duties like other departments have, the IT team (in-house, outsourced, or both) will need two recovery objectives:
Recovery time objectives: How long can IT processes be down before affecting the business.
Recovery point objectives: The maximum interval of data loss since the last backup that the business can sustain.
Involve an IT consultant at the beginning since priorities and projects may come out of your plan that are considered critical to business operations. The consultant will include those items in your strategic annual plan and technology budget as well.
Why is a business continuity plan important?
As you saw from the statistics at the top, threats and disruptions mean a loss of revenue and higher expenses, which leads to a drop in profitability. You can't rely on insurance alone as some items threats or disasters may not be covered. In addition, if customers decide to move on to a different company that can help them while you are struggling, long-term revenue is impacted as well.
Peace of mind. The business continuity plan will give you peace of mind as you will know the steps that need to be taken and why. You will have thought about many scenarios and each key member executing the plan will know what to do when an event occurs.
Time & money will be saved. A plan of action will be incorporated. Decisions will be more thoughtful and rational and will occur more quickly. Your IT team will be able to take a course of actions to stabilize the technology and data, thus minimizing downtime. Other departments will execute back up plans for their departments, so they are operating and moving forward while the technology systems and equipment are restored. Doing this will also minimize the impact on servicing customers and cash flow.
Priorities are set for mission-critical operations. Many leaders find that maintaining a business continuity plan helps them identify where additional spending needs to take place, and what level of priority those projects fall.
You identify gaps. A business continuity plan gives you the opportunity to look at your entire business. You will see gaps in processes we're certain, however you will also find out how input from multiple teams is important to keeping your business up and running, protecting your data, safeguarding the brand you've built and retaining customers.
Are you ready to take the next steps?
We have a lot of resources and IT consultants to help! Please contact us today.