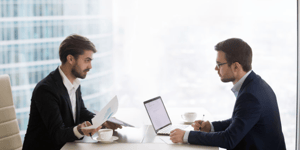 MSPs and their clients. It might not seem like it, but for an MSP-client relationship to be successful, you must have some common ground. Clear, open communication and mutual understandings of each other's business are key pieces to the puzzle.
If you're not constantly evaluating your relationship with your MSP, here's why you should start.
Your Technology Needs Shifted Rapidly During the Pandemic
A lot of companies had to invest in solid IT because of the rapid shift to remote work. Companies needed to protect their employees from COVID-19, but they also needed to maintain operations. That included communicating online -- with video meetings and instant messaging rather than impromptu desk visits.
Now that your company is returning to normal or adopting a "new" normal, you want to be sure your IT service provider is keeping up with your business needs and has a finger on the pulse of any changes.
Levels of Support May or May Not Be Covering All Your IT Bases
As a business owner, you might see managed IT as nothing more than an extra expense in your monthly billing cycle. However, your IT infrastructure is the backbone of your modern-day business. Without it, your business screeches to a halt.
If your current IT provider isn't checking all the boxes for your company's IT support, it may be time to have another conversation about what's covered in your Service Level Agreement (SLA). Be sure that the service level you decide on covers everything you need, or you could experience some unforeseen expenses that fall outside of the scope of your SLA.
Communication on One or Both Sides Is Lacking
Communication is a must in any field, but it's critical when it comes to managed IT services. To stay competitive, client needs always change. What worked yesterday may not be effective tomorrow, so regular check-in meetings or conversations are crucial.
When was the last time your company evaluated your current managed IT service provider?
Building a relationship is key. Your MSP should know what's happening in your business, any changes coming down the road, and how you're feeling about your current setup.
Communication should be free and flowing, and if it's not, contact CoreTech!
Our team does IT differently, and our clients find our unique approach refreshing.