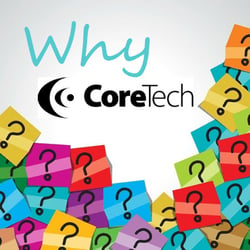 Yes, why CoreTech? Omaha small to midsize businesses have technology needs, goals and pains—that is a given. They need a partner to help them maintain and upgrade their systems—another given. And yet what makes CoreTech unique? Why choose CoreTech to support your business technology? We'll give it to you in our words, but more importantly our clients' words too!
We talk business first—All technology support providers can talk the speeds and feeds with you, the specs and sparks, however not nearly as many know about running technology to meet your specific business drivers and needs--giving you that competitive edge! You know your business the best, and we ask the questions in order to uncover the best ways to support and help you achieve what you want to accomplish with your business and technology
Collaborative partnerships—As an extension of your staff, our expert team works with you to support your daily IT needs. In addition, we help identify innovative solutions that will allow your business to avoid potential problems and get ahead of the curve.
Integrated services and solutions—Maximize your time and money by working with a technology firm that provides a suite of services to comprehensively meets your business needs. Our firm has a wide array of services and the knowledge to support each one!

Don't just take our word for it—hear from our clients as well!

"The CoreTech team communicates very well, we meet for quarterly business reviews, and I know if we have any issues they are on top of it with great communication—getting it done fast."

"CoreTech adds value to our business starting with the fact we don't have to hire an IT person on staff. When something does come up, we know CoreTech is right there prioritizing our issues so we are able to keep moving."

"Whenever we need anything, CoreTech is always efficient with getting back to us."

"Every time I call in, the techs are always there to get it done, right away. That is with anything CoreTech does, whether it be an issue that needs resolving or something new to help our business. I know if I don't have the answer to my question, CoreTech has someone right there that knows, and is able to help me with my business needs."

We would really enjoy the opportunity to talk with you about your business. Please contact us today! We'll bring the bagels!