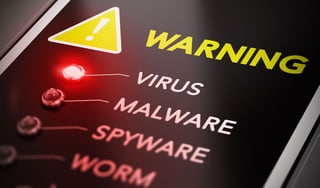 You may recall a plethora of headlines and news stories hyping the severity of computer viruses in the late 80's and early 90's. At this point, viruses seem more like an accepted risk you agree to when you own a computer, than the fuel for a big, scandalous headline. Most basic computer users understand that they need some form of Antivirus and to stay away from dicey websites. But with criminal programmers and hackers coming up with new, more aggressive code all the time, is that true today?
When diving into the world of computer safety, a bunch of technical terms start getting thrown around. To most, the term virus has become more of an overarching idea that it is the cause for any malfunction or breakdown your computer incurs, despite its actual definition.
Viruses
Much like Kleenex in the world of tissues, the term virus is often used to describe any number of malicious computer software or code. But really, computer viruses are more specifically characterized as a piece of software or a strand of code that is made to quickly self-replicate in hopes of spreading harm to multiple computers and information systems. Viruses are generally meant to corrupt or delete data, or to inhibit the performance of your system. They spread over the Internet via malicious downloads or infected email attachments. But they are just one way hackers wreak havoc in the lives and technology of others. Viruses, as well as trojans, adware, spyware, ransomware, backdoors, keyloggers and much more are all classified under the term malware.
Malware
In essence, malware is the sweeping label used to describe unwanted or malicious code able to inflict damage on you or your computer. Malware can be just an annoyance, cause massive damage, destroy, steal or corrupt data and hold data hostage. Certain names are given to different pieces of malware based on their specific qualities. Here is a basic outline of the different types of malware: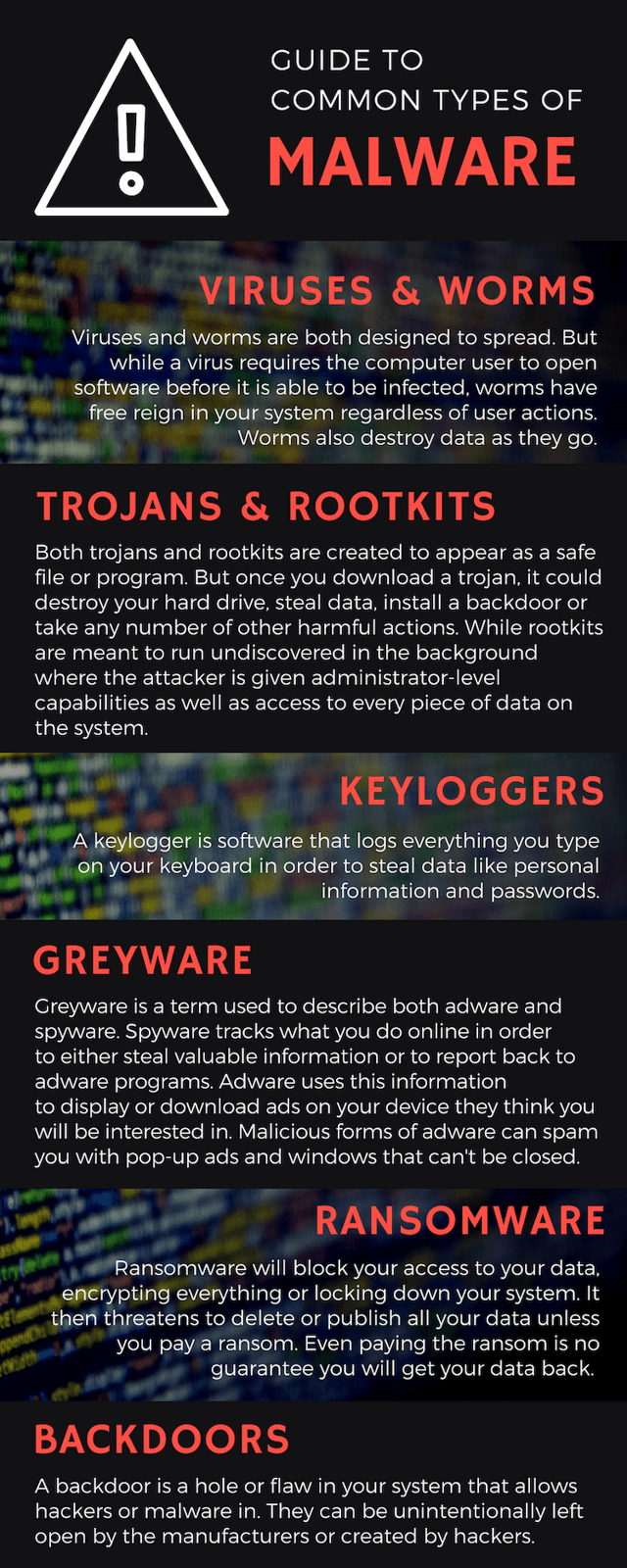 Protection
With all the different ways cyber criminals can attack your system, how can you stay safe? Do you need to install Antivirus or Anti-malware? Your best bet is to install both. Antivirus is generally meant to deal with well-known threats that have been around a while, like Trojans, viruses, and worms. The main objective of Antivirus is to protect users from predictable, yet dangerous, malware that has endured over the years. Anti-malware, on the other hand, typically focuses on more modern threats, such as malware that constantly changes, morphs or evolves to make it difficult to detect (AKA polymorphic malware) and malware that has taken advantage of software vulnerabilities manufacturers are not yet aware of (AKA zero-day exploits). Anti-malware protects users from the latest, most dangerous threats just beginning to surface.
If you are interested in having a conversation with us about your business computer safety needs send us an email at info@coretech.us or give us a call at 402.398.9580. We would be happy to schedule a time to sit down and talk with you.
Sources:
http://www.dummies.com/computers/pcs/know-the-different-types-of-malware/
https://heimdalsecurity.com/blog/antivirus-versus-anti-malware/
https://www.lifewire.com/most-damaging-malware-153602
https://www.bullguard.com/bullguard-security-center/pc-security/computer-threats/malware-definition,-history-and-classification.aspx
https://www.veracode.com/blog/2012/10/common-malware-types-cybersecurity-101