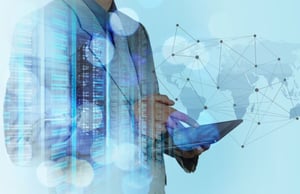 Whether you are currently working with a managed service provider (MSP) or you plan to work with one in the future, it's important to understand how MSPs are evolving to provide more secure, efficient and productive IT services for small business. Understanding the future of managed IT services will help your small business prepare for changes that may affect you.
Here's what small business owners need to know about the future of managed IT and IT service providers.
Security Needs Are Evolving
Small businesses will continue to see a need for additional security technologies to protect their environment. Security initiatives and systems are there to help your business mitigate security risks and office disruption. Not only will small to midsize businesses (SMBs) see more security initiatives being developed, but these requirements will likely change on a more frequent basis to adapt to the threat landscape and regulatory changes that impact IT security.
If you aren't hearing regularly from your MSP about security recommendations and updates (both what they are doing and what your business should do), then this could indicate that your MSP is not up to date with occurring changes. Your IT Manager should update your security strategy on a yearly basis at a minimum. They should also be in contact with you frequently about security updates and new solutions and best practices.
Small business owners should seek out more information from their MSP about what the service provider is doing to secure their environment. What security certifications is your MSP trying to achieve? How do they update or adapt their security systems to mitigate risks? Your MSP should be able to answer these questions transparently. If they can't, this may be a sign that they aren't adequately able to focus their business on IT security.
As security requirements continue to evolve, managed service providers will go beyond installing security software when providing small business IT services. They will begin to help small business clients develop and enforce internal policies, create policy and procedure documents and advise on certain security aspects, such as user access. In order to do this effectively, your MSP will need to learn more about your organization's processes and workflows to help you craft effective internal policies, appropriate user roles and security systems for your users.
MSPs Are Beginning to Evolve and Mature Alongside Their Clients
As SMBs continue to optimize their processes and workflows for improved productivity and efficiency, their MSPs should continue to evolve alongside them. Small businesses are always looking for ways to become more efficient, leverage existing technology more effectively and find new technology and systems that will help them boost their bottom line.
While managed service providers have traditionally focused on getting small business systems and devices connected, their role is evolving to become more focused on security and business processes. The modern MSP now has to understand the client's workflows, processes and roles to help them secure their systems and better utilize the technology they've invested in.
MSPs will need to focus on two important areas in order to evolve alongside their clients. They need to better educate their clients about the capabilities of the systems the client has in place. Also, managed service providers have to obtain more information from their small business clients about how they work to ensure that they provide relevant education for a particular organization.
With an unstable economy and workforce, small businesses need to make sure that they are getting the most out of their current team. Managed service providers can help make this happen by developing systems with documentation in place to limit disruption when there is turnover or team members retire.
Hardware May Soon Become a Part of Your Small Business IT Services Agreement
One of the greatest changes in the future of managed small business IT services is the option to include more hardware and software options as part of the MSP's service agreement. Hardware changes fairly quickly, which is often driven by software that only supports newer hardware. That means that the days of using a computer until it dies are long gone.
Instead of having to replace your hardware as often as your software demands it, you can save money in the long term by paying a monthly fee to rent the hardware. Essentially, SMBs lease the equipment through their service agreement, which incorporates the cost of swapping out the equipment and devices at regular intervals.
When a business adds a new user, it will no longer have to contend with new equipment costs. Instead, an affordable monthly fee is added to its service agreement. This fee may increase a little as hardware is updated and replaced, but overall, the small business will be able to better anticipate ongoing hardware costs.
SMBs Need to Allocate More of Their Budget to IT
Another important change for business owners is the budget increase they may begin to see in the coming years. As security needs increase and hardware needs to be updated more often, SMBs will be leaning on their MSPs more frequently to supply services and equipment. This leads to allocating more to their IT.
One of the greatest areas in which IT budgets will need to increase is security. Small to midsize businesses need to not only keep up with changing security regulations, but invest in cyber security training for their employees to help prevent user errors that can lead to an IT security incident.
MSPs Need to Become Better Trainers and Educators for Their Clients
If managed service providers want to remain competitive in the changing IT landscape, they will need to include more training as part of their small business IT services. MSPs need to educate their clients about the technology they are using, security measures they should take and best practices, policies and procedures they should follow.
MSPs need to not only expand the number of topics they cover in their training, but also become more proactive and professional in the way they approach education. Right now, many MSPs will only interact with all team members of a small business when something goes wrong. However, they will need to be more proactive in helping prevent issues and security incidents in order to help small businesses increase productivity and efficiency.
Small Business IT Services That Help You Keep Up
Working with an MSP is one of the best ways that small businesses like yours can ensure that their systems and technology remain up to date and secure. Additionally, managed small business IT services can help your company boost return on investment (ROI) by improving efficiency and productivity across your organization.
As part of our dedication to high-quality service, CoreTech is always looking toward the future to find ways to better help our clients.
Our team communicates frequently with you about new security requirements, updating your security strategy and systems along the way to make sure you remain protected.
Our IT experts get to know your business and understand your processes so that we can recommend the best technologies to improve efficiency and boost your bottom line.
We offer hardware leasing options for those who want to include hardware as part of their ongoing managed services agreement.
Our team will help you optimize your IT spending and plan your budget for both current and future security and technology needs.
We don't just implement and manage IT services; we also train your team to get the most out of your technology while keeping security top of mind.
When you're ready to work with a managed IT services team that can help you plan for now and the future, contact us.