I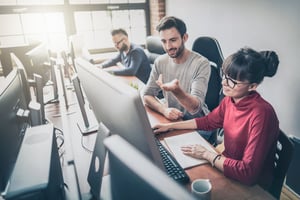 f you're reading this, chances are high you've decided to outsource some, or all, of your IT responsibility.
Maybe it's just too much for yourself and internal staff to handle. Maybe you're tired of being stuck in a seemingly never-ending loop of break, fix, break, fix.
Or maybe you want time back in your already-busy schedule to focus on your core business.
Whatever the reason for outsourced IT services, you want to find the best IT firm around. These are the top criteria you should look for during your search.
A wide range of technical experience

A major focus on IT security and reducing risk

Proactive support and maintenance

Consulting and planning for the future

A focus on building a relationship
A wide range of technical experience
The best outsourced IT service companies offer a broad range of technical skills and expertise. Their entire team is well-versed across the board and should be focused on helping clients like you find the right technology for your business' core potential.
Because every business is unique, and so are your IT needs.
A major focus on IT security and reducing risk
All that being said, you'll want to look for an outsourced IT company that puts client security at the forefront. They'll offer best-in-class solutions, sure, but they will also explain how those solutions can help your business.
And they'll continually keep you educated on the worst cyber threats with additional resources and alerts. In short, they'll communicate regularly about security.

Quality alert: If you come across an MSP who doesn't regularly check in with their clients about security, you should continue your search. Service providers need to prioritize their clients and security of client data.
Proactive support and maintenance
Everyone experiences computer problems now and again, and outsourced IT companies provide solid support to get you back up and running.
The best providers, however, will be clear about their response times, outlining them clearly in a service level agreement (SLA).
They'll also be available 24/7/365, make it easy to submit service requests, and get your mission-critical systems back online as soon as possible. The best IT companies understand that every second counts.

Quality alert: Be sure to check customer reviews of your prospective outsourced IT providers. Be on the lookout for any negative reviews, especially about response times and a lack of proactive support. You don't want an IT provider who only fixes things when they're broken, but works to keep them from breaking in the first place.
Consulting and planning for the future
Major technology objectives need strong planning, and the right outsourced IT service firm will provide planning, design and project management skills, in addition to managed services and help desk support.
Without project plans to follow, you risk derailing your business technology goals.
Outsourced IT service providers who also offer IT consulting will act as a guide through system analyses, ideation, planning, and even implementation. They'll also help you create a specialized roadmap with future upgrades.

Quality alert: Be wary of overly sales-y outsourced IT providers who are only talking about technology equipment and not strategic solutions that directly relate to your business goals.
A focus on building a relationship
You'll know you've found one of the best outsourced IT service providers when you feel heard and respected. If you don't get that feeling from a prospective IT provider, they're not the right partner for you.
Rather, you want to work with an outsourced IT firm that cares about and wants to understand your business. You want someone who's dedicated to building long-lasting, collaborative partnerships, and puts clients at the center of their universe.
Client success equals IT provider success. Plain and simple.

Quality alert: If an IT company doesn't care about your needs, takes ages to respond, isn't committed to service, or isn't in it for the long haul, you should continue your search for the best outsourced IT services.
Your business deserves the best IT support out there, and if prospective IT providers aren't checking all the boxes, it's best to keep looking until you find the right one.
Fortunately for you, we've created a complete guide to the process, providing the exact questions you should ask prospective outsourced IT providers.
From quality of service to response times, to what they do for client security and how they stay current on their industry, we've detailed over 30 rich questions to ask your next prospective outsourced IT provider.
Get it now; just click the button below.