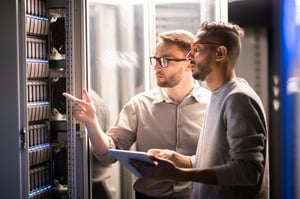 When disaster strikes your business — a security breach, failed server, or power outage — the fear of not being able to retrieve your data can be very real. That's why having managed backup services should be an essential component of your IT solutions. With managed backups, you can access your network systems and get your business back up and running with minimal downtime.
Types of servers
The term "managed backup services" typically applies to servers, cloud applications, workstations and other elements of your network. However, for most businesses, backing up servers is the top priority, as they contain the data and applications necessary to keep the business running. Understanding the different types of servers can help you determine which managed backup services will best serve your business.
Local server. You may have an on-site server for certain, but not all, business processes, such as your email. By having a local server, you can reduce the downtime to get those processes back up and running.


Cloud server. With cloud-based applications, you may have cloud assets in multiple locations. For instance, you could have email, file backups and data storage scattered across different cloud locations. Because cloud server providers don't perform regular backups, the concern here becomes not how quickly you can restore your data, but whether there is a possibility of corrupted data and even deletions. Therefore, you need managed backup services from a third-party provider who backs up that data on a regular schedule to ensure you have what you need.


Hosted servers. If you utilize space from a data center to run your own servers, you should have procedures in place to back up the data and applications you are running. You want this data backed up to a third party separate from this network to avoid any data failures within the network.


It's important to note that, in some cases, backup conversations turn into a redundancy conversation, ensuring that other pieces involved in cloud access are backed up, such as power sources or critical network devices like routers or switches. A managed services provider that has knowledge and experience with managed backup services can guide you in creating a managed backup plan that protects your business operations.
What to Look for in Managed Backup Services
Often, backups are implemented but soon forgotten — that is, until you actually need one. Therefore, it's important to look for the following factors when setting up managed backup services so you understand what the system will deliver to you if you have to utilize it.
Regular testing. Testing should be done frequently and automatically. This helps you know that backups are being done successfully and that data integrity is maintained.


Security of the data. Your requirements for this may vary based on whether the industry you work in, such as finance or healthcare, has specific regulations. For instance, the data may need to be encrypted while in storage or when transferred to the cloud provider. These capabilities should be carefully examined to ensure you meet any necessary regulations for security and compliance.


Business continuity and disaster recovery plans. In the event that you have to rely on a backup, you need to be sure the system will work with the managed backup services. Just because it's going to the cloud does not mean you can access it right away. As part of your

business continuity and disaster recovery plan

, you should thoroughly review the managed backup services to make sure you can get to your data when you need it.


Recovery time objectives. Ask how quickly you can get back up and running with managed backup services. Are there essential systems that need to be restored as quickly as possible, such as your communication system or your payroll and accounting systems? Having a local on-site server can speed up the process, but it's essential to have a cloud server as well. In addition, consider your recovery point objectives, meaning how much data you are willing to sacrifice to get up and running. Is it one hour worth of work? Two? Eight?


An experienced MSP should address these factors with you, as they affect not only your business operations but also your budget. The more quickly you can access your data, and the more data you can access, the more expensive these services will be. These costs are offset by downtime, labor and lost revenue, so it's important to understand and evaluate the full scope of managed backup services to determine what you need.
Not all services are created equally, so it's important to study them carefully to find one that aligns with your business goals.
Third-party provider protocols. Many cloud-based applications are operated and maintained by third parties, such as the online version of Quickbooks or your cloud-based ERP software. While cloud-based applications may state they provide backup services, often these backups are not frequent or easy to access. So if you do have a problem with your data and need to access a backup, you may not be able to access what you need, when you need it. And when you ask your cloud-based application vendor for support, they will likely direct you to their service level agreement, which may not leave you with much recourse. It's important to review SLAs carefully. An experienced MSP can help you with that task.


Reporting. You should receive frequent reports that validate that each testing and backup was successful. This is a key piece of your IT setup. You can eliminate a lot of risk with regular testing and reporting because you can verify your managed backup services are, in fact, working.


Having managed backup services in place provides peace of mind when disaster strikes.
Contact us today to discuss your current backup services and see how CoreTech can help you create a managed backup plan to protect your business.