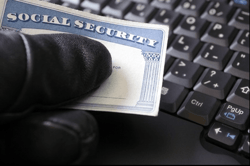 How is it even possible for someone to steal your identity? Unfortunately, today, it is easy for a criminal to obtain your personal information. After your identity is stolen, not only can the criminal steal your money, they can apply for mortgages, file false medical claims, open lines of credit for fictitious businesses, and so much more. What can you do to protect yourself? Read on...
Create Secure Passwords

Create a complex password. For example, if you use your mother's maiden name or your pet's name--your password is too easy. A criminal will do a quick google search or look at social media to find the information. A great rule to follow is to use a password that is a minimum of ten characters with a mix of upper and lower case letters, numerals, and two different kinds of punctuation. Also, use a unique password for each website or account. Learn more about creating complex passwords on our previous blog post.
Do you have a lot of passwords between work and home? Take a look at a password manager such as Last Pass, and contact CoreTech to purchase the enterprise version for your business.
Use a Separate Credit Card
Paying online may be a risky task if you are not taking the right precautions. Using a separate credit card will allow you to track exactly what you spend online, and you can easily monitor your statement for suspicious purchases. In addition, credit cards also maintain better fraud protection guarantees than debit cards.
Secure Your Browser History
Are you using the latest version of your browser? It is important that you do as the latest version will contain all the available security updates. Another important step you can take is to use a private browsing session if you are on a public computer. In this way your browsing history is not recorded.
Protect Your Mailbox
Where is the perfect place to find both personal and financial information combined? The mailbox. If you are receiving important documents from the bank, such as a new credit card, either pick it up or have it delivered to a locked mailbox. If a locked mailbox at your home is not an option, consider purchasing a USPS post office box.
Identity Theft Protection Services
There are many companies who also offer identity theft protection services. They will help monitor signs in which an identity thief may be using your personal information. They also will offer recovery services which help you deal with the effects of identity theft after it happens. These monitoring and recovery services are often sold together, and may include options for you such as regular access to your credit reports or credit scores.
Implement the above and you are well on your way to avoiding identity theft.
Sources
http://blog.emoneyadvisor.com/practice-management/technology/tips-for-preventing-identity-theft/
https://heimdalsecurity.com/blog/how-to-prevent-identity-theft-20-steps/#
https://www.consumer.ftc.gov/articles/0235-identity-theft-protection-services