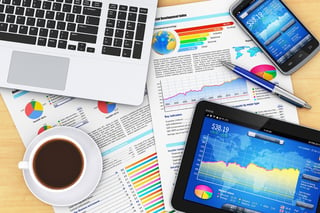 All businesses, regardless of size, are constantly faced with the challenge of keeping up with their competitors. Technology innovation is quickly becoming the driver of marketplace competition. New technologies have changed the pace and expectations of business processes. While you can't predict future technologies, here are five that are currently fueling the competitive advantage of small and midsize businesses.
Cloud technologies
If you aren't already using cloud technologies, you will. Businesses are using cloud services as a way to increase their collaboration and communication with both clients and vendors. Employees can access and save files through the cloud from any device, in any place, at any time and make it available for others to see. Cloud technologies cut the time and expenses of trying to communicate between departments about projects, or client updates. Businesses are now able to focus on its main processes with technologies that fit their goals, as well as client expectations. Those already using the cloud have the advantage of adapting their technology needs to fit and improve existing business processes.
Mobility
Today, mobile devices hold our whole world. Whether you are using an iPhone, Samsung device, iPad, or Surface the apps are endless. Businesses are beginning to think the same. Give your customers faster service and smooth communication by giving your employees mobile access to information they need anywhere and everywhere. Adopting mobile processes and devices before your competitors means a head start in improved collaboration, communication, and productivity.
Cybersecurity
With security being one of the top business concerns, it is also one of the top customer concerns. Both parties want their private information to be secure. Therefore, while businesses are using security as a measure to protect themselves they are also using it as a way to differentiate themselves from their competitors. Here are a few ways to improve your cybersecurity:
Educate your staff on malware
Install anti-malware software
Enforce secure passwords
Implement VPNs
Enforce software and system security updates
The recent ransomware outbreaks remind people that security should not be taken for granted. Having a good reputation for strong security is highly valued by customers and vendors alike.
Social
What gives a business competitive advantage over another in social? The relationship they have with their customers. Investing in social technologies is a great way to boost your competitive advantage because it creates and maintains relationships with consumers. However, virtually every business has some form of social media which means in order to make your business stand out, communicate. Engaging with your customers about what they have to say or any feedback they give you differentiates your business from those who never engage with online users. Listen, respond, and help your clients online and you will maintain an advantage over your competitors.
CRM
A customer relationship management (CRM) solution makes it possible to record, track, and report on all client activities. Every employee has access to complete and up-to-date information on client accounts. Therefore, any employee will be able to answer client questions or concerns both quickly and efficiently. If you don't already have a CRM system in place, you're missing out on an opportunity to improve communication on current or future projects, and client service needs. With a CRM system you can improve and maintain relationships with both a better understanding of your customers and better collaboration and response time.
The way in which businesses, and their customers, operate is changing and in order to keep up with the competition you must keep up with the technology. Collaboration is the key to future business success as companies become more innovative, connect with people better, and have the tools needed to act faster in the marketplace.
Let us help you with your technology needs
At CoreTech we're here to help you strategize and deliver on your technology plans. We will help you stay on top of emerging technologies and incorporate what you business needs to be successful.
Sources
https://www.timesofmalta.com/articles/view/20110929/technology/A-competitive-advantage-through-customer-relationship-management.386971
http://www.mckinsey.com/industries/high-tech/our-insights/how-social-technologies-are-extending-the-organization
https://www.forbes.com/sites/centurylink/2015/07/01/9-reasons-every-business-needs-a-managed-mobility-strategy/#7932916e55a5
https://appdataroom.com/seven-reasons-business-go-mobile-year/
https://www.wired.com/insights/2012/10/5-cloud-business-benefits/